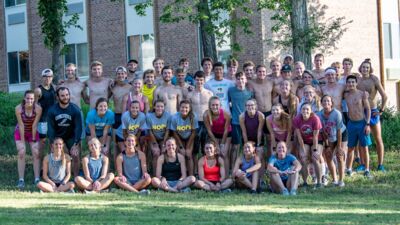 MEN
Head Coach: Matt Beisel (6th year)
2020 Finish: 6th in GPAC
Key Returners: Owen Dawson; Wyatt Lehr; Ethan Pankow; Calvin Rohde; Camden Sesna; Micah Willweber.
Key Losses: Antonio Blaine; Jordan Lorenz; Nick Zadar.

Outlook
Head Coach Matt Beisel and members of the Concordia Men's Cross Country program have been quite honest with themselves: the close to the 2020 season fell below expectations. A number of factors contributed to a sixth-place finish at the GPAC Championships last November. The team returned to campus on Aug. 16 determined to do something about that disappointment. Now's the time to look forward, not backward.

Beisel has been encouraged by the early time trials and a full week of preseason training and team-building activities that preceded the start of classes. Spirits are again high and energy has been restored for a proud program with a history of success.

"None of us were happy with how GPAC ended," Beisel said. "We had gentlemen running the best of their lives. Then a series of events happened … We walked away from the GPAC and were like, 'Let's just forget that it ever happened.' It's not what we wanted. I think it's been on the minds of our returning athletes ever since, and they want something different this year."

Through athlete-led discussion, the Bulldog men's team collaborated on a new motto for this season: "step up." Those two words will focus the squad's mentality as it proceeds towards the starting line of the 2021 campaign. The good news is that budding star Camden Sesna is healthy again after an injury slowed him down at the 2020 conference meet. Sesna is one of seven returning Bulldogs who competed at last year's conference championships.

Sesna rebounded during track season and was a GPAC runner-up placer in the steeplechase. As one of the highlights of last season, Sesna led Concordia to a team title at the Hastings College Invite. This preseason has been about rebuilding confidence and growing in all aspects of life.

"Last year definitely left a sour taste in a lot of our mouths from that sixth-place finish," Sesna said. "We knew were a better team than what happened that day. We're working to build on that. Our team motto this year is 'step up.' That goes for not just on the cross country course, but in the classroom and in your faith life. Applying it to cross country, it's about making sure we're holding each other accountable for everything we do."

Among the returners, Sesna will be supported by the likes of Owen Dawson, Wyatt Lehr, Ethan Pankow, Calvin Rohde, Micah Willweber and others. Each has the ability to push for all-conference recognition. Lehr is a two-time All-GPAC cross country performer while Rohde (31st in the GPAC in 2020) is the team's highest returning conference place finisher.

Beisel is also high on the freshman class, which he regards as perhaps the deepest group he's brought in during his tenure as head coach. The early returns are showing that freshman Samuel Plante of Elkhorn, Neb., has the potential to compete right at the top of the lineup. Plante helped Elkhorn South High School to a 2021 state track championship.

If they can feed off the energy of Sesna, the Bulldogs can make the type of improvement they expect of themselves. He has an infectious enthusiasm that can lift a team up if ever the trail begins to feel like a slog.

Said Beisel, "He's really fired up. He had an injury that we really dug into with physical therapists and figured out how to manage it. At the beginning of the season he was right up there with the top five or six in the conference. During the track season he made the distance medley relay team that made it to nationals and he made all-conference in an event or two. He has a wide range of speed and endurance, and he had a phenomenal summer of training. He's ready to go."

Collectively, this particular team feels like it's built camaraderie and chemistry that will help push the program past last season's disappointment. Whatever happens, they have each other's backs. Said Sesna, "That week (of preseason) was incredibly important. We got to know everybody super well. It doesn't feel like we're a team that's only been together for a week. It feels like we've been together for a whole year. We can walk up to anybody and be like, 'Hey man, how's it going?' You know everybody's committed to running and wanting to be here. It's a great feeling to have that whole team commitment and know that it's not just a team – it's a family."

As usual, a lot will ride on a single day. That day this year will be Nov. 6 when Northwestern hosts the GPAC Championships. Concordia would be thrilled to jump into the top three of the GPAC, especially when considering that the top three each advanced to the national meet last season. Heading into the preseason, Dordt, Doane and Northwestern are positioned at 1, 2 and 3, respectively, in the GPAC preseason poll.

Time to step up. Said Beisel, "If we're going to step up as a team in the GPAC, that means that each individual has to step up in managing their life academically, athletically and spiritually. They spent a long time talking about what each of them is going to do through accountability from each other. It was really cool to hear them talk about it."

WOMEN
Head Coach: Matt Beisel (6th year)
2020 Finish: 4th in GPAC
Key Returners: Keri Bauer; Abi DeLoach; Rylee Haecker; Kylahn Heritage; Amie Martin; Grace Reiman.
Key Losses: Alyssa Bierwagen; Sydney Clark; Lydia Cook; Alyssa Fye.

Outlook
The upperclassmen within the Concordia Women's Cross Country program have gotten used to winning conference championships. The Bulldogs celebrated a GPAC cross country title in 2019 while the women's track and field program has put together an impressive string of five-straight GPAC crowns. Head Coach Matt Beisel and members of the team point to a strong connection between teammates as an influential reason for all of the success.

As for women's cross country in particular, there's hope of bouncing back from last season's fourth place GPAC finish that left Concordia on the outside of the national championship qualifying field. Back in 2019, the Bulldogs placed 12th in the NAIA. With "run as one" as a rallying cry, the Bulldogs aspire to return to the national scene.

"The women came up with 'run as one,'" Beisel said. "They want to be a family and be a community. They want to strive for excellence within the context of a very close team. It's not that we haven't had that, but it's definitely a big emphasis for them. The three subtitles under that are: strive for excellence, serve each other and community over competition. Placing high at GPAC – top two – is where they want to be. They have that capability. All of my athletes have really high expectations for themselves, but they also recognize that the community is the biggest reason why they do this."

Six of the team's 10 competitors who ran at the 2020 conference meet are back and expected to play a large role in how this season ultimately ends up. A recent star, Kylahn Heritage (33rd place individual NAIA finish in 2019) will be brought along slowly at the start of the fall with a chance at making a big impact down the stretch. That leaves fellow returners Keri Bauer, Abi DeLoach, Rylee Haecker, Amie Martin and Grace Reiman at the top of the pack, among veteran performers. Each of them have already made an impact in collegiate running.

At the 2021 NAIA indoor track national meet, Bauer (4x400m relay), Haecker (DMR; 1,000m), Heritage (DMR) and Reiman (DMR) all earned All-America honors while helping the Bulldogs to a third place national team finish. In addition, DeLoach earned All-GPAC cross country accolades in 2018. Bauer has come on strong after running cross country for the first time ever in 2020. Bauer began her Concordia career as a basketball/outdoor track athlete before making a shift.

The preseason has provided an indication to Bauer that this fall could be a lot of fun. Said Bauer, "The week (of preseason) has been a really good week. We did our workouts early in the morning so that way it's nice and cool and we get them done. After that we're spending time with each other and getting to know each other – doing activities and getting to bond. I think it's been a huge and crucial part of our season, building those connections. The freshmen have done a really good job. They're so easy to talk with and they're excited to work. I can already tell that it's going to be a good year because of the friendships and the connections we're building right now."

Concordia checked in at No. 3 in the official GPAC rating released earlier this week (Dordt and Morningside held down the top two spots). A conference finish in the top three would give the Bulldogs a serious shot at reaching the national meet again. Current Bulldogs DeLoach, Heritage and Martin each experienced the 2019 NAIA National Championships in Vancouver, Wash. Based on the preseason results, everyone associated with the team is saving the date – Nov. 19, when the 2021 national meet is staged.

Said Beisel, "They are feeling great and have a lot of confidence coming in. They had a great time trial (this preseason). Right now Grace and Rylee are probably the top two. Kylahn Heritage is part of the mix. We're working on some fundamental things to get her completely healthy down the road. Keri has developed phenomenally. She helped us get to nationals in the 4x4 and can also run a great 5k. Their attitudes are great. Amie Martin and Aby DeLoach add to the mix. They've had great training. They're running like I haven't seen them run in a long time. I'm just stoked for them. These kids have put in the work and it's paying off for them."

The margins can sometimes be quite slim when it comes to a national championship bid. Last season, the Bulldogs spent most of the fall either ranked or receiving votes nationally. They rose to No. 22 in the NAIA national poll in late October. Another of the highlights of the campaign was a first-place claim at Doane's Dean White Invitational.

If Concordia can truly "run as one," the results will take care of themselves this fall. Said Bauer, "The big, overarching goal is to run as one. We want to run as a team. No matter what, we want to be there to support each other and help each other in school or everyday life. We want to strive for excellence, serve one another and put community over competition. Those are our overarching ideas. We know if we live those out then the little things will happen because it takes the little things to make sure we accomplish those big ideas."

The season will officially get started on Sept. 3 with the Augustana Twilight meet in Sioux Falls, S.D.