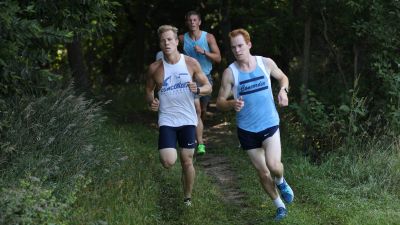 MEN
Head Coach: Matt Beisel (3rd year)
2017 Finish: 6th in GPAC
Key Returners: Evan Asche (Sr.); Jordan Lorenz (So.); Zach Potratz (So.); JP Reynolds (So.); Patrick Schneeberger (So.); Thomas Taylor (Sr.); Christian Van Cleave (So.); Christian Watters (So.); Cody Williams (So.).
Key Newcomers: Brayden Adams (Fr.); Keaton Burgess (Fr.); Wyatt Lehr (Fr.); Josiah McAllister (Sr.); Ethan Pankow (Fr.).
Key Losses: Kohlton Gabehart (Sr.); Pat Wortmann (Sr.).
WOMEN
Head Coach: Matt Beisel (3rd year)
2017 Finish: 5th in GPAC
Key Returners: Tori Beran (Sr.); Alyssa Bierwagen (So.); Emily Boyer (So.); Sydney Clark (So.); Lydia Cook (So.); Everett Elder (So.); Alyssa Fye (So.); Taylor Grove (Sr.); Rebekah Hinrichs (Jr.); Jacy Johnston (Sr.); Erin Lindeman (Jr.); Abby Protzman (Sr.); Miranda Rathjen (Jr.).
Key Newcomers: Ashleigh Baker (Fr.); Alia Brand (Fr.); Abi DeLoach (Fr.); Jessie Juergensen (Fr.); Abigail Meier (Fr.); Hannah Rebmann (Jr.); Kailey Weichel (Fr.).
Key Loss: Emily (Sievert) Deschaine.
2017 GPAC All-Conference/NAIA National Qualifier: Emily (Sievert) Deschaine.
Outlook
Though Concordia's cross country squads remained in the middle of the pack of last season's GPAC race, both programs have begun to trend in a positive direction. Now in his third season as head coach, Matt Beisel has a more experienced bunch on both sides. It's been a process of rebuilding a foundation in hopes of getting back to being an annual championship contender.

Beisel and company believe that the improvements made during indoor and outdoor track, as well as another offseason of training, will show up in the results this fall. Both Bulldog squads will be more seasoned in 2018 after the influx of freshmen that came in a year ago.

"I feel like overall, numbers-wise, talent-wise and development-wise, our men and women are ahead of where they were the year before," Beisel said. "And then I have to take into account how indoor and outdoor track went this last year. We saw improvements in so many of our distance athletes from where they were in the cross country season. We had several really talented, accomplished high school runners who by the last two meets of the season really started to figure it out. They ended up moving up and being high point scorers for us. I think those are some things that are going to effect this year in a positive way."

The biggest name that has departed via graduation is Emily Deschaine, a three-time national qualifier and three-time All-GPAC performer. The good news is that senior Taylor Grove is healthy again after being sidelined last cross country season. She returned for track season and made her biggest impact during outdoor, winning a GPAC title in the 10,000 meters and qualifying for nationals in the marathon. She figures to be a strong contender for all-conference positioning this November.

Grove is one of the few veterans for a women's team loaded with sophomores that now have an understanding of what it takes to compete at this level. One of those sophomores, Alyssa Fye, nearly garnered all-conference honors as a freshman. She placed 18th in the GPAC. Next in line in the conference race among Bulldogs were junior Rebekah Hinrichs (29th), sophomore Alyssa Bierwagen (40th) and sophomore Everett Elder (47th). Junior Miranda Rathjen placed second behind Grove at last week's Blue-White run. She was followed by promising freshman Abi DeLoach, who finished third.

"We lost Emily Deschaine. We gained Taylor Grove," Beisel said. "What is the rest of the team going to do to help make it all happen? We are in one of the most competitive conferences in the nation for men and women. There were also a lot freshmen and sophomores that ran extremely well for us. We've got to have all of our returning kids step it up. They know that. They're going to have to run the best races of their lives this fall for us to be a factor. With the freshmen, it's a learning experience for them."

The women's program has also added a pair of upperclassmen to the 2018 roster. Beisel expects Hannah Rebmann, a transfer from NCAA Division II Pittsburg State University, to give his team a boost. Additionally, the Bulldogs welcome senior Tori Beran over to the cross country program this season. She's been a key contributor in track and field and has experienced national championships as a member of 4x400 meter relay teams. There is also a group of seven freshmen, including DeLoach, beginning to acclimate to new surroundings.

All of these dynamics working in tandem seem to suggest that the Concordia women have a shot at outperforming their fifth-place GPAC finish from a year ago.

Says Grove, "Cross country is a pretty long season. Usually you're racing about every other weekend. You don't know after the first meet because there is so much improvement that happens from now until the beginning of November. People switch places all the time. Where people are at the beginning of the season definitely changes. Hopefully we'll see some big improvements by the GPAC meet."

On the men's side, Thomas Taylor could be primed for all-conference accolades after narrowly missing out as a junior last season. Taylor has progressed steadily throughout his career in both cross country and track. Taylor has made three appearances at national championship meets as part of 4x800 meter relay squads. He paced the men's cross country squad all of last fall, which culminated with him placing 18th at the conference meet.

The Bulldogs did graduate two runners (Kohlton Gabehart and Patrick Wortmann) from their top five at the GPAC championships, but are in a similar position as the women in terms of having a wealth of rising sophomores. Christian Van Cleave emerged last season with the top GPAC finish (38th) among the team's freshmen. Other 2017 rookies such as Jordan Lorenz (54th), Christian Watters (64th), Cody Williams (70th), Patrick Schneeberger (71st) and JP Reynolds (76th) were also part of Concordia's conference team.

"I'm convinced that we have the men and women on our team right now who can make a huge leap," Beisel said. "As I have told them, and they have told me, none of us our satisfied if we're outside the top three in conference. We're not going to rest in anything until we are contending for a top spot. That could happen as early as this year. I certainly think that we have the people who can do it."
Taylor and fellow senior Evan Asche (34th in the GPAC in 2017) are the most battle tested of any competitors in the program. This is it for them. They're determined to make the most of it. A repeat of last year's sixth-place conference finish won't cut it this time around, at least in their eyes.
"I can't say it was a letdown because I'm still proud of the guys and the work that they put in," Taylor said. "Reflecting back on the first meet of the season we were almost first in the conference. We had beat a lot of GPAC teams and we were even racing at the conference championship course at Dordt. Knowing we didn't do as well the second time around after all that training was kind of a bummer, but we also used that for motivation for this year. We're going to put in the work and try to be a lot better than sixth this year."
Taylor will be challenged for top honors on this year's team. One of those challengers could be senior Josiah McAllister, who did not compete in cross country as a junior. McAllister established himself as one of the top middle distance and long distance runners in the track program and has the ability to be a factor at the conference level. McAllister sometimes trained with the cross country team last fall so there will be only minor adjustments for him. Says Beisel, "I think adding him to the mix is going to be a game changer. He's a fierce competitor, very smart, team oriented and he's a great leader. I think having him as a piece of the puzzle is going to open some eyes in the conference this year."
Based upon the Blue-White run on Aug. 25, freshman Wyatt Lehr of Lamar, Colo., may be ready to contribute immediately. He beat out the entire field in the intrasquad meet. Another freshman in Ethan Pankow (Milwaukee, Wis.) finished inside the top 10 at the Blue-White race.
Perhaps this will be the year that Concordia cross country makes a big push at regaining its status as an elite program. Beisel knew it wouldn't happen overnight, but the belief is that the Bulldogs can soon put an end to some of their droughts. Concordia last sent a team to the cross country national championships in 2013. It last won a conference championship in 2012.
"As far as my vision for where we are, it takes time," Beisel said. "I want a closely-knit team family. I don't think we're exactly where we want to be, but we're all making efforts to get there. I think our student-athletes are aware of it. A lot of them come talk to us as a staff and say, 'Here are some ideas we want to do.' As coaches, we're going to continue to implement some things that will help connect the student-athletes together and help them be a team beyond anything they've ever been. It's been great."
Both squads are officially set to open up their 2018 seasons on Friday at the Augustana University Twilight at Yankton Trail Park in Sioux Falls, S.D. The first race is set to go off at 8:30 p.m. CT.