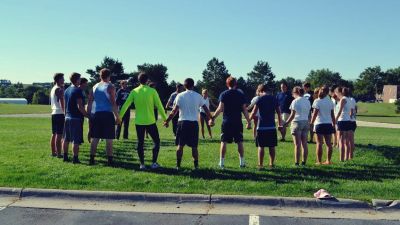 MEN
Head Coach: Matt Beisel (1st year)
2015 Finish: 4th in GPAC
Key Returners: Evan Asche (So.); Christian Egger (Sr.); Kohlton Gabehart (Jr.); Isaac Golke (So.); Cameron Moes (So.); Chris Shelton (Sr.); Thomas Taylor (So.); Patrick Wortmann (Jr.).
Key Newcomers: Robbie Peterson; Chris Warneke.
Key Losses: Taylor Mueller; Jordan Potrzeba.
2015 GPAC All-Conference: Jordan Potrzeba.
WOMEN
Head Coach: Matt Beisel (1st year)
2015 Finish: 5th in GPAC
Key Returners: Taylor Grove (So.); Jacy Johnston (So.); Abby Protzman (So.); Emily Sievert (Jr.); Emily Writebol (So.).
Key Newcomers: Liliana Barrientos; Paige Borcherding; Savannah Dietz; Rebekah Hinrichs; Erin Lindeman; Miranda Rathjen; Marti Vlasin; Emily Wetzel.
Key Losses: Megan Burma; Jordyn Sturms; Kim Wood.
2015 GPAC All-Conference: Emily Sievert; Jordyn Sturms; Kim Wood.
Season Outlook
This past April Concordia's revered cross country and track and field programs received a shakeup when the athletic department announced that Kregg Einspahr had accepted a full-time teaching role, ending his impressive 24-year run as head coach. The resignation of a man who successfully, brick-by-brick, constructed conference championship and national runner-up and even national title track teams sent shockwaves through some who had followed the programs.
Meanwhile in Phoenix, Ariz., Matt Beisel felt content as a teacher and coach at Valley Lutheran High School. Beisel, a 1992 Concordia graduate, saw the press release about Einspahr and posted it on his Facebook page. "Wow, end of an era," Beisel remembers thinking.
Roughly five months later a new era has begun with Beisel now at the controls. The former head track and field coach at Concordia University-Chicago has hit the ground running. Firstly, he really just wanted to get to know his new athletes, so he devoted hours and hours to talking on the phone with them throughout the summer.
"The main thing is getting to know my kids. That's the most important thing," Biesel said. "How do their brains work? How can I get them to know each other more deeply? Through that process I get to know them. Obviously there's the training part of it. Relationships and trust that need to develop between me and the athletes is the most important thing."
Though cross country is an individual sport by nature, Beisel has placed a premium upon team building and cultivation of faith. Beisel's approach, though differing in some ways, has been met positively by Bulldog runners, including the upperclassmen who came to Concordia expecting to compete for Einspahr for four years.
"Things have been great so far," said senior Chris Shelton, "Everything is a transition so it's good for us to get used to practice running a different way. He teaches and coaches differently than Coach Einspahr did. It's been great so far getting to know him. A lot of us didn't meet him until the first day on campus, which was also our first day of practice. All of our practices have gone really well. We're having a great preseason."
Top returning runner Emily Sievert, an individual national qualifier in 2015, admits that the transition takes some getting used to. However, practices have been energetic and the athletes are responding well to how Beisel has pushed them and the training plans he has designed specifically for individuals.
"The energy has been great," Sievert said. "Coach Beisel does a great job motivating the team. He has done an awesome job working through the transition. With everything new I think it's hard for all the returners. It's a transition for us as well. I think everyone has a good attitude about it and is up for training hard."
Now in week four of the school year, Beisel has a much better handle on what to expect for his teams and individual runners. He believes that if things break right, top-three GPAC finishes and team national championships berths are possible. From 1994 to 2014, one or both of Concordia's cross country teams qualified for nationals each season. After missing out on team berths in 2015, the Bulldogs would delight in making a return to the national stage.
One thing working in their favor is the addition of athletes from the Concordia track team that are now trying their hand – or legs – in cross country. While Sievert, who placed 11th at the 2015 GPAC championships, is expected to be the team's frontrunner, senior Marti Vlasin has been right on her tail during practices. The Seward native has not run cross country since high school, but has the ability to provide a big boost on the women's side and help make up for the loss of 2015 national qualifier Kim Wood.
There are other solid runners next in line such as sophomores Taylor Grove, Jacy Johnston and Abby Protzman. Among them, Grove is the highest ranking in terms of 2015 GPAC placement. She finished 40th at last year's conference championships. The women's team also includes promising freshmen such as Rebekah Hinrichs, Erin Lindeman and Miranda Rathjen.
"I think our team was a little disappointed with fifth place so (top three in the conference) is a good goal to aim at," Sievert said. "Nationals was an awesome experience and it would be great if more of us could go. That's what we're training for and training towards."
On the men's side, the quartet of juniors Kohlton Gabehart and Pat Wortmann and sophomores Evan Asche and Thomas Taylor have formed a pack at the top of the heap. Then there's another tier that includes Shelton and four sophomores in Sam Ferguson, Nathan Matters, Josiah McAllister and Cameron Moes. Both Matters and McAllister are in their first seasons as cross country performers after having already been members of Concordia's track and field teams.
Shelton placed 27th at the 2015 GPAC championships while Moes (31st), Taylor (32nd), Wortmann (45th), Gabehart (50th) and Asche (55th) were next in line for the Bulldogs. The biggest loss for the men is Jordan Potrzeba, who was a sixth-place GPAC finisher and a national qualifier in 2015.
Shelton says Beisel's manner of laying out a training schedule the week prior has been a change, but one that has worked out well. According to Shelton, "You can already see people getting better."
Added Shelton, "I think we're going to be starting fairly similar to where we were at the beginning of last season. I think we've got a chance to finish a little better. Some of the guys we have were freshmen last year. Thomas Taylor and Evan Asche were both freshmen last year and have made big contributions. I think they both have a chance of making even bigger contributions this year. We've also got guys like Patrick Wortmann and Kohlton Gabehart who are really coming on strong."
Early returns at the Blue-White Alumni run on Sept. 10 were encouraging. At the unofficial meet, Sievert paced the women and Gabehart outkicked his men's teammates. The season will officially get underway on Saturday at the Hastings College Bronco Invite.
Though the head coach may have changed, Beisel and his runners expect to uphold the program's prestigious stature.
Says Shelton, "I think Concordia is a school everybody knows about as a place that has competitive running programs. It's really important to myself and the team to carry that on. When we're competing against GPAC schools and others in the nation we want them to recognize us for what we've been traditionally and what we are competitively at the time. We want to keep that going."