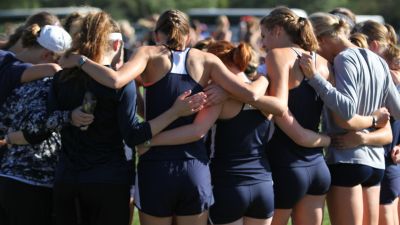 SEASON PREVIEW: 2015 Concordia cross country
By Taylor Mueller, Athletic Communications Student Assistant
MEN
Head Coach: Kregg Einspahr (24th year)
2014 Finish: 5th in GPAC
Key Returners: Kohlton Gabehart, Taylor Mueller, Jordan Potrzeba, Chris Shelton, Patrick Wortmann
Key Losses: Josh Allwardt, Ben Sievert
2014 GPAC All-Conference: Ben Sievert
WOMEN
Head Coach: Kregg Einspahr (24th year)
2014 Finish: 4th in GPAC
Key Returners: Megan Burma, Haley Harpham, Elizabeth Rasmussen, Emily Sievert, Jordyn Sturms, Lauren Wilcox, Kim Wood
Key Losses: Erika Schroeder, Reneee Williams
2014 GPAC All-Conference: Kim Wood
Outlook
Most people don't understand why they do what they do. In fact more often than not, the sanity of someone who would put him or herself through immense amounts of discomfort for the sake of competing in a race – is questioned.
Sometimes, they don't even understand what they're doing themselves.
Regardless of any long-unanswered questions, the men's and women's cross country programs are not wasting any time in preparing for the official start of the cross country season as well as a hopeful run at the Great Plains Athletic Conference (GPAC) championship.
Entering into his 24th season as head coach for the Concordia cross country programs, Kregg Einspahr will once again field new faces and returning runners to go along with several unanswered questions and an adapted system of training to best prepare the Bulldog harriers.
Following a disappointing fifth place finish at the GPAC championships a season ago, the largest of the looming questions concerns the men's squad who graduated their three-time All-American leader and standout runner Ben Sievert.
The leadership roles will be picked up by lone seniors Jordan Potrzeba and Taylor Mueller, who will look to emerge as front-runners for the Bulldogs. They will not be without a strong nucleus, however, as the men's squad returns junior Chris Shelton and sophomores Kholton Gabehart and Patrick Wortmann. A handful of talented freshmen will also provide a boost, as Thomas Taylor, Evan Asche and Cameron Moes have sprung onto the scene and left little doubt that they will contribute significantly to the Bulldog cause.
"We have a fair number of guys back," Einspahr said. "I think we'll be a little bit short on depth compared to other years. Taylor Mueller is recovering from some injury problems from over the summer and is really running well. Jordan Potrzeba finished the outdoor track season extremely well and on a very high note. He will improve a lot. Those guys are really going to help us out. Chris Shelton has had a good summer. He also had a very good end to his track season. We'll have some guys coming back that have experience. Pat Wortmann should be improved. Last year was his first season of cross country and I expect him to be a contributor.
"Overall I think we have a solid core coming back," Einspahr said. "I do think we have a couple freshmen guys who are pretty talented runners who might be able to be in our top five and give us a big boost. We really need that on the men's side in particular."
Potrzeba spoke highly of the freshman runners, who have already begun to show their grit, determination, and confidence.
"We have four new freshmen this year and right now Thomas and Evan are running really strong," Potrzeba said. "They've actually been leading a lot of our runs. They come from great class A programs, so they're very experienced in the pace we're running at. They understand the expectations and it's great to have them as part of the team. They will definitely help us reach our goals this year."
Potrzeba noted his confidence in the returning Concordia runners who will provide a solid supporting cast for the men's squad.
"They've definitely improved," Potrzeba said. "Chris had a little bit of a (sickness) that sidelined him during the summer, so he's kind of working through it and Taylor's coming back from an injury but he's running great and so is Kholton. Pat is working through a little bit of an injury but these guys are definitely working just as hard."
The men's squad garnered 23 points in the national preseason poll, listing them as the sixth team outside the top 25 to receive votes. GPAC rivals Morningside College, Northwestern University and Dordt College each earned spots in the top 25 and will provide the bulk of the competition for the Bulldogs.
For Potrzeba, the strength of the GPAC is not unfamiliar. After failing to meet the expectations of finishing amongst the top teams at the GPAC championships last year, Potrzeba is determined to avenge the disappointments of a bitter ending to the 2014 season.
"Not qualifying (for nationals) last year…as a team…was a huge disappointment," Potrzeba said. "Finishing fifth in the GPAC for cross country is never acceptable… as we have high standards, as all the Concordia sports teams do. We embrace the challenge and we're going to go after it."
The 2015 cross country season will hold nothing less than a tough road for the Bulldogs as they battle with the rest of the conference for superiority. When stating the general goals of the team, Potrzeba was hopeful, but remained cautiously realistic.
"We want to get third in the GPAC," Potrzeba said. "Obviously we want to win it, but we understand that teams like Morningside, Northwestern, and Dordt – they're going to be tough to beat. There are up and coming teams like Midland that have recruits coming in that have had a lot of success in high school. Maybe, we can get a wild card berth if we don't win the GPAC to get into nationals."
In his fourth and final season, the experienced and battle-tested Potrzeba knows that a fair amount of the leadership responsibilities will fall on his shoulders, but admitted that the leading role is not his own.
"Taylor and I definitely feel the leadership (role)," Potrzeba said. "We're the only two seniors and so we feel that we really gotta step up our running. Yeah, Ben was a big loss, but it's still a team sport. I usually don't lead vocally or with words, I usually lead through actions. With Ben going out early in the track season, it pushed me to step up into that role. I'm all for it. I'll take full responsibility and do whatever I can to help the team."
On the women's side, Einspahr is hopeful that a slew of experienced returnees as well as a few newcomers will carry the Bulldogs to substantial success. Concordia returns seven of their top nine runners from a season ago, and with front runners Emily Sievert and Kim Wood back, the women's squad is poised to contend with the top teams in the GPAC.
"I think Emily Sievert improved a lot after cross country season last year and showed a lot of progress during indoor and outdoor track," Einspahr said. "She was actually our number three runner at the conference championships. Another year of experience and more confidence is a big factor for her. I expect her to be a real legitimate frontrunner this year. We were really looking for a frontrunner last year and Emily has the talent to do that. It's just difficult to do when you're a freshman and new to the whole college experience.
"I would suspect that Kim Wood will be improved," Einspahr said. "She gets better every year. Obviously she's got great foot speed and I think her overall strength will be improved so she will be effective in the 5K which is a bit on the long side for her. Many of the other girls we have coming back should be improved like Megan Burma. I'm expecting that Elizabeth Rasmussen and Jordyn Sturms will be much better. Both had not run cross country in high school. I think the experience last year will be really impactful for them."
With plenty of talent returning, Einspahr sees a bright potential for the women's squad and noted that some national attention could very well be in the mix for a team that finished one spot outside of the top 25 in the NAIA preseason rankings. GPAC rivals Dordt and Hastings each earned spots in the top 25.
"They have some potential to be a good team this year and maybe get back to the NAIA top 20," Einspahr said of his women's team. "I'm hoping we can compete in the top three of the conference. I do expect it to be an improved team this year."
For Wood, the transition to becoming a collegiate distance runner has not always been easy. Admitting that cross country has provided some challenges for her, Wood noted that improving her mental attitude towards the sport paid dividends towards her success.
"I feel like I was able to get in the zone and I was able to focus all three miles of the race, Wood said. "I think that's a huge component of cross country; just staying focused and being willing to push through, especially that middle mile, making your body keep working when it wants to quit.
Of course, a strong finish in the 2015 outdoor track and field season may very well provide some positive momentum for Wood moving forward as well.
"It's a big boost for me," Wood said of her finish in the 2015 track season. "Cross country hasn't always been my strong suite, so I'm hoping to come into this season as strong as I ended last season and just keep building from there."
Wood is not the only one who will be looking to take steps forward after success in running a season ago. Wood noted that several runners are showing promise in the early stages of the season.
"Jordyn Sturms and Beth Rassmussen did a great job last year and they're looking really strong this year," Wood said. "We also have some other runners who are new to cross country this year. I think it's a lot of words of encouragement and support is what those runners need. That's what I needed when I was a freshman. That really helps build them up and keeps us going."
When race day comes around, Wood will likely be joined amongst the front runners by her counterpart Sievert, of whom Wood spoke highly.
"Emily is a really hard worker and she is a really great teammate," Wood said. "I think the reason she does so well is because she pushes herself so hard, she gives it her best every time, and she's very mentally tough. She's a tough cookie, so she does really well and just pushes herself every single time."
Nearly every single member of the cross country programs will turn to the track at the close of the cross country season. With Concordia's first ever national championship in hand, both Wood and Potrzeba shared the feelings of excitement in contributing to the on-going success of Bulldog athletics.
"It's a good feeling to know that we've had success and to keep working at it and to do it for God's glory," Wood said. "It's really cool to be a part of that also."
"That's what you dream of when you come here," Potrzeba said. "That's partly why I wanted to come here right out of high school. You get that thrill of going to a competitive college (like) Concordia where they want to win, but they want to do it through Christ, and to accomplish these things is just phenomenal. It's a goal but at the same time we're just focused on each other and doing our best and it kind of takes care of itself."
For Wood, there is still unfinished business to attend to in her final season and goals yet to be reached after seeing her team finish fourth in the GPAC a season ago.
"Individually, I'd just like to really crush some (personal records), just go out there and give it my all… try to drop my time and make it to nationals. For the team, I think it would be really good if we could finish in the top three at conference or even higher; that would be great. It would be really cool if we could make it (to nationals), but we'll see."
When it is all said and done, accumulating thousands of miles over a four year career will certainly add up. Soreness and fatigue are the daily norm for any distance runner. Injuries constantly lurk around the corner for runners who pound the pavement and gravel roads with the same, repetitive, forceful motion each step of the way. Running for miles and miles without end may not seem like an ideal way to spend an afternoon, nor does completing a morning run before the sun comes up.
But perhaps it is this way of life that brings the distance runners together. It may not seem like an opportune way to go about one's day, but for the Concordia cross country teams, it is worth every stride and any questions regarding their sanity are disregarded.
"You don't do it alone," Potrzeba said. "I love the team atmosphere. I have great teammates all around me who make it fun. We do fun things; we hang out with each other. The running is painful, but having someone to do it with makes it worth it."