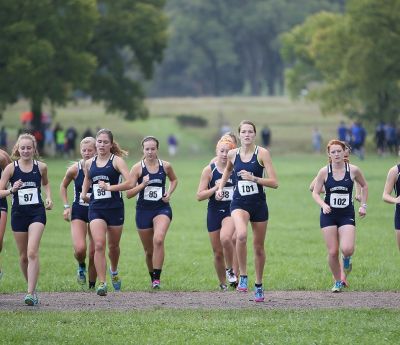 NAIA Championship qualifiers announced
The National Association of Intercollegiate Athletics has released the team and individual qualifiers for the 2010 NAIA Men's and Women's Cross Country National Championships. The Concordia University men received an automatic berth, while two runners from the Bulldog women's squad were selected as individual qualifiers.
Dana Schmidt and Colin Morrissey led the Bulldog men at the GPAC Championship meet this past weekend. Schmidt, a junior from Grundy Center, Iowa, was the individual champion of the meet with a time of 25:41 on the 8k course. Morrissey (Omaha, Neb.) came in second overall with a time of 25:54. Tyson and Beau Billings (Valentine, Neb.) also finished in the top 10 overall for the Bulldogs. Concordia is ranked 8th in the final NAIA Top 25 Poll.
Concordia finished as the 2009 NAIA National Runner-up last year. Two Bulldogs earned All-American honors in what was the seventh NAIA National Runner-up finish for the Concordia cross country and track programs.
An impressive streak has been snapped on the women's side. Entering this year, Concordia finished in the top 20 at Nationals for 16 straight years. With a third place finish at last weekend's GPAC Championships, the Bulldogs were unable to advance to the NAIA Championships this year. However, Sarah Kortze and Alicia Marteney received at-large berths into the meet. Kortze (Rockford, Ill.) finished fourth in the GPAC Championship meet with a time of 18:36 on the 5k course. Marteney (Pawnee City, Neb.) was sixth with a time of 18:50.
The 55th Annual Men's and 31st Annual Women's NAIA Championships will take place at the Fort Vancouver National Historic Site in Vancouver, Wash., on Nov. 20.