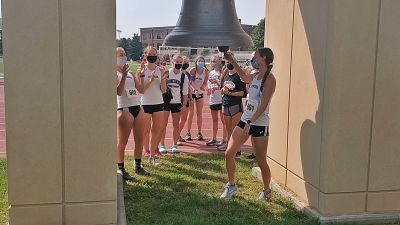 SEWARD, Neb. – It's GPAC week for the Concordia University Cross Country teams, which are gearing up for what they hope to be their best performances of the fall. Head Coach Matt Beisel's squads had this past weekend off after completing the regular season at the Mount Marty Invite on Oct. 24. The 2020 GPAC Cross Country Championships will be held at Fox Run Golf Course in Yankton, S.D., on Saturday. Race times are set for 10:45 a.m. CT for the women and 11:30 a.m. for the men.
VP Timing will provide live results for the races at this link: http://vptiming.com/2020xc/gpac/. Additional conference meet information can be found via the GPAC's official website: http://www.gpacsports.com/index.php.
Based on the official conference ratings, the Bulldogs enter the meet ranked third on the women's side and fourth on the men's side. To view the GPAC rankings, click on the following links: GPAC men's rankings | GPAC women's rankings. Beisel sees a potential path for the women to place top two and for the men to crack the top three on Saturday.
"That top two spot (on the women's side) is critical because top two in our conference automatically go to nationals," Beisel said on last week's Bulldog Coaches Show. "That's something our women are really, really working hard towards. They were there last year and placed 12th at nationals, and we would love the chance to do it again. We know it's within our reach. It leaves us hungry.
"Our men ended up fourth in the conference (at the Mount Marty Invite). We came up a little bit short, but not far off the next conference team. However, we were missing two of our best guys with minor injuries that hopefully will be cleared up when conference comes. Almost all of our top 10 guys had personal or season bests on a tough course."
That course Beisel refers to is the same one that will host the conference meet this Saturday. One year ago, the Concordia women celebrated the program's first cross country conference title since 2005. At the same meet (hosted by Dordt), the Bulldog men placed fifth. According to the GPAC ratings, Dordt is considered the favorite to win the conference for both men and women.
The Concordia men's program hopes to break into the top three of the GPAC for the first time since placing third in 2013. The return of sophomore Camden Sesna and junior Wyatt Lehr (two-time All-GPAC) to the lineup could make a big difference. Sesna starred as the team's top runner for each of this season's first four meets before he pulled out of the Mount Marty Invite. Sesna says he won't be at 100 percent health on Saturday, but he's going to give it everything he can.
"Our theme of 'Leave No Doubt' has motivated us throughout this fall by reminding us to wholeheartedly pursue our goals," Sesna said. "Whether it be during practice or at a meet, we want to be able to say that we left no doubt that we gave everything we could. Hopefully, come this weekend, all of that hard work will be rewarded with a successful meet for both the girls and the guys … I will make sure that no doubt is left on Saturday that I gave everything that I had and then some to give my team and myself the best chance to compete at nationals in the spring."
A native of Kearney, Neb., Sesna's top 8k time of the season was the 26:04.63 he ran at the Briar Cliff Invite. Teammates Lehr (15th) and senior Jordan Lorenz (19th) both placed inside the top 20 of the GPAC last season. Sesna (27th place in the GPAC in 2019) is the leader of a talented sophomore class that also includes the likes of Antonio Blaine and Owen Dawson. With Sesna out of the mix at the Mount Marty Invite, the team's top five finishers were Lorenz, freshman Calvin Rohde, Blaine, Dawson and junior Ethan Pankow.
On the women's side, three returners earned All-GPAC recognition last season: Kylahn Heritage (second), Alyssa Fye (fourth) and Sydney Clark (12th). It appears that beating out Dordt will be a real challenge, but the Bulldogs hope to outkick Morningside (ranked second in the GPAC). It's been a strong year for GPAC women's cross country with five teams currently ranked in the top 25 or receiving votes: No. 4 Dordt, No. 16 Morningside, No. 22 Concordia, Northwestern (RV) and Hastings (RV). The possibility exists that the conference could put three teams into the national meet.
"Our team plans on running fast, persevering and just doing the best we can for the glory of God," Heritage said. "We are going to work as a team by building each other up, communicating and cheering each other on during the race as we push each other. Every teammate counts and it's going to take all we got … What makes me most proud to be a part of this team is that we all serve one God who is holy, faithful, and loving to all of even though we are sinners."
Heritage could certainly challenge for an individual GPAC title if she can finish the 5k in the ballpark of her time of 18:30.48 at the 2019 conference championships. Of course, Heritage also has intense competition within her own team. Heritage and freshman Rylee Haecker finished within 0.05 seconds of each other at the Mount Marty Invite. Another freshman in Grace Reiman has consistently run near the top of the lineup this fall. In addition, junior Abi DeLoach garnered all-conference honors as a freshman in 2018.
According to Beisel, Fox Run should provide a nice setting for a conference championship. Said Beisel, "It's pretty well-mowed and well-maintained. It has a series of long, gradual hills and several loops. If it's windy, it can definitely hit the runners because there are some long straightaways that often go into the prevailing wind. Everyone has to deal with the same conditions so whoever's most ready for that is going to do the best. Our kids have run well on this course in the past."
Concordia Cross Country History
All-time team conference championships
Men (6): 1971, 1972, 1997, 2004, 2009, 2012
Women (6): 1995, 1999, 2002, 2004, 2005, 2019
All-time individual conference champions
Men (18)
Dan Cloeter (1970, 1971, 1972, 1973)
Dave Cloeter (1975)
Kregg Einspahr (1979, 1980, 1981)
Brandon Seifert (1997, 1998, 1999)
Andrew Walquist (2003, 2004)
Luka Thor (2006)
Zach Meineke (2008, 2009)
Dana Schmidt (2010)
Colin Morrissey (2012)
Women (7)
Sharon Holthaus (1980)
Amy Luft (1997)
Stacey Hain (1998)
Molly Engel (2002, 2003, 2004)
Sarah Kortze (2012)