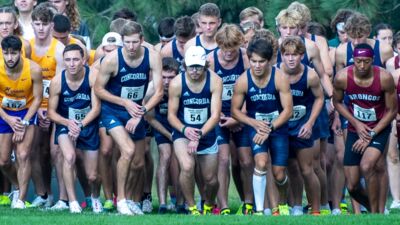 SEWARD, Neb. – The Bulldogs are gearing up for action in back-to-back weeks. Following strong performances at the Greeno/Dirksen Invite last week, Concordia University Cross Country will be represented at the Roy Griak Invitational (Sept. 22) hosted by the University of Minnesota and the Dean White Invitational (Sept. 23) hosted by Doane. This will be the third meet week of the 2023 season for Head Coach Matt Beisel's squads. More details on both of the upcoming meets can be found below.
Roy Griak Invitational – Friday, Sept. 22
Les Bolstad Course | St. Paul, Minn.
-11:30 a.m. – men's 8k
-12:15 p.m. – women's 6k
-Live Results
-Meet Info
Dean White Invitational – Saturday, Sept. 23
Doane Cross Country Course | Crete, Neb.
-9 a.m. / 9:45 a.m.
-Live Results
New sets of GPAC and NAIA national rankings were unveiled this week. On the women's side, the Bulldogs remained at No. 2 in the GPAC while jumping eight spots to No. 15 in the national coaches' poll. That ranking is the highest for the program since it appeared at No. 11 in 2021. On the men's side, Concordia moved into a tie (with Doane) for No. 2 in the conference rating while being listed as receiving votes in the NAIA coaches' poll.
The following Bulldogs will be headed to the Griak Invite on the women's side: Hannah Beintema, Keegan Beisel, Kylahn Freiberg, Keeli Green, Rylee Haecker, Rhaya Kaschinske, Julie McIntyre and Alayna Vargas. Men's competitors will include Jack Ellis, Charlie Hayden, Aaron Jendro, Trevor Kuncl, Nathan Pennekamp, Trey Robertson, Calvin Rohde and Justin Sherman. An alternate crew of Bulldogs will be headed to Crete on Saturday.
Over the first two meets of the season, the Concordia women have turned in place finishes of ninth of 29 at the Augustana Twilight and fifth of 20 at the Greeno/Dirksen Invite. On the men's side, the Bulldogs finished 12th of 32 at the Augustana Twilight and eighth of 24 at the Greeno/Dirksen Invite. At both meets, Concordia competed against NCAA Division I and II competitors. Already this season, Freiberg has earned two GPAC Runner of the Week awards while Rohde picked up that award on the men's side this week.
Following this weekend's action, the Bulldogs will look forward to the Briar Cliff University Invite on Oct. 7. That meet will be the second to last outing prior to the GPAC Championships.