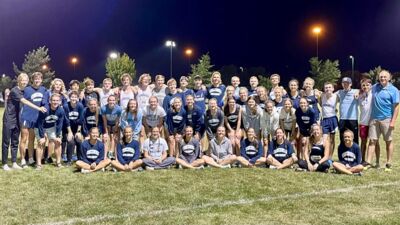 SIOUX FALLS, S.D. – This is something both Concordia University Cross Country squads can build upon at the outset of the 2022 season. While in action at the Augustana Twilight that featured 323 runners on the men's side and 313 competitors on the women's side, the Bulldogs outran all opposing GPAC and NAIA competition on Friday (Sept. 2). The field at Yankton Trail Park included runners from the NAIA, all three NCAA divisions and junior colleges. Overall, the Concordia women placed ninth out of 28 teams and the Bulldog men finished 12th out of 32 teams.
Now in his seventh year as head coach at his alma mater, Matt Beisel is stressing that this is only a start. However, the potential is there for something special to come together. In meet No. 1, Kylahn Freiberg paced the women and Camden Sesna emerged as the lead Dawg for the men.
Said Beisel, "We feel good about it, but there's a long time to go before the GPAC Championships. A lot can happen. The other teams in the GPAC are very good and have great coaches. We're going to have to fight for every inch on the both men's and women's sides. I know that we've got a lot of work to do and nothing is guaranteed."
Women's recap
Concordia top five (5k):
28. Kylahn Freiberg – 18:50.33
42. Rylee Haecker – 19:07.82
64. Hannah Beintema – 19:31.57
80. Rhaya Kaschinske – 19:46.46
86. Julie McIntyre – 19:51.47
The strong start for Kylahn Freiberg is an encouraging sign for the Bulldogs, who are looking to return to the form they showed in 2019 when they won the GPAC championship and placed 12th at the NAIA national championships. Freiberg stood out as the second highest placing GPAC/NAIA individual finisher as she clocked a 5k time of 18:50.33, putting her in 28th. Returning NAIA cross country national qualifier and track All-American Rylee Haecker backed her up with a 42nd-place claim that saw her cross the finish line in 19:07.82.
Twenty-four women represented Concordia at the Augustana Twilight. As one can see by the team's top five, newcomers will make a big difference. Bettendorf, Iowa, native Hannah Beintema placed third on the team while Trinity Christian College transfer Julie McIntyre was the team's No. 5 runner. The six through 10 spots were held down by Keegan Beisel (20:09.87), Amie Martin (20:54.95), Kaia Richmond (20:57.61), Jaiden Tweton (21:01.06) and Courtney Wright (21:05.54). Keegan is the daughter of Coach Beisel. Also noteworthy, Martin and Freiberg were both members of the '19 GPAC championship team.
Said Beisel, "We had a really strong pack up front with Kylahn and Rylee leading the way. In a race like this where it's crazy with the numbers of people, we tend to get spread out a little bit. We had a 60-second spread between our first and our fifth, which is a pretty tight group. That's kind of the key. We had a bunch of other girls who had really good days and are going to move up. Having our front eight or nine start really strong bodes well for the future."
Situated just outside of the NAIA preseason top 25 poll, the Bulldogs gave themselves a chance to crash the national rankings in a couple of weeks. They defeated No. 18 Hastings, which placed 14th. Concordia also outperformed additional GPAC rivals in Northwestern (11th), Morningside (17th), Doane (19th) and Mount Marty (27th). In addition, the Bulldogs placed in front of NCAA Division II schools such as Wayne State College and Concordia St. Paul.
Men's recap
Concordia top five (4 mile):
36. Camden Sesna – 20:19.33
61. Calvin Rohde – 20:37.71
103. Jimmy Nguyen – 21:10.04
129. Charlie Hayden – 21:29.22
133. Micah Willweber – 21:32.41
It comes as little surprise that the team's returning national qualifiers, Camden Sesna and Calvin Rohde, finished at the front of the Bulldog pack. Sesna concluded the four-mile race in 20:19.33 and placed 36th overall. Just like Freiberg did on the women's side, Sesna finished before all other NAIA runners. Meanwhile, Rohde was about 18 seconds behind at 20:37.71. Sesna and Rohde were top 10 GPAC place finishers in 2021.
The newcomers within Concordia's top 10 included freshmen Jimmy Nguyen (21:10.04), Aaron Jendro (21:35.65) and Travis Kuncl (22:03.06). It was a bit of a breakthrough for sophomore Micah Willweber, who broke into the team's top five and placed 133rd overall (21:32.41). The Bulldogs entered a total of 18 competitors into the Augustana Twilight.
"We had some strong freshmen performances with Jimmy Nguyen up there running well," Beisel said. "With Micah Willweber, we've known all along he had the capability to run up there in our top five. He's finally healthy and running great. The distance between our first and our fifth wasn't too far, which is really important in cross country scoring."
In a battle of Concordias, St. Paul just barely edged out the Bulldogs (377-381). However, CUNE placed in front of GPAC foes Doane (14th), Midland (22nd), Northwestern (24th), Mount Marty (25th), Hastings (28th) and Morningside (30th). Both Doane and Northwestern were ranked above the Bulldogs in the GPAC preseason coaches' poll.
Up next
The Bulldogs will have next week off while looking forward to the Greeno/Dirksen Invitational on Saturday, Sept. 17. The meet will be held at Mahoney Golf Course in Lincoln, Neb. It will be the first time Concordia has attended the Greeno meet since 2015.