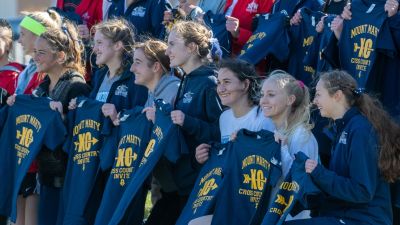 YANKTON, S.D. – Members of the Concordia University cross country teams waited three long weeks for this meet. After going idle since competing at the Briar Cliff Invite on Oct. 5, the Bulldogs returned to action on Saturday (Oct. 26) and got the results they were striving for at the Mount Marty Invite. The NAIA 19th-ranked Concordia women won the meet (30 points) while the men placed third (85 points). Nine teams were present on both sides.
Head coach Matt Beisel's squads have competed in five official meets this fall. The women were also champions of the Dean White Invitational on Sept. 28.
"It went the way it needed to for our runners," Beisel said. "We knew we had three weeks of training after the meet at Briar Cliff. In order to keep our confidence up and keep our national ranking, we needed to win the meet on the women's side. I put a fair amount of pressure on them in this meet. This was time to get out there and get it done. Our ladies and our men ran lights out."
In the 5k women's race, seven Concordia runners crossed the finish line in 19:50 or better. Freshman Kylahn Heritage earned the first-place t-shirt (placed behind only an unattached competitor) while clocking in at 19:09.50. Right behind her was teammate in senior Rebekah Hinrichs at 19:09.82. The Bulldogs had three of the top four runners in terms of scoring with junior Alyssa Fye coming in next in a time of 19:18.11.
The rest of the team's top seven featured freshman Amie Martin (19:29.95; 11th), junior Sydney Clark (19:37.06; 19th), junior Lydia Cook (19:43.59; 21st) and sophomore Abi DeLoach (19:50.37; 24th). It all added up to a meet title in a field made up exclusively of NAIA squads. Conference competitors included Northwestern (second), Morningside (third), Mount Marty (seventh), College of Saint Mary (eighth) and Midland (ninth).
On the men's side, Concordia was elated to beat our Morningside, which had been rated higher in the most recent official GPAC poll. The Bulldogs did so with the aid of two top-10 overall finishers in sophomore Wyatt Lehr (27:01.11; 9th) and junior Jordan Lorenz (27:04.68; 10th). Additional Concordia standouts to emerge from the 8k trail included freshman Camden Sesna (27:29.10; 15th), freshman Owen Dawson (28:12.54; 26th), freshman Antonio Blaine (28:20.33; 30th), junior Patrick Schneeberger (28:52.06; 39th and junior Christian Watters (29:25.40; 50th).
Dakota State (first) and Northwestern (second) were the only teams (both nationally ranked) to place above the Bulldog men. In addition to outrunning Morningside (fourth), Concordia also outpaced Midland (seventh) and Mount Marty (eighth). The Bulldog men entered the meet ranked No. 5 in the GPAC. Beisel called it an "outstanding day" for his group of guys.
The most significant action is yet to come. The GPAC championships will be staged two weeks from today on Saturday, Nov. 9. They will take place on the Dordt campus in Sioux Center, Iowa. The host Defenders will be one of the favorites on the women's side along with the Bulldogs. Said Beisel, "It's going to be a great battle. We're excited about what's coming up."