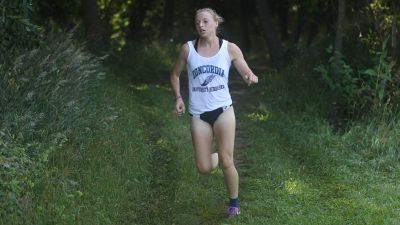 SEWARD, Neb. – A fourth-place finish at last week's conference championships has earned senior Taylor Grove a spot in the 2018 NAIA Cross Country National Championships. The official announcement came on Wednesday (Nov. 7) from the NAIA, which released the entire national qualifying field for men and women. Additionally, Grove and teammates in freshman Abi DeLoach, junior Rebekah Hinrichs and freshman Wyatt Lehr all garnered all-conference recognition.
2018 All-GPAC
Taylor Grove – 4th (18:53.54)
Abi DeLoach – 14th (19:36.99)
Rebekah Hinrichs – 13th (19:34.13)
Wyatt Lehr – 12th (26:38.73)
All-conference cross country accolades are earned by each individual who places in the top 15 in the GPAC championships. This marks only the third time in 10 seasons that the women's program has placed three runners in all-conference territory (2009, 2015, 2018). DeLoach and Hinrichs were on the bubble for the national championships but needed a third team from the GPAC to be awarded a bid to nationals in order to gain entry.
Grove, a two-time NAIA national qualifier in outdoor track, will make her way to the cross country national championships for the first time in her career. The 2018 GPAC outdoor 10,000 meter champion bounced back impressively after missing the 2017 cross country season due to injury. Her top-five GPAC finish this fall was a big step up from her conference finishes of 40th as a freshman in 2015 and 31st as a junior in 2016.
While the Concordia women have not qualified for nationals as a team since 2011, they have managed to claim seven individual berths to nationals from 2012 to the present. The Bulldogs have sent at least one female runner to nationals in four-straight seasons.
The 2018 NAIA Cross Country National Championships will take place on Friday, Nov. 16 at Seminole Valley Cross Country Course in Cedar Rapids, Iowa. The women's 5k race will begin at 10:30 a.m. CST. For more information on the event, click HERE.
Women's individual national qualifiers since 2011
2018
Taylor Grove
2017
Emily Deschaine
2016
Emily Deschaine
2015
Emily Deschaine
Kim Wood
2012
Sarah Kortze
Jena Schwalenberg