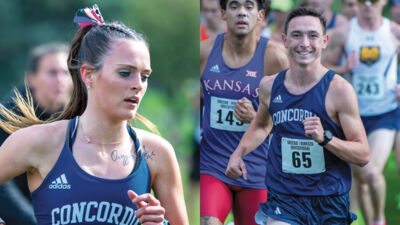 ST. PAUL, Minn. – In yet another largescale meet that put the Bulldogs up against collegiate competitors from all levels, Concordia University Cross Country held its own at the Roy Griak Invitational hosted by the University of Minnesota on Friday (Sept. 22). Led individually by freshman Keeli Green in the women's 6k race, 15th-ranked Concordia placed 10th out of 37 squads in the Maroon Division. Meanwhile, the men's team was led by freshman Trey Robertson and placed 17th out of 32 institutions. There were more than 800 combined men's and women's runners that paced the Les Bolstad Course as part of the Maroon Division in St. Paul, Minn.
Head Coach Matt Beisel's squads have competed alongside not just NAIA foes but also NCAA Division I and II opposition at each of the season's first three meets. In this particular meet, the Bulldogs were represented by 15 of their top runners. This was the program's first trip to the Griak Invite since 2015.
"Times don't reflect the effort that we put into it," Beisel said. "It was a super hilly course, and this was the one time we'll race in back-to-back weeks. It especially affects races longer than a 5k. We had a big emotional high last week at Woody Greeno, and almost everyone ran personal bests. For all kinds of reasons, I was super happy with how we did. A lot of prayer went into this."
Women's Recap
Concordia Results (6k):
33. Keeli Green – 23:32.3
37. Kylahn Freiberg – 23:35.3
54. Julie McIntyre – 23:58.0
94. Alayna Vargas – 24:37.4
95. Hannah Beintema – 24:37.7
110. Rylee Haecker – 24:49.8
132. Rhaya Kaschinske – 25:09.0
145. Keegan Beisel – 25:17.2
In the Griak Invite team race, Concordia placed behind only one NAIA opponent, GPAC rival and seventh-ranked Dordt (ninth). Of the other eight squads to place above the Bulldogs, seven were NCAA Division II and one was NCAA Division III. Biesel's squad produced a point total of 293 (compared to 238 for Dordt). Maroon Division champion Augustana University (NCAA D-II) scored a point total of 80.
"This is the first 6k for every one of our girls," Beisel said. "It's just a different thing. They were a little nervous about the extra 1,000 meters. Kylahn took it really carefully today because of her leg hurting. It felt better this morning and she took it conservatively and then worked her way up. Overall it was a phenomenal effort. Getting 10th place in the team standings, we ended up right behind Dordt and we beat No. 9 Indiana Wesleyan. I'll told our athletes, those times will all get faster."
As noted by Beisel, this marked the first meet of the 2023 campaign that featured a 6k race. Two-time Nebraska Class C state champion Keeli Green engaged in a close battle with teammate Kylahn Freiberg (reigning GPAC Runner of the Week) for the Bulldogs' top finish. Green ran the 6k in 23:32.3 while Freiberg came in just behind at 23:35.3. The Nampa, Idaho, native had emerged as the top Dawg at both the Augustana Twilight and the Greeno/Dirksen Invite.
While Green placed 33rd overall and Freiberg finished 37th (out of 391 runners to complete the race), three additional Bulldogs placed inside the top 100: Julie McIntyre (23:58.0; 54th), Alayna Vargas (24:37.4; 94th) and Hannah Beintema (24:37.7; 95th). The next three in line for Concordia were Rylee Haecker (24:49.8; 110th), Rhaya Kaschinske (25:09.0; 132nd) and Keegan Beisel (25:17.2; 145th).
While the field was heavy on NCAA affiliated schools, the Bulldogs managed to beat out fellow NAIA members in Indiana Wesleyan (14th), St. Francis (Ind.) (20th), Dakota State (22nd), College of Saint Mary (25th), Dickinson State (26th), Clarke (27th) and Jamestown (32nd). Indiana Wesleyan was ranked ninth in this week's NAIA coaches' poll.
Men's Recap
Concordia Results (8k):
68. Trey Robertson - 27:10.8
88. Calvin Rohde - 27:43.3
129. Trevor Kuncl - 27:50.1
171. Aaron Jendro - 28:23.9
191. Jack Ellis - 28:41.0
270. Justin Sherman - 29:39.4
340. Charlie Hayden - 30:51.3
NAIA programs competed favorably at the Griak Invite as Indiana Wesleyan claimed the Maroon Division title and defending NAIA national champion Dordt placed third. As the 17th-place team finisher, Concordia landed at No. 3 among the NAIA institutions. The majority of place finishers above the Bulldogs were NCAA Division II squads.
"I thought we ran great," Beisel said. "I felt like our guys did a great job. We had to pull Nathan Pennekamp out because he had an injury that flared up a little bit. From a team standpoint, that would have impacted our team finish if he had been able to run. I feel like our other guys ran really well. We're happy with the results and where we're at."
Concordia has had a different top runner at each of the season's first three meets: Charlie Hayden (Augustana Twilight), Calvin Rohde (Greeno/Dirksen Invite) and now Robertson. A freshman from Wallace, Neb., Robertson made another leap forward as he crossed the finish line with an 8k time of 27:10.8 on Friday. He placed 68th overall in a field of more than 450 runners. The reigning GPAC Runner of the Week Rohde galloped to a finish in 27:43.3, good for 88th place in the Maroon Division.
Five others wore the Bulldog blue in St. Paul: Trevor Kuncl (27:50.1; 129th), Aaron Jendro (28:23.9; 171st), Jack Ellis (28:41.0; 191st), Justin Sherman (29:39.4; 270th) and Charlie Hayden (30:51.3; 340th).
Now receiving votes nationally, the Concordia men outkicked fellow NAIA competition in Dakota State (22nd), Dickinson State (23rd), Jamestown (25th) and Clarke (29th).
Up Next
A group of Bulldogs (who did not compete on Friday) will take to the Doane Cross Country Course in Crete, Neb., on Saturday for the Dean White Invite. The meet is scheduled to get underway at 9 a.m. CT.