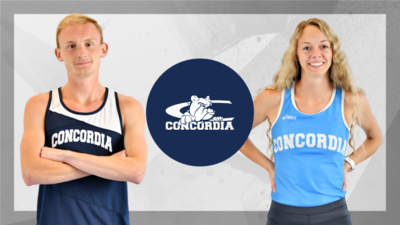 SEWARD, Neb. – Frontrunners for Concordia Cross Country through the first two meets of 2022, fourth-year Bulldogs Kylahn Freiberg and Camden Sesna were both honored by the GPAC on Wednesday (Sept. 21) for their performances at the Greeno/Dirksen Invitational. Freiberg has been named the GPAC/Hauff Mid-America Sports Women's Runner of the Week while Sesna has been recognized as the GPAC/Hauff Mid-America Sports Men's Runner of the Week. Sesna has collected a GPAC weekly award for the fourth time in his career while Freiberg has received the honor for the second time in her career.
Freiberg (maiden name Heritage) completed the 5k race at the Greeno/Dirksen Invitational in a time of 19:05.2, placing her 63rd overall out of 308 competitors. The Nampa, Idaho, native beat out all other GPAC and NAIA runners present at Mahoney Park Golf Course in Lincoln, Neb., where the field included athletes from NCAA Division I and II institutions. Freiberg helped lead the Bulldogs to a third-place team finish out of 19 squads in the "Gold Division" of the meet. In her career, Freiberg has earned three NAIA All-America awards in track and was the 2019 GPAC cross country meet runner up for a Concordia team that won the conference title.
A 2021 cross country national qualifier, Sesna clocked a personal best 8k time of 25:22.3 at the Greeno/Dirksen Invite and placed 42nd overall out of a field of 318 runners. Like Freiberg, Sesna outran all opposing GPAC and NAIA athletes at the meet and defeated numerous NCAA Division I competitors. The Kearney, Neb., native powered the Bulldogs to a sixth-place team finish out of 21 squads in the Gold Division. An accomplished distance runner, Sesna placed seventh at the 2021 GPAC Cross Country Championships, qualified for the 2021 NAIA cross country national meet and is a three-time national qualifier in track.
Freiberg, Sesna and the rest of the Bulldogs will be back in action this Saturday at the Dean White Invitational hosted by Doane. The meet is slated to get underway at 9 a.m. CT.