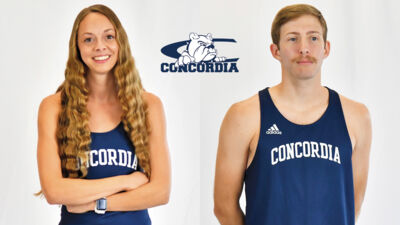 SEWARD, Neb. – As a result of accomplishments achieved at the Greeno/Dirksen Invite, Concordia University Cross Country has swept GPAC/Hauff Mid-America Sports Runner of the Week awards, as announced by the conference on Wednesday (Sept. 20). The honors this week go to Kylahn Freiberg and Calvin Rohde. Freiberg has collected the award for the second time already this season. Meanwhile, Rohde has been rewarded for the first time in 2023.
Also a two-time GPAC weekly honoree in 2022, Freiberg (Nampa, Idaho) has emerged as the lead Dawg at each of the season's first two meets. She ran a personal best 5k time of 18:22.36 last week at Mahoney Golf Course in Lincoln. That placed her 15th in the Gold Division of the meet and No. 1 among GPAC competitors. Two weeks earlier, Freiberg clocked a 5k time of 18:30.28 at the Augustana Twilight. In cross country, Freiberg has twice garnered All-GPAC recognition and has twice competed at the NAIA national championships. In track & field, Freiberg has collected four All-America awards and is a two-time individual GPAC champion. Between cross country and track, she's helped Concordia win eight GPAC team titles.
Rohde also led the way amongst GPAC competitors at the Greeno/Dirksen Invite. The Reed City, Mich., crossed the finish line in 25:54.9 last week in the Bulldogs' first 8k race of the season. He placed 43rd among athletes in the Gold Division. A two-time All-GPAC award winner in cross country, Rohde qualified for the national championships in 2021. He's also made his way to track national meets on two occasions.
Both Freiberg and Rohde will be headed to St. Paul, Minn., for the Griak Invite on Friday. The location will be the University of Minnesota Les Bolstad Golf Course.