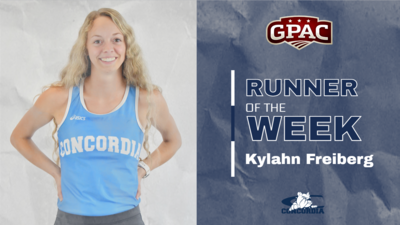 SEWARD, Neb. – A strong start to the 2023 season has led to fifth-year Bulldog Kylahn Freiberg being named the GPAC/Hauff Mid-America Sports Women's Cross Country Runner of the Week, as announced by the conference on Wednesday (Sept. 6). Freiberg placed first among GPAC/NAIA competition at the 2023 Augustana Twilight held on Sept. 1. The native of Nampa, Idaho, was also recognized with two GPAC weekly awards in 2022.
Freiberg completed the 5k race at Yankton Trail Park in Sioux Falls, S.D., last week in a time of 18:30.28. She placed 18th overall with all runners placing in front of her coming from NCAA Division I or II schools. The field at the Augustana Twilight included 358 total runners. As a team, 23rd-ranked Concordia finished 10th out of 29 squads overall and outkicked all GPAC/NAIA competition.
Freiberg has achieved significant heights in her collegiate career. In cross country, Freiberg has twice garnered All-GPAC recognition and has twice competed at the NAIA national championships. In track & field, Freiberg has collected four All-America awards and is a two-time individual GPAC champion. Between cross country and track, she's helped Concordia win eight GPAC team titles.
Next up for Head Coach Matt Beisel's cross country crew will be the Woody Greeno/Jay Dirksen Invite at Mahoney Golf Course in Lincoln on Sept. 16.