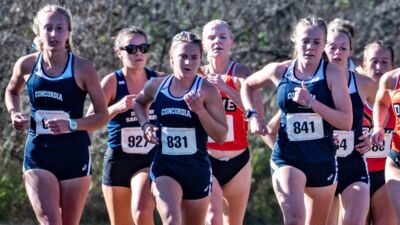 SIOUX FALLS, S.D. – Underneath the lights in the lone night meet of the fall, Concordia University Cross Country kickstarted the 2023 season on Friday (Sept. 1). Yankton Trail Park in Sioux Falls, S.D., served as the venue for the Augustana Twilight, which saw more than 700 combined men's and women's runners pace the course. On the overall team leaderboards, the Bulldogs placed 10th out of 29 on the women's side and 12th out of 32 on the men's side. The Concordia women finished first among NAIA squads while the men ranked second among NAIA entrants.
This was the start of year eight for Matt Beisel as head coach at his alma mater. The Bulldog women entered the meet ranked No. 23 in the NAIA. Both Concordia squads were picked second in the GPAC preseason coaches' polls. The Augie Twilight provided a launching point for what's to come later this fall. It also gave the Bulldogs an opportunity to test themselves against competition from all collegiate levels, including the University of Nebraska.
"I told them before we ran, 'Remember our theme for the season: be where your feet are,'" Beisel said. "No matter the outcome, I wanted them to enjoy the moment, enjoy the people they're with and enjoy running this really cool race against great competitors. Whatever our times are, we'll celebrate the good stuff and not overthink the things that don't go well. The focus is on glorifying God and enjoying each other's company."
Women's Recap
Top Finishers (5k) – Team: 10th/29
--Average team time: 19:07.98
18. Kylahn Freiberg – 18:30.28
23. Keeli Green – 18:35.95
64. Julie McIntyre – 19:19.37
69. Keegan Beisel – 19:25.26
93. Hannah Beintema – 19:49.01
A two-time cross country national qualifier, Kylahn Freiberg paced the Bulldogs in Sioux Falls while clocking a time of 18:30.28. She placed 18th in a field of 358 runners. She was pushed at the top of the Concordia pack by freshman Keeli Green, who ran a 5k time of 18:35.95 in her collegiate debut. The rest of the team's top five featured Julie McIntyre (19:19.37), Keegan Beisel (19:25.26) and Hannah Beintema (19:49.01). Freiberg placed eighth in the GPAC in 2022.
Said Beisel, "The women ran fantastic. You look at our average team time and it was not far off Augustana and some of those other schools. We had standout performances from a number of our girls – lots of fantastic first races. Kylahn led the way and Keeli Green ran one of the fastest times of her life. She showed right away that she's a heavy hitter. Julie McIntyre had an outstanding race and Keegan was right behind her. It was a really good start. When you throw Rylee (Haecker) into the mix, it's going to be even better. Being the top GPAC team was a nice place to start."
A total of 27 runners represented the Concordia women at the meet. The remainder of the team's top 10 included Alayna Vargas (19:51.10), Rhaya Kaschinske (20:06.98), Claire Beikmann (21:23.27), Jaiden Tweton (21:23.90) and Charis Deitemeyer (21:41.68). In other words, four of the team's 10 best finishers were freshmen, adding depth to a roster that returned six competitors from the 2022 national qualifying team.
The Bulldogs placed as the top NAIA team in the field at the Augie Twilight. Concordia beat out rival GPAC schools in Morningside (14th), Northwestern (16th), Hastings (17th), Doane (19th), Jamestown (20th), Mount Marty (28th) and Briar Cliff (29th).
Men's Recap
Top Finishers (4 mile) – Team: 12th/32
--Average team time: 21:12.31
75. Charlie Hayden – 21:02.36
81. Calvin Rohde – 21.06.50
83. Trey Robertson – 21:07.04
93. Trevor Kuncl – 21:12.93
118. Jack Ellis – 21:32.72
In the four-mile trek, junior Charlie Hayden managed to outkick two-time All-GPAC runner Calvin Rohde for the top spot among Bulldogs. Hayden crossed the finish line in 21:02.36, roughly four seconds in front of the team captain Rohde (21:06.50). GPAC runner up last season, Concordia also turned in solid races from the likes of Trey Robertson (21:07.04), Trevor Kuncl (21:12.93) and Jack Ellis (21:32.72). A sophomore from Mullen, Neb., Kuncl has the ability to enjoy a breakthrough campaign. Meanwhile, Robertson (Wallace, Neb.) ran right with Hayden and Rohde in his first college meet.
Said Beisel, "It was a very strong team effort. Talking with the guys, they all said we can do this better. It was still a strong race. We all feel like, even though Doane beat us, we are within striking distance. I think we have way more in us. I'm excited to see what the future brings. Charlie Hayden had a standout performance and ended up passing Calvin towards the end. Trevor and Trey did great. I think a lot of people had a good time. It's a great race."
A total of 25 runners wore the navy and white. The team's top 10 was rounded out by Thomas Gorline (21:37.66), Nathan Pennekamp (21:44.63), Westley Determan (21:53.43), Justin Sherman (21:59.27) and Adric Schmitz (22:14.80). Three of the top 10 were freshmen for a squad that lost just one key athlete from 2022 (Camden Sesna). The field of individuals in Sioux Falls numbered 358 strong.
The Bulldogs placed as the No. 2 NAIA team in the field at the Augie Twilight. Concordia will have to wait until next time out to try to catch up to No. 25 Doane, which placed 10th. The Bulldogs managed to beat out the following GPAC foes: Jamestown (16th), Mount Marty (18th), Northwestern (20th), Hastings (25th), Morningside (27th) and Briar Cliff (30th).
Next Up
The Bulldogs will have next week off from competition while gearing up for the Woody Greeno/Jay Dirksen Invite on Sept. 16. The event will take place at Mahoney Golf Course in Lincoln and is scheduled to get underway at 10 a.m. CT.