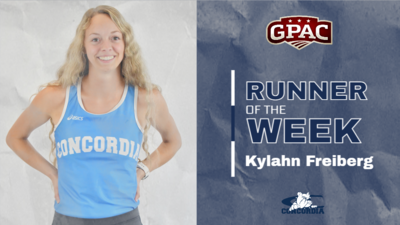 SEWARD, Neb. – A strong fall keeps getting better for Kylahn Freiberg. With Wednesday (Sept. 28)'s announcement from the conference, Freiberg has been named the GPAC/Hauff Mid-America Sports Runner of the Week for the second straight time. The native of Nampa, Idaho, has been the top runner at each of this season's three meets for Head Coach Matt Beisel's 17th-ranked Bulldogs.
Freiberg takes the latest honor after she finished the 5k race at the Dean White Invitational in 19:43.94. That time put her in second place at the meet, behind only a competitor from another NAIA school. Freiberg's efforts helped the Concordia women take first place in the meet and continue a trend of defeating all other GPAC and NAIA teams in each 2022 outing. A week earlier, Freiberg ran 19:05.2 at the Greeno/Dirksen Invitational. As part of her career, Freiberg has earned three NAIA All-America awards in track and was the 2019 GPAC cross country meet runner up for a Bulldog squad that won the conference title.
Freiberg and her teammates have this week off from competition. They will return to action on Saturday, Oct. 8 for the Holiday Inn Express Classic hosted by Dordt in Sioux Center, Iowa.