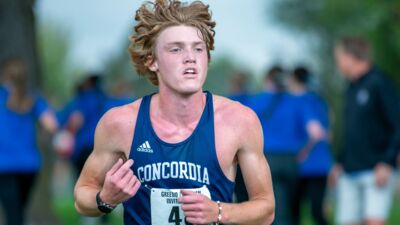 CRETE, Neb. – A day after a group of 15 Bulldogs competed at the Roy Griak Invitational in St. Paul, Minn., an alternate crew of runners from Concordia University Cross Country took to the Doane Cross Country Course. The yields on Saturday (Sept. 23) morning included five top 10 individual finishes, courtesy of Westley Determan and Thomas Gorline on the men's side and Claire Beikmann, Faith Williamson and Sammi Vojslavek on the women's side. In a small field of three teams, the Bulldogs placed second on both sides.
The other competitors at the meet were host Doane and in-state York University. The team finishes were of little consequence considering Concordia's top runners sat this one out after competing at the Griak Invite on Friday.
Said Beisel, "None of the times were fast. We didn't have any personal or season bests because it's a super hilly course. It's a great cross country course, but it's not a course that produces fast times. They all ran hard and pushed it all the way against the top athletes on Doane's team. It's hard to come off a big successful meet like the Greeno meet where almost everyone had big personal bests, and then duplicate that six or seven days later. It takes a few weeks to get recharged. What I wanted to see was our athletes pushing hard and competing, and they did. I was super proud of them."
Men's Recap
Top Concordia finishers (8k):
9. Westley Determan – 28:44.91
10. Thomas Gorline – 28:50.36
12. Adric Schmitz – 29:05.13
13. Micah Willweber – 29:12.19
15. Evan Schmidt – 29:58.59
16. Colin Pinneo – 29:33.79
17. Joshua Miller – 29:34.68
"Westley Determan and Thomas Gorline finished in the top 10, and both of them put together really solid races," Beisel said. "They both have a lot of ability and talent. In the case of Westley, he got sick and it has taken him a while to get back. He ran well today. It's a sign that he's on the mend. Again, we had a lot of freshmen who ran well."
Overall, there were 18 Bulldogs who completed the 8k course. The entire field of men's runners numbered 39 competitors. Twelve of the Concordia participants were freshmen, including Adric Schmitz, the team's No. 3 finisher at the meet. The rest of the Bulldog top five featured Determan (28:44.91) and Gorline (28:50.36) at the top and Micah Willweber (29:12.19) and Evan Schmidt (29:58.59) in the Nos. 4 and 5 spots, respectively.
Doane took first place with 15 points in the team scoring. Next in line were Concordia (50) and York (85).
Women's Recap
Top Concordia finishers (5k):
7. Claire Beikmann – 21:51.72
8. Faith Williamson – 21:53.03
9. Sammi Vojslavek – 21:53.80
13. Jaiden Tweton – 22:15.46
15. Kelsie Heins – 22:30.82
17. Josie Smith – 22:38.84
19. Charis Deitemeyer – 22:44.78
"Claire Beikmann was our leader in seventh place," Beisel said. "Faith Williamson was our next finisher in eighth and Sammi Vojslavek got ninth. All the top 10 finishers got t-shirts, so it was really cool to see them have that moment and place top 10. Everyone ran well, it was just a much slower course."
The top 10 Bulldog place finishers each clocked in with 5k times below 22 minutes: Claire Beikmann (21:51.72), Faith Williamson (21:53.03) and Sammi Vojslavek (21:53.80). They were the headliners for a group of 17 Concordia women to pace the Doane course. The team's top five was rounded out by Kelsie Heins (22:30.82) and Josie Smith (22:38.84).
In the team scoring, Doane totaled 15 points with Concordia (47) and York (83) trailing behind.
Up Next
The Bulldogs will have a much needed break from competition next week while preparing for a return to action at the Briar Cliff Invite on Saturday, Oct. 7. That meet will be held at Adams Homestead and Nature Preserve in North Sioux City, S.D., and is slated to get underway at 10:30 a.m. CT.