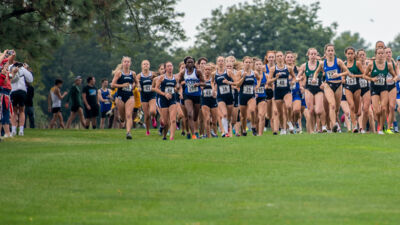 NAIA Preseason Poll Release: Women
SEWARD, Neb. – The NAIA released their 2023 cross country national preseason poll on Thursday (Aug. 24) morning ranking the women No. 23 to start their 2023 campaign. The Bulldogs received 159 final points as they settled between Aquinas College (Mich.) and Goshen College (Ind.) making a preseason jump from last year's poll where Concordia received 87 final points.
Under head coach Matt Beisel, the women have not finished in the top 25 since the 2019 season laying claim to the GPAC championship and finishing 12that nationals.
They recently received a second place ranking in the GPAC preseason poll last Friday (Aug. 18) and the ranking stayed true, taking second among GPAC schools in the national poll.
With a wealth of experience returning, the Bulldogs are set to make a run at their best finish under Beisel. They kept seven of the eight women who traveled to nationals which produced a 27th place finish at the NAIA Cross Country National Championships. The pack is led by All-GPAC Kylahn Freiberg, Julie McIntyre and Rylee Haecker as Freiberg finished first for the team at nationals with a 69th place finish. Hannah Beintema finished her season at nationals with a monster personal best (19:21.4) which was good enough to give her 151st place (2nd on team). Other national runners returning are Rhaya Kaschinske, Keegan Beisel and Faith WIlliams. Along with experience, Beisel brought in a new class to add fuel to the fire of this potential GPAC championship and national qualifying team.
Other GPAC teams mentioned in the national poll were No. 8 Dordt (461 points) and Hastings (RV) who received 30 final points.
The 2023 season will start near sunset on Sept. 1 with the Augustana Twilight meet once again. The action is set to start at 8:30 p.m. CT from Yankton Trail Park in Sioux Falls, S.D.