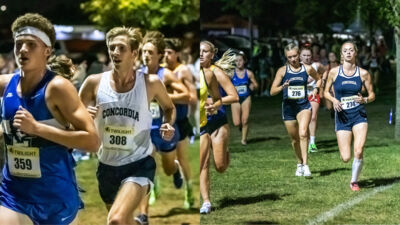 GPAC Preseason Poll Releases: Men | Women
SEWARD, Neb. – Expectations grow for the Bulldogs as the GPAC league office revealed the preseason cross country polls for both the men and women on Friday (Aug. 18). The men and women garnered second while the men received 88 votes (one first place) and the women received 104 votes jumping from last year's preseason poll landings of fourth (men) and third (women).
Head coach Matt Beisel enters his eighth season leading the Concordia cross country and track & field teams. The men were edged into second place in the GPAC race with the women finishing third last season (2022). The women's cross country program won the GPAC title as recently as 2019. The men look to become GPAC champions for the first time since 2012.
Seven of the eight women who qualified for the team trip to the 2022 NAIA Cross Country National Championships return for their 2023 season. Led by All-GPAC honorees Kylahn Freiberg and Rylee Haecker the Bulldogs are set to make a GPAC Championship title run with the wealth of experience returning in 2023.
From GPAC release, "Haecker led the Bulldog squad in track as multi-time GPAC Champion in the mile and 1500 and capped off her season with a school record and All-American time of 4:33 in the 1500. She has qualified for XC nationals two consecutive years and run 18:30 in the 5K. Freiberg, also a multi-time XC National Qualifier and All-American, was the 1000-meter National Runner up this year, and ran an 18:04 5K on the track this spring."
The men are led by returning All-GPAC Calvin Rhode who looks to resend back to the national scene as he qualified in 2021 for the NAIA Cross Country National Championships. Others factoring in for the men are Jack Ellis and Aaron Jendro.
From GPAC release, "For the men, Calvin Rohde is the clear leader among the Bulldog men. He ran a 25:06 8K in fall of 2022, and ran a 14:42 5K this spring. The men have the potential to place top two in the GPAC and qualify for the NAIA National Championships in November."
The women finished 27th at the 2022 NAIA Cross Country National Championships.
The Bulldog men sit behind the defending national champions, Dordt (99 votes) meanwhile, the women were wedged in between Dordt (121 votes) and Hastings (101 votes) at the top of the preseason polls.
The 2023 season will start near sunset on Sept. 1 with the Augustana Twilight meet once again. The action is set to start at 8:30 p.m. CT from Yankton Trail Park in Sioux Falls, S.D.