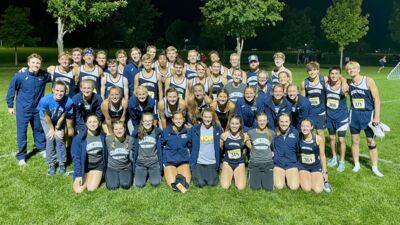 SIOUX FALLS, S.D. – Consider the finish to the 2020 season forgotten. While opening their 2021 seasons, the Concordia University Cross Country teams put forth strong showings at the Augustana Twilight meet that unfolded Friday (Sept. 3) evening at Yankton Trail Park in Sioux Falls, S.D. The Bulldog women placed eighth out of 27 teams while the men finished 12th out of 31 squads. The unique event featured runners from all levels of college cross country.
Head Coach Matt Beisel has a lot to smile about as he begins his sixth year at his alma mater. Both Concordia teams managed to knock off a nationally ranked GPAC rival. As for the women, they edged sixth-ranked Dordt in a close battle. There were 329 runners in the women's 5k race and 344 competitors in the men's four-mile race.
Women
Just a couple of years removed from winning the GPAC title, the Bulldogs are showing they have the makings of a championship contender in 2021. The seven place finishers in front of Concordia are each affiliated with either NCAA Division I or II. With a team total of 256, the Bulldogs just barely held off reigning GPAC champion Dordt (264). Concordia defeated six other conference opponents: Hastings (10th), Morningside (13th), Doane (14th), Northwestern (16th), Midland (21st) and Mount Marty (25th).
Said Beisel, "It's just a great feeling. It's confirmation that the work we put in over the summer is paying off. I really believe our team dynamic is giving us energy. We went into this knowing this is something we really wanted to do. We went out aggressively and put ourselves up towards the front. It was more about competing and not about times. Everyone's pretty ecstatic. We're tired but happy."
Top five individual Bulldogs:
44. Grace Reiman – 19:26.89
63. Rylee Haecker – 19:46.71
70. Kaia Richmond – 19:52.43
72. Amie Martin – 19:52.69
89. Rhaya Kaschinske – 20:08.37
Grace Reiman has made a jump in her second season in the program. She paced the pack of 18 Bulldogs in the race by finishing the 5k in 19:26.89. Fellow track and field relay All-American Rylee Haecker came in next in line by clocking a time of 19:46.71. In addition, the freshmen made an immediate impact with Kaia Richmond and Rhaya Kaschinske landing inside the team's top five runners. Meanwhile, Amie Martin placed 72nd overall while running a good portion of the race with just one shoe on.
Freshmen Courtney Wright (20:43.98; 130th) and Katelyn Nix (20:47.34; 132nd) represented the team's sixth and seventh competitors. Rounding out the top 10 were Keri Bauer (20:56.13; 141st), Jaiden Tweton (21:00.38; 146th) and Grace Oberg (21:02.24; 148th).
The Bulldogs entered the meet ranked third in the GPAC behind Dordt and Morningside. Concordia put itself in position to move up when the new conference rating is released on Sept. 13 (new NAIA ranking on Sept. 16).
Men
This was also a confidence booster for the men's team, which placed behind only Dordt (third) and Northwestern (10th) among GPAC foes. There was a gap of 20 points that separated Concordia (366) from the Red Raiders (346). The Bulldogs outran the following GPAC rivals: Doane (16th), Morningside (17th), Midland (20th), Mount Marty (23rd), Hastings (25th), Dakota Wesleyan (28th) and Briar Cliff (30th). Doane carried a national ranking of 21st into the meet.
Said Beisel, "Camden (Sesna) led the way. He went out super strong and was sitting about 18th with a mile-and-a-half to go. It was a great race … There's something really special about what the guys did in a really big event that proved we're way ahead of where we were two years ago. That's something we needed confidence-wise. Everyone's really pumped about it."
Top five individual Bulldogs:
35. Camden Sesna – 20:44.53
75. Calvin Rohde – 21:19.90
83. Charlie Hayden – 21:33.45
105. Sam Plante – 21:56.52
149. Thomas Gorline – 22:29.88
The program's top runner for most of 2020, Camden Sesna is again the Concordia frontrunner. He galloped four miles in a time of 20:44.53 and placed 35th. He was a GPAC runner-up finisher in the steeplechase this past outdoor track season. Sesna was followed by Calvin Rohde, who crossed the finish line in 21:19.90. The next five Bulldogs in line were all freshmen: Charlie Hayden (83rd), Sam Plante (105th), Thomas Gorline (149th), Nathan Pennekamp (22:45.86; 166th) and Jack Ellis (23:01.71; 192nd).
Past All-GPAC runner Wyatt Lehr placed eighth among Bulldogs (197th overall) in a time of 23:05.65. The ninth and 10th spots in Concordia's lineup were held down by Ethan Pankow (23:06.68; 199th) and Owen Dawson (23:08.15; 204th).
The Bulldogs are determined to outperform their current standing of sixth in the GPAC rankings. In the preseason, the top five in the conference rating were Dordt, Doane, Northwestern, Midland and Morningside.
Up next: The next meet will wait until Friday, Sept. 17 when the Bulldogs will be at the Morningside Invite. The race is slated to get started at 5:30 p.m. CT from Adams Nature Preserve in North Sioux City, S.D. Concordia will also be at that same course for the Briar Cliff Invite on Oct. 1.