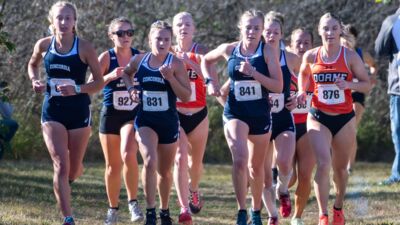 CRETE, Neb. – Camden Sesna emerged as the men's individual champion while both the Bulldog men's and women's cross country teams placed in the top two of the Dean White Cross Country Festival hosted by Doane on Saturday (Sept. 24) morning. The 17th-ranked Concordia women celebrated a meet title behind runner up Kylahn Freiberg and three additional runners who placed in the top eight of the individual leaderboard. The smaller field in Crete, Neb., featured opposition in host Doane, College of Saint Mary (women), Peru State College and York College.
Both of Head Coach Matt Beisel's squads held out at least one key runner on day that resulted in overall promising returns. Beisel says his teams have been in the midst of some of their most significant mileage training.
"We're doing things very differently than the past few years," Beisel said. "Last year we were running our fastest times and peaking too early. We slowed down as we got towards Mount Marty and conference. This year we're taking more time to build up our mileage and intensity. This week we just got down with was our maximum mileage volume of the entire season. I told them that if they feel good during the race, then I've done a bad job as a coach. They were tired and fatigued these past two weekends and still competed well. Now over the next few weeks we're going to be changing things and I think they'll be running faster and feeling a lot better. We're excited to go up against Dordt in two weeks and see how it all shakes out."
Women's rundown
The women's program notched its first team meet championship since winning the 2021 Morningside College Invite. The Bulldogs did so while following the lead of reigning GPAC Runner of the Week in Freiberg, who finished behind only a competitor from York College. Concordia was without two of its top runners in Rylee Haecker and Julie McIntyre. In their absence, the Bulldogs showed off their depth as two freshmen ran with the team's top five.
Said Beisel, "I told the girls that this was a chance for everyone to step it up and move up in the ranks. I thought they did a really good job of that. The whole idea for the women was to start the first mile fairly conservatively and run as a pack. We had a really nice grouping up front. That pack really helped us scoring-wise and we ended up with a win and got to ring the bell."
Freiberg finished the 5k race in 19:34.59 a week after she ran 19:05.02 at the Greeno/Dirksen Invite in Lincoln. The Nampa, Idaho, native has been the team's top runner all three meets in 2022. As a team, Concordia totaled 35 points while placing in front of Doane (49), College of Saint Mary (66), York (79) and Peru State (149). The Bulldog women also won the Dean White Invite in 2020.
The Concordia top five that followed Freiberg included Hannah Beintema (20:09.16), Rhaya Kaschinske (20:32.31), Keegan Beisel (20:38.91) and Amie Martin (21:22.09). Bulldog runners six through 10 were packed tight: Jaiden Tweton (21:28.20), Faith Williamson (21:37.34), Courtney Wright (21:40.99), Bella Marchisio (21:41.27) and Sammi Vojslavek (22:22.40). Twenty-one Concordia women paced the course on Saturday.
Concordia top five at Dean White
2. Kylahn Freiberg – 19:34.59
5. Hannah Beintema – 20:09.16
7. Rhaya Kaschinske – 20:32.31
8. Keegan Beisel – 20:38.91
13. Amie Martin – 21:22.09
Men's rundown
It was essentially a dual on the men's side as Doane edged the Bulldogs, 25-30. A two-time GPAC Runner of the Week this season, Sesna took the individual title while running the 8k in 25:58.52. Sesna had run 25:22.3 a week earlier at the Greeno/Dirksen Invite. In the latest trot, Sesna was joined in the top 10 on the individual leaderboard by teammates Calvin Rohde (26:26.46), Jimmy Nguyen (27:17.28), Thomas Gorline (27:50.79) and Charlie Hayden (27:56.62).
"We thought we had a shot at winning what was basically a dual meet," Beisel said. "One placement here or there makes a huge difference. We worked on running in packs and our guys also started out conservatively. I think they probably beat us on strategy. I still think we ran really well from a competitive standpoint."
Sesna has been the top runner for the men's team in each of this season's three meets. With Sesna and Rohde leading the way at the top of the pack, the Bulldogs were knocking on the door of the NAIA top 25 released this past week. One missing element at the Dean White Invite was freshman Aaron Jendro, who was held out as a precaution. Jendro had been the team's No. 4 runner the previous week.
The six through 10 positions in Concordia's lineup in Crete were Nathan Pennekamp (27:57.34), Jack Ellis (28:03.69), Micah Willweber (28:10.86), Trevor Kuncl (29:05.77) and Jackson Smith (29:28.08). There were 13 Bulldogs that completed the race on Saturday.
Concordia top five at Dean White
1. Camden Sesna – 25:58.52
3. Calvin Rohde – 26:26.46
7. Jimmy Nguyen – 27:17.28
9. Thomas Gorline – 27:50.79
10. Charlie Hayden – 27:56.62
Up next
The Bulldogs will take next week off from competition while gearing up for the Holiday Inn Express Classic hosted by Dordt on Saturday, Oct. 8. The meet is slated to get underway at 10 a.m. CT from Sioux Center, Iowa. Just two meets remain on the schedule prior to the GPAC Championships on Nov. 5.