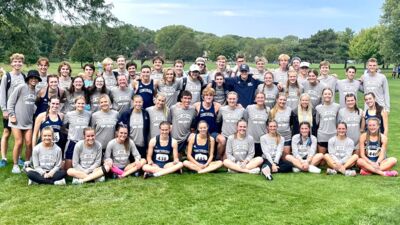 LINCOLN, Neb. – Nearly 500 combined men's and women's runners (in the Gold Division) paced the trail at Mahoney Golf Course in Lincoln, Neb., on Saturday (Sept. 16) morning as part of the Woody Greeno/Jay Dirksen Invite. The Concordia University Cross Country squads tested themselves against strong NCAA Division II and NAIA competition and emerged with place finishes of fifth (out of 20) on the women's side and eighth (out of 24) on the men's side. The 23rd-ranked Bulldog women finished second among NAIA squads while the men managed to beat out No. 25 Doane.
Head Coach Matt Beisel's group returned to action for the first time since opening the 2023 season at the Augustana Twilight on Sept. 1. The individual leaders for Concordia on Saturday were past All-GPAC performers in Calvin Rohde on the men's side and Kylahn Freiberg on the women's side. The men ran an 8k for the first time after striding for four miles at the Augie Twilight.
"We talked as a team yesterday and I reminded them of our theme for the year: 'be where your feet are,'" Beisel said. "Keep our focus on Christ and keep it on the present and the here and now. We had another opportunity to compete against great opponents. No matter what happened, we were going to give glory to God. I had a good feeling about today based on how they've been training. Conditions were nearly perfect – cool with a light breeze."
Men's Recap
Top finishers (8k) – Team: 8th place out of 24
43. Calvin Rohde – 25:54.88
46. Trey Robertson – 25:57.30
73. Trevor Kuncl – 26:26.16
80. Aaron Jendro – 26:36.88
92. Nathan Pennekamp – 26:49.33
95. Jack Ellis – 26:51.83
134. Justin Sherman – 27:24.83
Led by Rohde, the Bulldogs edged out rival Doane (273-279) and placed third among the NAIA teams in the Gold Division of the meet. The only NAIA squads to outrun Concordia were seventh-ranked University of Saint Mary (Kan.) (third) and Kansas Wesleyan University (sixth). NCAA Division II University of Nebraska-Kearney claimed the team title with a score of 51.
Said Beisel, "It was hard to know what to expect coming into today because a lot of these teams hadn't run a race yet – and no one had run an 8k. That changes things for the freshmen. Our No. 1 priority was to beat Doane and make a statement. We knew Kansas Wesleyan was going to be strong. I felt like it was going to be us three and Saint Mary as far as the NAIA schools. We competed really well with a lot of other schools. The freshmen guys did great. Trey Robertson went under 26 minutes in his first 8k. Justin Sherman also had a breakout day. There's a lot to celebrate and give glory to God for."
The Reed City, Mich., native Rohde completed the 8k race in 25:54.88, putting him in 43rd place overall. He was pushed at the top of the lineup by freshman Trey Robertson, who crossed the finish line in 25:57.30 (46th place). The team's top five was rounded by sophomores Trevor Kuncl (26:26.10) and Aaron Jendro (26:36.88) and junior Nathan Pennekamp (26:49.33). The team's top runner at the Augie Twilight, Charlie Hayden finished in 28:16.77.
In the team scoring, the Bulldogs also placed above in-state competitors in Nebraska Wesleyan (15th), Bellevue University (19th), Hastings (21st) and Peru State College (23rd). Concordia was represented by 24 runners in the meet. Notably, Kansas Wesleyan's coaching staff includes former Bulldog Camden Sesna.
Women's Recap
Top finishers (5k) – Team: 5th place out of 20
15. Kylahn Freiberg – 18:22.37
17. Keeli Green – 18:23.85
26. Julie McIntyre – 18:39.59
38. Alayna Vargas – 19:10.35
42. Hannah Beintema – 19:18.63
43. Rylee Haecker – 19:19.02
45. Keegan Beisel – 19:22.15
Freiberg has led the way for Concordia at each of the season's first two meets. Her work as the top Dawg helped her side place in a top five in a Greeno/Dirksen field that included NAIA and NCAA Division II and III opposition. Among NAIA squads, only sixth-ranked University of Saint Mary (Kan.) (second) outkicked Concordia (131 points). The team title went to Winona State University (Minn.).
Said Beisel, "We ended up being the No. 2 NAIA team and had phenomenal performances. To have eight girls under 20 minutes and three of them in the 18s is outstanding. I'm really proud of them all. It wasn't just our top eight. There were very few people who didn't have really great races."
The Nampa, Idaho, native Freiberg improved her 5k time from two weeks ago while clocking in at 18:22.37 on Saturday. She placed 15th overall and outperformed the other GPAC runners in the competition. A major impact addition, freshman Keeli Green (Arlington, Neb.) continues to shine. She ran 18:23.85 and placed 17th while hot on Freiberg's heels. The top five also featured Julie McIntyre (18:39.59), Alayna Vargas (19:10.35) and Hannah Beintema (19:18.63). Meanwhile, Rylee Haecker competed for the first time this fall and crossed the finish line in 19:19.02. Others who cracked 20 minutes were Keegan Beisel (19:22.15) and Rhaya Kaschinske (19:48.64).
In the team race, the Bulldogs topped Nebraska competitors in Hastings (ninth), College of Saint Mary (10th), Doane (13th), Nebraska Wesleyan (14th) and Peru State College (20th). Concordia was represented by 23 runners at the meet.
Up Next
There will be Bulldogs heading to two different meets next week: the Griak Invite hosted by the University of Minnesota on Sept. 22 and the Dean White Invite hosted by Doane on Sept. 23. The Concordia women emerged from last season's Dean White Invite as the meet champion. The program's top runners will be traveling to St. Paul, Minn.