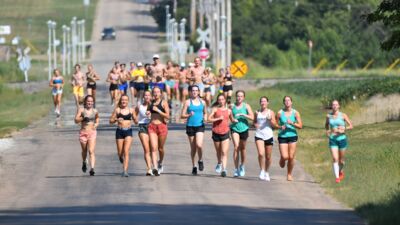 GPAC Preseason Polls | NAIA Preseason Polls: Men | Women
SEWARD, Neb. – Preseason cross country polls were unveiled this week with the GPAC announcement coming on Tuesday (Aug. 23) and the NAIA release following on Thursday. The Concordia Cross Country squads checked in with GPAC preseason rankings of tied for third on the women's side and fourth on the men's side. In addition, both Bulldog squads collected votes in the NAIA preseason coaches' poll. The women are situated just outside the top 25 (27th) with 87 points while the men collected 16 points (32nd).
Head Coach Matt Beisel enters his seventh season leading the Bulldog cross country and track & field teams. The women's cross country program won the GPAC title as recently as 2019. Last season, the men placed fourth in the GPAC while the women finished fifth.
All three runners who qualified individually for the 2021 NAIA Cross Country National Championships return this fall. That trio is made up of Rylee Haecker on the women's side and Calvin Rohde and Camden Sesna on the men's side. Other key returners for the men include the likes of Jack Ellis, Thomas Gorline, Charlie Hayden, Nathan Pennekamp and Micah Willweber. Some of the top female returners include Kylahn Freiberg, Rhaya Kaschinske, Amie Martin, Katelyn Nix, Kaia Richmond and Courtney Wright. Several freshmen all figure to factor into the mix as well.
In the national polls, the Concordia women leapt as high as 11th last season. The '19 squad concluded the year ranked No. 12. On the other hand, the Bulldog men are seeking to crack the NAIA top 25 for the first time since 2014.
The 2022 season will get started on Sept. 2 with the Augustana Twilight on Friday, Sept. 2. The action is slated to get started at 8:30 p.m. CT from Yankton Trail Park in Sioux Falls, S.D.