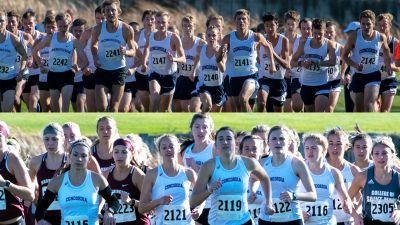 SEWARD, Neb. – This is the moment the Concordia University cross country teams have been training for. The battle for conference supremacy all comes down to a single day at the 2019 GPAC Cross Country Championships. The meet will be held at the Dordt campus in Sioux Center, Iowa, on Saturday. The women's 5k race is set to get underway at 10:45 a.m. CT with the men's 8k competition to follow at 11:30 a.m.
Head coach Matt Beisel's women's squad enters the meet as one of the favorites alongside defending GPAC champion Dordt. In the official conference polls, the Bulldog women are ranked first while the men are ranked fifth. Both teams placed fourth in the GPAC last season.
"I feel the most confident I've felt since I've come to Concordia about where our training is," Beisel said. "The athletes do too. We are ready. I talked with Rebekah Hinrichs, one of our team captains, and just said hey, 'Give me a status where the ladies are at.' They're even keeled and ready. They want it to be here. I think our athletes are ready to run the best race of their lives. I would be surprised if it doesn't happen."
This has been a breakthrough season for the women, who have won meet titles at the Dean White Invite and the Mount Marty Invite. Concordia is currently ranked 20th in the NAIA national poll and has hopes of capturing what would be the program's first women's GPAC title since 2005. Such an accomplishment would also guarantee its first team berth in the NAIA national championships since 2011. Freshman Kylahn Heritage and company have reason to believe they can make it happen.
"Personally, I want to help my team qualify for nationals and make history at CUNE," Heritage said. "To have that feeling of accomplishment of making it there together would also be a blessing to me. It is one thing to qualify individually, but it would be another to have my girls right there beside me if we were all successful together at conference. My main goal is to have fun and be grateful for every second of the experience because it might not be every year I get to run at this meet."
The last time out at the Mount Marty Invite, Heritage was the collegiate champion while clocking in at 19:09.82. In a show of the team's impressive depth, seven Concordia runners navigated the trail in 19:50 or better. Freshmen such as Heritage, Amie Martin and Bailie Vanarsdall have given the team a boost. The Bulldog roster also features two competitors who were all-conference performers last season: senior Rebekah Hinrichs and sophomore Abi DeLoach.
Other veterans who have been among the team's top runners are juniors Sydney Clark, Lydia Cook and Alyssa Fye and senior Hannah Rebmann. Collectively, they helped Concordia edge out Dordt at the Dean White Invite by four points (also beat out NCAA Division II University of Nebraska-Kearney). That was the performance the Bulldogs needed to leap into the NAIA top 25 ratings.
"It definitely puts some pressure on them," Beisel said of the national ranking. "It was compounded by the fact that the Briar Cliff meet (Oct. 5) didn't give us any real results as a team. They put a lot of pressure on themselves at the Mount Marty meet. We talked about letting the stress go, giving it up to God and trusting in our training. We have to remember that we got to this point with each other and there's a lot of joy in that."
Both the men's and women's teams have been motivated this season by the program's mantra to "close the gap." It's a sentiment that has brought the athletes closer together. Said Heritage, "We are definitely a family. These girls and the boys on our team as well have made me feel like one of their own, even though they've known me only a few months. I love how each of them cheer me on even while they are competing with me in a race because it shows that the camaraderie never stops at Concordia, on and off the course."
On the men's side, Concordia hopes to at least duplicate its fourth-place finish last season. In the Mount Marty Invite (Oct. 26), the Bulldogs placed third and squeaked past Morningside by a single point. Both sophomore Wyatt Lehr (ninth) and junior Jordan Lorenz placed inside the top 10. Lehr, a returning All-GPAC runner, may be hitting his stride at the right time. Lorenz has been the team's top runner in three of the five meets this season while freshman Camden Sesna led the way at the season opening Augustana Twilight.
After Lehr and Lorenz, the next Bulldogs in line at the Mount Marty Invite were freshmen Owen Dawson and Antonio Blaine and juniors Patrick Schneeberger, Christian Watters and Nick Zadar. The men's team also placed third at the Hastings Bronco Invite on Sept. 14. The last GPAC title for the men's program occurred in 2012. Their last team trip to the NAIA national championships came in 2013 (placed 24th).
"On the guys' side we're ranked fifth in the conference and they really want to be better than fifth," Beisel said. "They're going to run their hearts out. They're healthy, their workouts have been great and they're fired up. I would love to get three guys all-conference honors and I really believe both Jordan Lorenz and Wyatt Lehr have a chance to be in the top four individuals and make nationals if they run the race they are capable of."
The NAIA will release the official national qualifying field next Tuesday (Nov. 12). The 2019 NAIA Cross Country National Championships will take place Friday, Nov. 22 at Fort Vancouver National Historic Site in Vancouver, Wash.