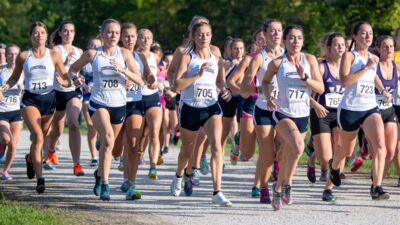 NAIA Women's Cross Country Poll (Sept. 23)
SEWARD, Neb. – After being left off the national radar in the preseason, the Concordia University Women's Cross Country program can again boast an NAIA national ranking. A strong start to the 2021 season has pushed the Bulldogs all the way up to No. 15 in the NAIA Coaches' Poll released on Thursday (Sept. 23). Head Coach Matt Beisel's squad is also currently ranked atop the official GPAC poll.
Concordia has earned some national attention thanks to its early season achievements. At the season opening Augustana Twilight, the Bulldogs placed eighth out of 27 teams while edging GPAC preseason favorite and then NAIA sixth-ranked Dordt. This past week, Concordia captured a meet title at the Morningside Invitational while Grace Reiman took home the individual championship.
Said Beisel after the Morningside Invite, "We knew we had the potential to do what we did. It was confirmation that what we're doing with our training plan is working and we have the ability to be one of the top teams in the conference. It's exciting to think about what the future can hold, but we're also thinking about one day and one week at a time and enjoying the moment."
The Bulldog women's program is now nationally ranked for the first time since landing at No. 22 on Oct. 29, 2020. At No. 15 currently, Concordia has its highest NAIA ranking since placing 12th at the 2019 NAIA national championship meet. The Bulldogs have returned to a high level with a nucleus of key runners much different than what they traveled to the '19 national meet. The top runner from that squad, Kylahn Heritage, is continuing to work her way back to form. Among current Bulldogs, Amie Martin and Abi DeLoach joined Heritage at the 2019 national championships.
The Adams Central High School product Reiman (a 2021 distance medley relay All-American) has taken the lead this fall. Her personal best 5k of 18:44.73 at the Morningside Invite ranks as the third best time this season among GPAC runners. Next in line in Concordia's top five last week was Kaia Richmond (19:10.90), Rylee Haecker (19:29.15), Rhaya Kaschinske (19:42.25) and Keri Bauer (19:49.73). The group near the top features both veterans and freshmen like the talented Richmond (Langley, Wash.), who won the 2,000 meter steeplechase title at the USATF National Junior Olympic Championships.
After returning to campus following the Morningside Invite on Sept. 17, both the Concordia men's and women's teams celebrated first-place finishes by ringing the Bulldog Stadium bell. There's something special developing within Concordia Cross Country.
Said Reiman, "I think this initial ranking is a positive reflection of the hard work that we have put in as a team. It's encouraging and I hope we use this as a surge of energy to continue racing towards a higher ranking because I believe we are capable of it. Overall, I am pleased – it's a great start to a very exciting season! There are many things that make this team so special, but the engine of this team is driven by our love and passion of striving together to complete our collective goals in a way that glorifies God. Our team sees running as a blessing and gift from God and it is so amazing to work hard and then give the glory of the results back to Him. Our theme mottos are 'Run as One' and 'Run for the One' and our team is truly in pursuit of embodying those principles."
The Bulldog men did not receive national votes, but they did move up this week to No. 3 in the GPAC poll. In addition, Camden Sesna (runner up at the Morningside Invite) was named the GPAC Men's Runner of the Week on Wednesday. Sesna owns the top 8k time of any GPAC runner this season.
Concordia will have this week off from competition. Next up on the schedule is the Briar Cliff Invite on Friday, Oct. 1. The meet will begin at 3 p.m. CT from Adams Nature Preserve in North Sioux City, S.D.