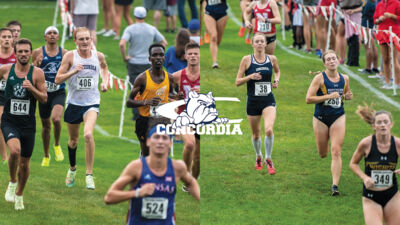 LINCOLN, Neb. – In another large-scale event, the Concordia Cross Country squads once again competed against NCAA Division I and II teams while in action at the Greeno/Dirksen Invitational co-hosted by the University of Nebraska-Lincoln and Nebraska Wesleyan University on Saturday (Sept. 17). When broken down by "Gold Division," the Bulldogs placed third out of 19 teams on the women's side and sixth out of 21 teams on the men's side. More than 30 total institutions were represented at Mahoney Park Golf Course in Lincoln, Neb.
Head Coach Matt Beisel's squads have stated strong cases for being included in the NAIA top 25 when new rankings are released next week. Concordia again defeated all other GPAC and NAIA foes.
"This season is all about focusing on what's right in front of us and not looking far ahead," Beisel said. "It's about taking it one day and one week at a time and competing as a team. It's not about times right now. We want to go out and compete against the people we need to beat. We've now had two successful competitions for both our men and women. We're working them really hard right now. We talked about being gritty and tough and digging in when the going gets tough."
This was the first outing for the Bulldogs since the Augustana Twilight on Sept. 2. The Greeno/Dirksen Invite featured a men's 8k first and followed with a women's 5k.
Said Beisel of the layout, "We were on a course that's not easy. It has constant rolling hills. The footing was really good and there was a lot of space, but it was challenging. It finishes on what's probably a 150-to-200-meter hill. At the end of the race, they had that to look forward to. Our athletes should be proud of their efforts. We give all glory to God because we couldn't do it without Him. I'm grateful I get to be with these awesome human beings."
Said Beisel of running against NCAA Division I and II competitors at the first two meets, "I think it gets us ready for nationals. It's a really good rehearsal for the big stage."
Men's rundown
As part of the Gold Division of the meet, Concordia outran GPAC opponents in Doane (eighth), Midland (16th), Hastings (17th) and Morningside (18th). For the second meet in a row to begin 2022, returning national qualifiers Camden Sesna and Calvin Rohde led the pack with new 8k personal bests of 25:22.3 and 25:37.4, respectively. Both Bulldogs showed they could outperform competitions from NCAA Division I schools such as Air Force, Kansas and Nebraska. Sesna emerged as the top NAIA runner in the field and placed 42nd overall out of 318 competitors that finished the race.
This was the first collegiate 8k race for each of Concordia's freshmen. Two Bulldog rookies found their way into the team's top five: Jimmy Nguyen (26:51.1) and Aaron Jendro (27:15.0). The team's Nos. 5 through 10 runners in Lincoln, in order, were Micah Willweber, Jack Ellis, Thomas Gorline, Charlie Hayden, Trevor Kuncl and Nathan Pennekamp. Sixteen Concordia men competed in the meet.
All five teams that placed above the Bulldogs in the Gold Division were either NCAA Division II or junior college squads.
Concordia top five at Greeno-Dirksen
42. Camden Sesna – 25:22.3
53. Calvin Rohde – 25:37.4
121. Jimmy Nguyen – 26:51.1
142. Aaron Jendro – 27:15.0
150. Micah Willweber – 27:20.9
Women's rundown
At the top of the Gold Division standings, Concordia (144 points) placed behind only NCAA Division II opponents Northwest Missouri State University (23) and the University of Nebraska-Kearney (48). The Bulldogs placed in front of the following GPAC rivals: Hastings (fifth), Morningside (seventh), Doane (ninth), College of Saint Mary (12th) and Briar Cliff (18th). Individually, Kylahn Freiberg (19:05.2) and Rylee Haecker (19:40.7) continue to emerge as the lead Dawgs. Freiberg was the top NAIA finisher in a field that included 308 women's runners that finished the race.
The rest of the Bulldog top five at the Greeno/Dirksen meet included Julie McIntyre (19:44.9), Hannah Beintema (19:46.5) and Rhaya Kaschinske (19:52.1). As one can deduce from the times, the team's two through five runners were tightly packed. The rest of the Concordia top 10 went like this: Keegan Beisel, Courtney Wright, Amie Martin, Kaia Richmond and Bella Marchisio.
Concordia top five at Greeno-Dirksen
63. Kylahn Freiberg – 19:05.2
98. Rylee Haecker – 19:40.7
104. Julie McIntyre – 19:44.9
106. Hannah Beintema – 19:46.5
111. Rhaya Kaschinske – 19:52.1
Up next
The Bulldogs will be right back to action next Saturday (Sept. 24) at the Dean White Invitational hosted by Doane. The gun is slated to go off at 9 a.m. CT from Crete, Neb. The Dean White Invite is one of three meets remaining prior to the GPAC Championships.