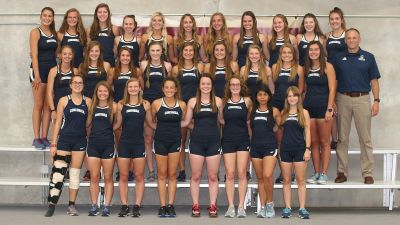 SEWARD, Neb. – The Concordia University women's cross country team had hoped to make a push for a spot in this week's NAIA Top 25 Poll on the strength of its early season success. The Bulldogs are close. They checked in just outside of the top 25, as revealed on Thursday (Sept. 19) by the NAIA. Concordia made a big jump in the "receiving votes" category and is currently tied for 27th.
Head coach Matt Beisel's squad has a goal of reaching the NAIA Cross Country National Championships in November. At least early in the season, the Bulldog women have begun positioning themselves to make that goal a reality. Concordia is currently ranked second in the official GPAC poll.
Behind freshman Amie Martin, the Bulldogs improved their status considerably on the national radar by outrunning all of their NAIA competition, including No. 22 Northwestern, at the Augustana Twilight on Sept. 6. Concordia beat out a total of seven GPAC squads at the season opening meet. It then returned to action last week and placed second at the Bronco Stampede, behind only NCAA Division II Fort Hays State University (Kan.).
The women's cross country program last qualified the team for the NAIA national championships in 2011. The Bulldogs continue to strive for a top 25 national ranking for the first time since October 2015. The women's program had an incredible run from 2000 through 2004 with four national runner up finishes in five years. Under Beisel's direction, both Concordia squads have steadily risen up the conference ladder. Currently, the men are rated sixth in the official GPAC poll.
So far, the women have been topped by Martin at the Augustana Twilight and freshman Kylan Heritage at the Bronco Stampede. Last week in Hastings, Heritage clocked in at 19:41.82 (third place out of 118 runners) in the 5k race and was just six seconds behind meet champion Aileen Gurrola of Friends University (Kan.). Amie Martin crossed the finish line in 20:15.44, putting her third among Bulldogs and in ninth place overall. Sandwiched in between the aforementioned freshmen was returning all-conference performer in senior Rebekah Hinrichs (19:54.94).
Up next is the Dean White Invitational in Crete, Neb., on Saturday, Sept. 28.