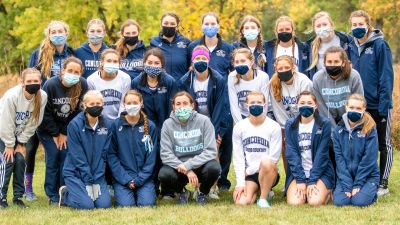 NAIA Cross Country Polls: Women | Men
SEWARD, Neb. – The Concordia University Women's Cross Country team is back in the national top 25. The Bulldogs checked in at No. 22 in the NAIA Top 25 Poll released on Thursday (Oct. 29). Meanwhile, the Concordia men appeared among squads "receiving votes" in the national rankings. The NAIA has now released two sets of cross country polls this fall.
Head Coach Matt Beisel's women's team moved back into the top 25 after receiving votes in the NAIA poll that was unveiled on Oct. 1. Standout Kylahn Heritage and company became a regular in the national rankings last season when they landed inside the NAIA top 20 for the final five polls of 2019. The Bulldog women concluded last season at No. 12 in the NAIA after placing in that spot at the NAIA Cross Country National Championships. It marked the program's highest national finish since 2005.
In the official conference ratings, Concordia is currently listed at No. 3 on the women's side and at No. 4 on the men's side. The Bulldog women are the defending GPAC champions while the men placed fifth in the conference in 2019. So far this season, the women's team has placed third or better at each meet.
There will be one more national poll released this fall with four more set to be publicized during the spring 2021 semester. The NAIA Cross Country National Championships will be held in Cedar Rapids, Iowa, on April 9, 2021.
Beisel is prepping his runners for the GPAC Championships coming up on Saturday, Nov. 7. The meet will be held at Fox Run Golf Course in Yankton, S.D.