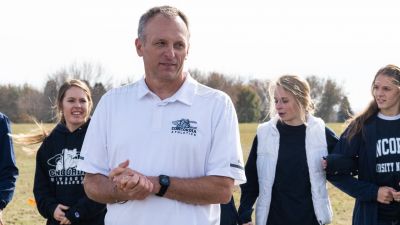 SEWARD, Neb. – Courtesy of their work at the GPAC Cross Country Championships, head coach Matt Beisel and five Concordia runners have earned accolades from the conference. After guiding the women's program to its first GPAC title since 2005, Beisel has been named the GPAC Women's Cross Country Coach of the Year. All-conference honors went to juniors Sydney Clark and Alyssa Fye, freshman Kylahn Heritage and senior Rebekah Hinrichs on the women's side and to sophomore Wyatt Lehr on the men's side.
Hinrichs and Lehr have both garnered all-conference awards for the second year in a row. The top 15 finishers at the conference meet for both men and women garner All-GPAC recognition.
Beisel also swept 2019 GPAC women's indoor and outdoor track and field coach of the year awards. The women's track program won GPAC indoor and outdoor conference titles last season. Under Beisel's direction the women's cross country program moved up from fourth in the GPAC in 2018 to first this year. Concordia is now set to make its first team national appearance at the national meet since 2011.
Concordia women's All-GPAC winners:
Freshman Kylahn Heritage (Nampa, Idaho) – 2nd place (18:30.48)
Junior Alyssa Fye (Randolph, Neb.) – 4th place (18:52.32)
Senior Rebekah Hinrichs (Gladstone, Mo.) – 5th place (18:55.03)
Junior Sydney Clark (Clive, Iowa) – 12th place (19:19.74)
Concordia men's All-GPAC winner:
Sophomore Wyatt Lehr (Lamar, Colo.) – 15th place (25:59.84)
The Concordia women will compete at the 2019 NAIA Cross Country National Championships in Vancouver, Wash., on Friday. The women's race is set to run off at 12:30 p.m. CT (10:30 a.m. PT).