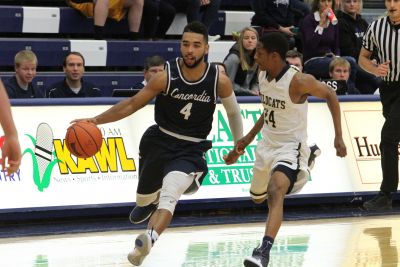 Ziegler's hot hand extinguishes Prairie Wolves
SEWARD, Neb. – In a game that played out at a break-neck pace for most of the evening, one team had Eli Ziegler – and the other did not. Ziegler pumped in seven treys to lead the Concordia University men's basketball team to an 86-83 win over visiting Nebraska Wesleyan on Wednesday night. In the process, the Bulldogs picked up their first regular-season sweep of the Prairie Wolves since the 2011-12 season.
Second-year head coach Ben Limback's squad pushed its record to 14-12 overall while jumping to 7-9 in conference action. In a tightly-grouped race, Concordia sits in sixth place. Three teams are tied for seventh with 6-9 league marks.
Without Ziegler's career high 25 points, Limback may have been discussing a different outcome on Wednesday.
"He's been having some good games. He's been shooting it well," Limback said. "We did a good job looking for him tonight. Any time you go against a zone you have to find a way to find those shooters. Eli stepped up and hit big shots."
Ziegler did his part to bust up the Praire Wolf zone. Already with five triples on the night, the native of Littleton, Colo., surfaced with a three from left corner that edged the Bulldogs in front, 81-80, with 2:12 remaining. Thirty seconds later Ziegler found the other corner to his liking and splashed in another bomb off the assist from Chandler Folkerts for a four-point advantage.
Byron Thompson attempted to lead Wesleyan back. His three-point play made it a one-point margin in the final 20 seconds. After Joel Haywood canned two free throws, Thompson misfired on a three at the buzzer and Concordia could finally exhale.
No more threes would be needed from Mr. Ziegler, who gave credit to his teammates – all seven of his triples were assisted.
"It was mostly because of my teammates," Ziegler said. "They were giving me good passes and I happened to be hitting them tonight. It's all my teammates."
Ziegler was not alone. Haywood put forth a big night that included 20 points, eight assists and seven rebounds. Folkerts added 11 points, six assists, five rebounds and five steals. Meanwhile, Robby Thomas erased four shots while chipping in eight rebounds.
An impressive offensive flow torched Nebraska Wesleyan's zone for 14 treys and 51.7 percent shooting for the game. The Bulldogs assisted 23 of their 30 made field goals and held a high-scoring Prairie Wolf bunch to 34 second-half points.
"I liked our defense better in the second half," Limback said. "We locked into their key guys and communicated better. Any time you get a win this time of year you have to like it."
The game provided a stark contrast to the Bulldogs' most recent outing – a 52-49 loss to CU-Ann Arbor in the CIT championship. In a much faster-paced affair, Concordia trailed Wesleyan by as many as eight points before rallying to set the stage for a tense final 10 minutes.
Nebraska Wesleyan, which came into the night averaging 93.9 points, got 20 or more from three different players. Trey Bardsley, who threw in 48 points in a win over Northwestern on Jan. 24, knocked in a team high 22 points. He made 4 of 8 attempts from long range but also committed eight turnovers.
The Bulldogs will appear at home one final time this season when they grace Walz Arena on Saturday in a matchup with sixth-ranked Dakota Wesleyan (23-3, 13-3 GPAC). Joel Haywood, Concordia's lone senior, will be honored. Last week Haywood became the program's 26th player to reach 1,000 career points. The Bulldogs fell by a score of 91-78 to the Tigers in Mitchell, S.D., on Dec. 19.