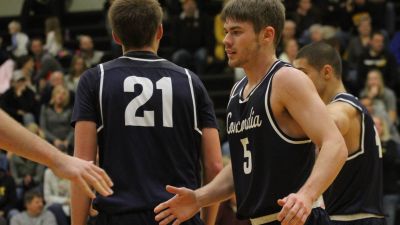 SIOUX CENTER, Iowa – GPAC heart thumpers and Concordia University men's basketball go hand in hand. These Bulldogs have learned to thrive in such tension-filled moments. Riding the hot shooting stroke of Eli Ziegler, Concordia went on the road and held off Dordt, 100-91, inside De Witt Gymnasium on Friday evening.
Winners of four in a row, fourth-year head coach Ben Limback's squad improved to 11-6 overall and to 4-5 in conference play. Three of the past four victories have come on the road for a team showing rapid growth.
"To come out with a win on the road in the league is huge," Limback said. "There was a point where they took the lead and then Tanner (Shuck) hits a three and we take the lead right back. Defensively, I thought we turned it up a notch after that. Dordt's a very physical team, very aggressive team and well-coached. I thought our guys really showed some toughness at the end."
The Bulldogs' mettle was tested once again down the stretch. A 9-2 Dordt run put the Defenders up 80-79 with under seven minutes to play. No sweat. Playing beyond his rookie status, Shuck surfaced with a triple on the ensuing possession. Though Dordt kept pushing, Concordia did not relinquish the lead from that point on.
The star of the show on this night was senior guard Eli Ziegler. With a "wrestling match," as Limback termed it, going on down low, Ziegler was money in the bank on the perimeter and off the dribble drive. With just seconds remaining, Ziegler put the finishing touches on the victory by sinking career point Nos. 999 and 1,000 from the free throw line. He joins teammate Chandler Folkerts, Limback and 26 other Bulldogs in the program's 1,000-point club.
"It's cool. It's better to win," Ziegler said. "As long as we keep winning I'll be happy."
Limback knows exactly how far Ziegler has come in his four seasons as a Bulldog. The Littleton, Colo., native is playing the best basketball of his life.
"He's the type of guy that will compete every day," Limback said. "1,000 points or whatever, he's all about the team. That's where his head is, trying to get every win he can his senior year and help his team anyway he can."
Ziegler wasn't alone. Concordia's unselfish passing led to open triples for a variety of players. With 2:12 left, Folkerts surprised Dordt by rising up for a three that tickled the twine for a 93-86 lead. Then with just under a minute left, Chris Johnstone delivered a dagger of a 3-pointer in the corner to make it a nine-point ballgame.
Four Bulldogs racked up double-figure scoring totals: Ziegler (27), Shuck (19), Folkerts (18) and Johnstone (16). That foursome spurred Concordia's ultra-efficient offense to 58.6 percent shooting. The nation's leading 3-point shooting team went 11-for-24 (.458) from beyond the arc. Shuck was 4-for-8 and Ziegler was 3-for-5 from downtown.
"We realized what we can do as a team when we share the ball and when we move and we cut," Ziegler said. "And we've gotten big defensive stops at the end. Those have been huge these last four games."
Even with Dordt hounding him with double teams, Folkerts was his usual productive self. He went 6-for-7 from the floor, 5-for-5 from the free throw line and grabbed 10 boards. When he went to the bench with two fouls in the first half, Justin Damme filled in nicely. He ended up with nine points. Freshman Clay Reimers also totaled nine points off the bench.
The Defenders (9-10, 0-7 GPAC) showed some feistiness of their own, as well as a hunger for their first conference win. They nailed 10 triples. Andrew O'Donnell (team high 19 points) and Alex Terpstra both knocked down three treys for a Dordt team that shot 41.4 percent on the night.
The Bulldogs conclude their busy week on Saturday when they turn around and host Oglala Lakota College (S.D.) in a nonconference tilt inside Walz Arena. Tipoff is set for 4:30 p.m. CT. The Bravehearts have been defeated by two GPAC teams this season, Dakota Wesleyan and Midland. Concordia owns a home record of 7-1.