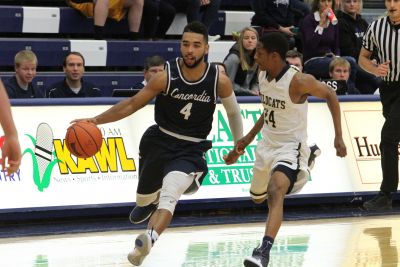 Ziegler buzzer-beating trey lifts road Dogs
ORANGE CITY, Iowa – Not all are cut out for life on the road, but the Concordia University men's basketball team has made its season away from home. On Saturday the Bulldogs celebrated after sophomore Eli Ziegler's buzzer beating 25-foot 3-pointer fluttered through the net, lifting Concordia to a 76-74 win over Northwestern (14-12, 7-11 GPAC) in Orange City, Iowa, on Saturday.
In the process, second-year head coach Ben Limback's squad completed a stellar week that included a road upset of No. 12 Midland on Wednesday. The pair of wins have pushed the Bulldogs (16-13, 9-10 GPAC) up to fifth place in a crowded middle of the GPAC standings.
Ziegler's game winner may be the shot that ultimately pushes Concordia into the eight-team conference tournament.
"I called for a timeout. Thank God the official didn't hear me," Limback said of the final sequence. "Eli just squared up and drained it. He's not afraid to take the big shots. That was huge because I thought Northwestern outplayed us other than the first six or seven minutes of the game.
"It was a special moment for Eli. He'll never forget it."
On the possession prior to Ziegler's heroics, Concordia failed to score and was forced to foul Northwestern's Riley Francis, who missed a pair of shots from the charity stripe. With Northwestern clinging to a 74-73 lead, the ball wound up in Joel Haywood's hands with the clock ticking under five seconds. Haywood dribbled into traffic near the top of the key and then dished it behind himself for Ziegler's deep trey that left 0.5 seconds left.
The road magic continued for a Bulldog team that has won six of its nine road contests within the conference.
"I don't know what it is," Limback said. "I don't know if it's the bus rides or the way we prepare mentally. Our preparation isn't much different home or away. We seem to have a little better focus and play with more toughness on the road. I'm baffled by it to be honest."
As alluded to by Limback, Northwestern had the better of play for a great majority of the game. The Red Raiders roared back from deficits as large as 17 points in the first half and eight in the second half to put themselves in position to win. Nathan Wedel (game high 22 points) played a huge role in Northwestern's second-half charge. His back-to-back buckets tied the game at 56 with 9:20 left to set up a nip-and-tuck finish.
Early on it looked as though Concordia may run the Red Raiders out of their own gym with its white-hot 3-point shooting. The Bulldogs nailed six of their first seven attempts from downtown in racing out to a 20-3 lead with barely 6:30 gone by. Four different Bulldogs made at least one trey – including two apiece by Ziegler and Robby Thomas – during the impressive shooting display.
Saturday also happened to be the birthday of Ziegler, who finished with 14 points while going 4-for-9 from beyond the arc. Chandler Folkerts fought off Northwestern's physical game plan by going for 18 points (6-for-8 from the field). Thomas (14 points) and Haywood (12 points, five assists) also reached double figures.
Concordia cooled off from 3-point land but still managed to shoot 50 percent (11-for-22) for the game from beyond the arc and 51.0 percent (25-for-49) overall. Northwestern made only two of its 15 attempts from distance but shot 46.3 percent (25-for-54 overall).
Defensively, junior Micah Kohlwey did a number on Northwestern season leading scorer Colton Kooima (14.8 ppg). Kooima was held to two points and no made field goals (0-for-5) on Saturday.
The Bulldogs will close the regular season next Saturday with a trip to No. 8 Morningside (23-3, 15-3 GPAC). Tipoff is slated for 4 p.m. in Sioux City, Iowa.