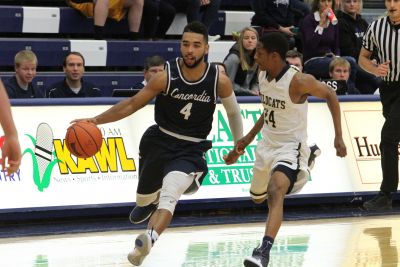 Young 'Dogs mowed down by No. 8 Midland
SEWARD, Neb. – Up against the top-rated defensive team in the GPAC, the Concordia men's basketball team had little margin for error. The long and lengthy eighth-ranked Midland squad dominated and used a big second half to pull away for an 82-55 victory inside Walz Arena on Wednesday night.
The Bulldogs slipped to 7-20 overall and 2-16 in GPAC action.
"Midland came out real strong and aggressive (to start the second half)," Concordia first-year head coach Ben Limback said. "We just didn't match it. Against teams like this that are high-powered offensively, athletic, you just come into a half and approach it that way."
Known as a defensive team, Midland (23-4, 13-4 GPAC) sizzled with a 61.1 percent shooting night behind leading scorer Ben Imig (22 points). After leading 40-32 at the half, the Warriors squeezed the life out of Concordia with a 12-0 run to begin the second half. Down large, the Bulldogs could not mount a serious rally the rest of the way and trailed by as many as 28 points.
Most of the glimmers of hope came during the first half. Concordia battled back within five, 30-25, with 3:52 left in the first half on the strength of Joel Haywood's bucket and one. It also took some momentum into halftime as Adam Vogt banked in a 3-pointer at the close of the first 20 minutes.
Coming off the bench, freshman Stephen Llewellyn continues to progress and see more time. He tallied four points and four rebounds in 13 minutes of action. The 6-foot-5 native of Oakley, Kan., is one of several rookie post options at Limback's disposal.
Those youngsters simply need more seasoning to match up with national-tournament bound teams like Midland.
"We're not at this level yet," Limback said. "We have to get there by hard work and we have to get tougher mentally and physically."
Three Bulldogs reached double figures in scoring, topped by Vogt's 13. Freshman Chandler Folkerts chipped in 12 points and six rebounds and Robby Thomas added 10 points. As a team, Concordia out-rebounded the Warriors by a count of 30-28.
A total of 11 players got into the scoring column for Midland, which raised its road record to 11-3. The 6-foot-6 Brandon Williams was automatic inside. He tallied 12 points on 5-for-5 shooting in 15 minutes of floor time.
Concordia's previous seven GPAC losses had all been decided by eight points or less.
The Bulldogs return to action on Saturday when they host Northwestern (14-13, 7-10 GPAC) at 4 p.m. for Senior Day. The Red Raiders held off Concordia's late rally in the first meeting in which Northwestern won 60-56 in Orange City. On Wednesday night, the Red Raiders were defeated 102-85 at Dakota Wesleyan.