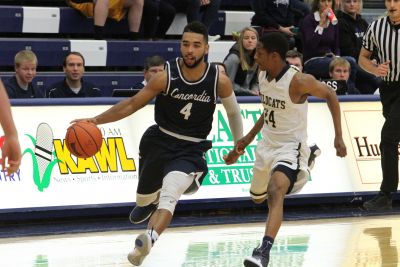 Winning streak snapped as Doane defeats Concordia, 82-65
Doane College outscored Concordia by 16 in the second half and picked up an 82-65 men's basketball win on Wednesday evening in Crete. The Tigers improved to 7-2 on the season with a 2-0 mark in conference play with the win. Concordia had its six-game winning streak snapped to fall to 6-2 overall and 2-1 in GPAC play.
Doane jumped out to a quick 12-4 lead in the opening minutes of the game. The Tigers led by as many as 12 before Concordia settled into the game. The Bulldogs rallied and took a brief lead at 35-34 on a layup by Brent Houchin (Bruning, Neb.). The host Tigers got a basket in the closing seconds of the half, however, and Doane held a slim 36-35 lead at the break.
The Tigers used a quick run at the start of the second half to build a 51-43 lead. Doane took complete control of the game from there. The Tigers took a 10-point lead at 56-46 and led by double figures the rest of the way. Concordia used a 10-0 run to get within 11 at 74-63 with just over two minutes remaining in the contest, but Doane again pulled away for the 17-point win.
Sam Huebner (Aurora, Colo.) had a double-double to lead Concordia in a losing effort. Huebner poured in 21 points and grabbed 14 rebounds on the night. Tyler Byrd (Bennington, Neb.) and Ryan Shrum (Allen, Texas) added 13 apiece, but the duo combined to shoot just 9-of-27 from the floor. Porter Birtell (Madison, Neb.) also reached double figures with 11 points on the night. The Bulldogs were just 22-of-60 (37 percent) from the field in the game. Concordia did manage to hold a 45-32 rebounding advantage, but the Bulldogs totaled 17 turnovers compared to just seven for Doane.
The usually reliable Concordia defense struggled. The Tigers were 31-of-60 (51.7 percent) from the field in the win. Concordia had allowed just 63.7 points per game, and teams shot just 36.1 percent from the field against the Bulldogs entering Wednesday's game. Doane placed four players in double figures, and Nick Reed led the way with 21 points and a team-high seven rebounds. Josh Riser scored 20, and Trent Schlautman added 17. Taylor Oltjenbruns had 11 points and four assists.
Concordia hosts Dakota Wesleyan University on Saturday afternoon. Game time is scheduled for 4 pm at the Health, Human Performance and Athletic Center.