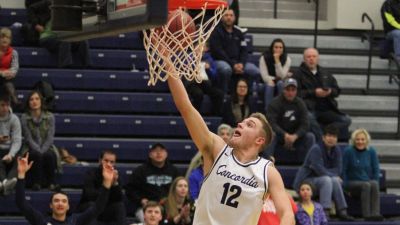 SEWARD, Neb. – This was a GPAC grinder and the Concordia University men's basketball team found a way to grind it out – as it has most of this season. The Bulldogs curled in 15 more 3-point field goals while protecting a home win streak that has moved to 11. The latest victory ended in a final of 81-75 with Concordia brushing aside visiting Hastings on Wednesday night (Dec. 6).
Fifth-year head coach Ben Limback has the program off to its first 4-1 start to conference play since the 2008-09 season. The Bulldogs are 9-2 overall, also their best start since that same '08-09 campaign.
"I feel like there's a good balance with the guys right now," Limback said. "There's trust. We shot really well, which definitely helps. Hastings did a good job of containing our penetration. We just have to do better offensively in terms of taking care of the ball. There was a lot of physical play. I'm just proud of them."
This year's team may not have the prolific all-around scoring abilities of the 2016-17 Bulldog bunch that owns the school record for scoring average, but this group can fill it up from deep. Cordell Gillingham and Kyle Pierce knocked down four treys apiece. As a team, Concordia went a sizzling 15-for-28 (.536) from 3-point range. Now 5-0 at home, the Bulldogs have dropped in a combined 66 3-point shots this season at Walz.
Despite the raining of triples, the visiting Broncos hung right with Concordia in a nip-and-tuck affair. The Bulldogs finally took the lead for good when Clay Reimers dropped in a pair of free throws to make the score 66-65 with 4:52 left to play. At long last, Concordia got a bit of separation on its next offensive possession when Tanner Shuck knocked in the team's final 3-point field goal of the night.
One particular play epitomized this year's Bulldogs. A missed Hastings shot kicked long and resulted in a series of bodies hitting the floor. Concordia won the scramble and Jake Hornick shoveled the ball ahead to Gillingham for an easy two that made for a 73-67 lead with under three minutes remaining. It's a sophomore-laden team that has learned to make winning plays.
"It wasn't our cleanest game offensively, but we hang our hats on our defensive intensity," Gillingham said. "Play-in, play-out, missed shot or turnover, we still have to get it done on the defensive end and that's what we pride ourselves on."
Late in the game, Gillingham bloodied his nose, went to the bench and quickly returned. He's that kind of player. He led the Bulldogs with 16 points to go along with six assists. Both Kyle Pierce (15 points, 10 rebounds) and Reimers (14 points, 11 rebounds) turned in double-doubles. Two additional starters – Hornick (15 points, eight assists) and Shuck (13 points) – tallied double figures in the scoring column.
Hastings (8-4, 1-3 GPAC) held leads at various times throughout this game, until Concordia exerted its will in the final minutes. Connor Musiel paced the Broncos with 18 points. Hastings shot only 37.7 percent compared to 51.9 percent shooting by the Bulldogs.
Such cold shooting wouldn't cut it against this Concordia team. Said Gillingham, "Every single night it seems like someone's having a great game. One through 15 we're all great teammates. We all have confidence in ourselves and our teammates and that's what it makes it so fun to play."
Concordia will hit the road its next time out for what will be an exhibition contest for the visitors. The Bulldogs will challenge themselves significantly by paying a visit to NCAA Division I South Dakota State University (7-4) for a 5:30 p.m. CT tipoff on Friday. The team's next official game will be Dec. 15 at No. 1 Northwestern (10-2, 3-2 GPAC).