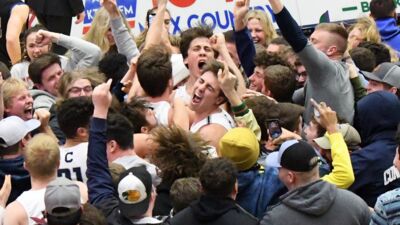 An all-time classic moment that will go down in Concordia University Men's Basketball lore caught the attention of ESPN's SportsCenter. Tristan Smith's game-winning layup via the full-court alley-oop from Carter Kent was featured on multiple editions of SportsCenter on Thursday (Feb. 17) evening. In nearly a minute of airtime, ESPN showcased the wild final 15 seconds that featured three lead changes, including the dramatic game winner.
The incredible 74-73 victory on Wednesday over Briar Cliff (a matchup of the top two teams in the GPAC standings) has been the talk of campus. As fifth-year senior guard Sam Scarpelli tweeted the following day, "Next day and I'm still having a hard time processing this actually happened." Meanwhile, media personalities both far and wide weighed in on what had occurred. The consensus was that this was one of those rare instances in sports that deserves celebration.
For those who missed it, Concordia took a 72-70 lead with 10 seconds left on Carter Kent's elbow jumper. On the ensuing possession, after a timeout, the Chargers regained the advantage on Jaden Kleinhesselink's doule-clutch trey with just 1.0 second remaining. The Bulldogs called timeout and that's when Head Coach Ben Limback instructed the left-handed Kent to fire a baseball pass to the rim and give Smith a chance to make a play. The pass was perfectly executed and Smith rose above a Briar Cliff defender and laid the ball of the glass, setting off a court storming inside Friedrich Arena.
Kent attempted to make sense of the play in the aftermath of the rush of excitement. Said Kent, "Coach said when he drew it up, 'You gotta throw it to Tristan.' He's like, 'You gotta throw it all the way.' I knew they were going to put a big man on the ball. I just threw it up there and hoped it was going to get there, and thankfully it did. It was pretty crazy. Tristan's so athletic that he went up and got it."
Limback broke down the win, and that final play, in Thursday's Bulldog Coaches Show on 104.9 Max Country. Said Limback, "It was an incredible game throughout. We take a two-point lead with 10 seconds left and they call timeout. They don't get a good look but a wonderful clutch play by their guard with the double-clutch 3-pointer to take the lead. It was such a rollercoaster of emotions. Our guys come off the floor and they're just dejected because of the shot the kid hit. We had to regroup and get our emotions back in order. We said, hey, there's one second and we know Carter's got a great arm and we know Tristan can jump. We put something together and the guys executed wonderfully. You have to have it perfect. Carter throws an unbelievable pass off his back leg like a quarterback coming out of the pocket and Tristan makes an unbelievable catch – then has the body control and court awareness to put it in. There was spectrum of emotions – raw enthusiasm and being awestruck where you just don't know what to do. You're in complete shock.
"Now in today's world, you've got the phones that are videoing it. It's been fun to see the execution side of things from a basketball sense and to also to see the thrill and the raw emotions of people there. It was senior night. I'm so thankful we got to share that moment with so many fans, alums and community members, people that have been around to support us over the years. God gives you amazing things. We gave Him a lot of glory after the game. To be able to have that moment and share it with so many people is an incredible blessing."
The importance of the game was heightened by the fact that Concordia had to win to keep hopes alive of potentially sharing the GPAC regular season title. Entering the weekend, Briar Cliff (15-4 GPAC) holds a one-game lead over the Bulldogs (14-5 GPAC). The Chargers will play at Doane on Friday while Concordia will be at Dakota Wesleyan on Saturday to finish of the regular season.
Kent and his fellow classmates could not have asked for a more memorable senior night. It's a group that helped lead the program to a GPAC tournament title in 2020 and has the Bulldogs on the cusp of another national tournament appearance this March. The class served a major role in building the program back up beginning in 2018-19 and pushing it towards the top of the conference standings.
Through adversity, they find ways to get it done. Added Kent on Wednesday, "That's this group in a nutshell. We always keep working. We've faced adversity throughout our entire careers. I think it showed tonight where we get hit in the mouth and we get up and keep going. It's pretty awesome to see on senior night for this to happen. Throughout our careers, we've been through a lot."
The group of four-year seniors also includes Nick Cito, Gage Smith, Klay Uher, Justin Wiersema and Tanner Wubbels. Scarpelli and Ryan Holt are fifth-year seniors on the team. While his little brother Tristan made the game-winning basket, Gage had a big night of his own. He totaled 23 points and 17 rebounds. Kent finished with 18 points while Justin Wiersema added 11 and AJ Watson scored 10 points.
On Wednesday, Kent pushed his career point total to 1,595, surpassing former teammate Tanner Shuck for eighth place on the program's all-time list. Next to pass on that list is Matt List with 1,608 points. If Kent get produced 65 or more points yet this season, he would jump all the way to No. 5 in school history.
Kent's scoring total became a sidebar after the hectic finish that bumped Concordia's home record to 13-0. Most of those victories came without late game theater – but not on Wednesday.
Said Limback, "You hate to see either team lose a game like that where there's such an incredible emotional rollercoaster. Briar Cliff is a fantastic team. It was a very well-fought game on both ends. We've been on the other side. They hit one two years ago – a corner, 3-point buzzer beater where they got to rush the court on our home floor. We've all had those experiences. You just have to enjoy those times when you're on the winning side. This was one of those fun moments that you can soak up and never forget."