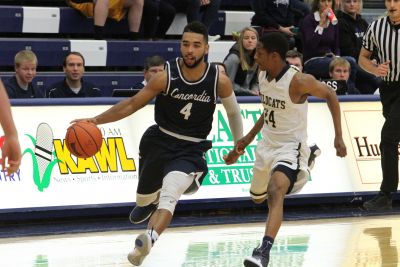 White leads balanced attack in victory at Hastings
HASTINGS, Neb. – Trailing by 11 points right out of the gates, the Concordia University men's basketball team showed how much its grown already this season. Behind a rapidly improving freshman backcourt duo, the Bulldogs marched back to claim a 77-74 win at Hastings (4-5, 3-2 GPAC) inside Lynn Farrell Arena on Tuesday night.
Head coach Ben Limback's squad edged back above .500 overall at 5-4. Concordia is now 2-2 in GPAC play with both conference wins coming on the road.
"We made a lot of toughness plays," Limback said. "We faced adversity and our guys were able to overcome it with a real heady effort. We started to miss some free throws and we weren't rebounding very well for a while in the second half. Then we settled down and had some nice attacks. That's what we need – for guys to step up when the momentum shifts."
Tobin Reinwald had one last chance to force overtime when his buzzer-beating 3-pointer over an outstretched Robby Thomas misfired. That came on the heels of two Haywood free throws that followed a triple by the Broncos' Connor Musiel with :5.3 remaining. Finally Concordia could exhale as Reinwald's attempt came up empty.
Freshman guard Kevin White helped put the Bulldogs into position for a win with his best performance as a Bulldog. He poked the ball loose from Reinwald for a key steal on a Hastings possession in the final minute. He also racked up a team-high tying 14 points (career best) on 6-for-10 shooting. The Chicago area native took charge during an impressive second-half spurt that opened up a 55-47 Bulldog advantage.
White (24 minutes) and fellow freshman Rudy Knight (10 points 19 minutes) were called on for quality minutes in a bid to beat the GPAC's fourth-place finisher in 2013-14.
"They're both relied upon a lot to handle the ball," Limback said. "They both bring different things for us. This was Kevin's best game. He was aggressive and got us going in transition. Rudy gave us a flurry of threes. They add some serious speed in our transition game."
Limback also got 10 points or more from Thomas (14), Chandler Folkerts (11) and Haywood (10). Thomas, who put up nine of his points in the second half, nailed a pair of critical jumpers during a 10-0 run that put Concordia up 72-66 with less than three minutes left.
Thomas and the Bulldogs also got it done on the other end, holding Hastings to 36.5 percent shooting. Prior to a narrow 80-79 loss to No. 12 Morningside on Nov. 22, the Broncos had won three-straight games, including a 71-60 victory over No. 20 Tabor College (Kan.).
Concordia bumped its road record to 3-1 on the year. Based upon where their road victims finished last season, the Bulldogs just picked up their most significant win of the young campaign.
"This was a great road win," Limback said. "Hastings is a very good team. Obviously any road win in this league is great. We have to keep getting better and build upon it. We've been competitive against good GPAC teams and I think our best basketball is ahead of us."
Reinwald finished with a game high 18 points for the Broncos. Zach Lenagh chipped in 11 points and nine rebounds.
The Bulldogs will be off the remainder of the week for the Thanksgiving holiday. They will return to action on Wednesday, Dec. 3 when they host Doane (4-6, 1-3 GPAC) at 8 p.m. In last season's two meetings, the visiting team won both contests.