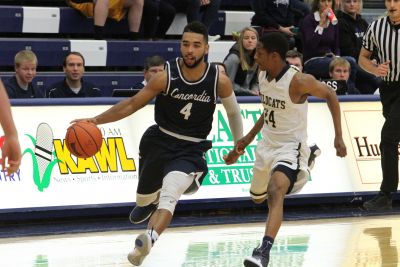 Wegener brushes off injuries, preps for breakout 2015-16 campaign
By Jake Knabel, Director of Athletic Communications
At 6-foot-9, junior Max Wegener has been the perfect hire as a painter working for buildings and grounds on the Concordia University campus. Long and lean, Wegener uses his go-go gadget arms to extend the paint roller to the top of ceilings.
That same length makes Wegener a potential matchup nightmare on the basketball court for head coach Ben Limback's Bulldogs. The problem: Wegner has played in only 10 of the Concordia's 60 games over the past two seasons. Says Wegener, "After I tore my ACL I was like, 'what's next?'"
The answer wasn't kind to the native of Wildwood, Mo. The torn ACL occurred in just the third game of his sophomore season. Surely it was just one bump in the road for the former Eureka High School prep, who began his second season as a Bulldog by going for a combined 39 points and 19 rebounds in the first two games of the campaign. It appeared that the abilities that attracted then head coach Grant Schmidt in the recruiting process had manifested in on-court production.
Said Limback of Wegener's game, "He's got a great touch around the rim. He's got a good feel for the game. He can shoot threes. Right now he's shooting very well from the perimeter, something he couldn't do last year when he tried to play. He's 6-9, he's extremely long. He's got about a 7-foot wingspan that he uses."
Since cleared to resume full basketball activities in early June, Wegener has put those attributes back on display in open gyms and summer league contests in Omaha. Should Wegener realize his potential, he will have overcome a taxing rash of injuries, long rehabilitation periods and several coaching changes.
After shaking off the ACL tear to his left knee that occurred on Nov. 8, 2013, Wegener broke his foot while playing tennis during the summer of 2014. That misfortune wiped him out for the preseason. Wegener tried to rush back to the floor last November, but his season had already been derailed before Christmas upon a tear of his left meniscus. At this point, Wegener's return is more about overcoming psychological hurdles more so than anything physical.
"Maybe the first couple weeks after I got cleared I was a little hesitant," Wegener said. "But the past couple weeks I've been going all out in open gym and summer league games. It's kind of been out of my mind. I've got a knee sleeve on so that's helping with the psychological part."
All recent reports have been positive on the Wegener front. He's showing an inside-out display that will help compliment the bruising interior work of Chandler Folkerts, the all-around game of Robby Thomas and the sharpshooting of Eli Ziegler. All bring unique talents that figure to give Concordia one of its more exciting squads in several years, especially when considering the 2014-15 Bulldogs' scoring average of 77.5 was the most for the program since the 2003-04 season (79.5).
With his outside stroke working better than ever, Wegener gives Limback another weapon.
"I'd say I'm more of the European-style big man," Wegener said. "I can stretch the floor. If I've got a smaller forward I can shoot over him or take him to the basket. I use my length a lot and also use my shot. I think I have a really good shot that can help the team."
The multitude of skills provides insight as to why the "Show Me State" native stuck it out through the injuries. That toughness has drawn praise from his head coach.
"What I've been most impressed with him is mentally overcoming what he's gone through," Limback said. "A lot of athletes would have just packed it in or just give up their sport. He keeps fighting. You can just see him gaining confidence in his legs and abilities. It's been fun to watch him."
Fortunately, Concordia boasts plenty of depth to allow Wegener to ease back into more significant minutes. Limback's squad returns 83.3 percent of its scoring. Plus the frontcourt also includes Folkerts (6-8), Thomas (6-7), Justin Damme (6-10) and Nathan Toenjes (6-7). Concordia possesses both size and outside shooting in spades – two Wegener specialties.
"Max is really stretching our imagination the last couple weeks with what we want to do offensively and what we can do," Limback said. "Whether he plays the 4 or the 5 and put him with Robby or a big post like Chandler, Justin or Nathan – there are a lot of options. Max has a lot of versatility. He handles the ball well for a big guy so we can play him at multiple positions. We're thrilled. It's a good problem to have having big guys who can play together and excel at many things."
After being recruited by Schmidt, then playing for both Marty Kohlwey (2012-13) and now Limback, in addition to suffering the aforementioned injuries, Wegener seems to have found a comfort zone. Similarly, Concordia has built a quiet confidence coming off a 16-15 campaign. Wegener's return only enhances the feel-good vibes that pulsate throughout the Bulldog locker room.
"We're very excited," said Wegener, a secondary education major. "We're pumped for this upcoming season. We have a lot of returners, a lot of experience and a lot of good assets to the team. I think we have many different components that can help win a bunch of games."
Tall and athletic enough to paint the ceilings of campus buildings, Wegener and his teammates hope those measurables translate to a return to glory for Bulldog basketball. If it's not too much to ask, a healthy left knee for Wegener would also be appreciated.