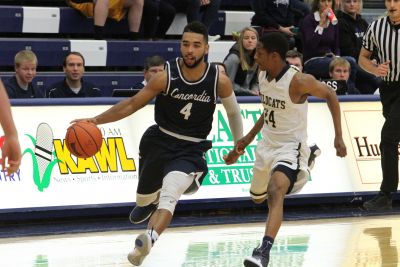 Vogt placed on OWH All-Nebraska second team
SEWARD, Neb. – A second team all-conference choice this past season, Concordia senior Adam Vogt collected another honor on Sunday as the Omaha World-Herald named him to its NAIA All-Nebraska second team.
Freshman Chandler Folkerts and sophomore Robby Thomas collected honorable mention from the Omaha World-Herald.
Vogt (Syracuse, Neb.), also a two-time Daktronics-NAIA Scholar-Athlete, started all 29 games and averaged 14.5 points (13th in the GPAC), 2.1 rebounds, 1.7 assists and 0.9 steals. Vogt shot 38.4 percent from the field, 41.3 percent from 3-point range and 84.3 percent from the free throw line.
Folkerts (Milford, Neb.) had an impressive freshman season, averaging 11.2 points (third on the team), 4.7 rebounds (second on the team), 0.7 assists and 0.6 blocks in 29 games.
Thomas (Shawnee, Kan.) averaged 11.3 points (second on the team), 7.0 rebounds (second in the GPAC), 2.1 assists and 1.79 blocks (13th in NAIA Division II) in 29 games.
Omaha World-Herald NAIA All-Nebraska Men's Basketball Teams
First Team
G Nick Reed, Doane, 22.3
F Trevor Johnson, Neb. Wesleyan, 17.5
G Brady Lollman, Hastings, 20.1
G Ben Imig, Midland, 18.0
G Lee Ames, Bellevue, 14.1

Second Team
G Galen Gullie, Midland, 12.2
G Given Kalipinde, Bellevue, 11.9
G Adam Vogt, Concordia, 14.5
G Dylan Brewer, York, 18.2
C Alex Starkel, Midland, 12.1

Honorary captain: Reed

Honorable mention: Thomas Hammock, Taylor Young, Bellevue; Chandler Folkerts, Robby Thomas, Concordia; Domonique Smith, Doane; Lance Evans, Spencer Plank, Grace; Brett Wells, Jake Hamburger, Hastings; Trey Bardsley, Eric Jackson, Tim Schweitzer, Nebraska Wesleyan; Nate Bohy, Taylor Christensen, Kody Kirkpatrick, Peru State; Heyvis Jackson, Remi Mignott, Andre Vaughn, York College.