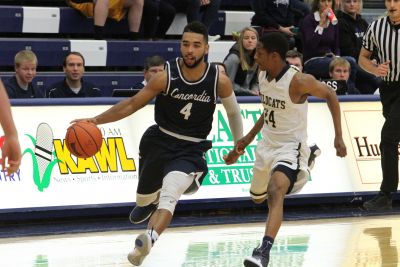 Vogt, Bulldogs conclude season with loss at No. 18 Morningside
By Taylor Mueller, Sports Information Assistant
SIOUX CITY, Iowa – The Bulldog's loss on Saturday night marked both the end and the beginning of a new era in Concordia hoops. It will bid farewell to their senior leader, Adam Vogt and a tough season that lays the foundation for the future. With head coach Ben Limback at the helm with a year of experience under his belt and a young, talented squad that will return 14 varsity athletes, hopes are high for the Concordia basketball program.
The Bulldogs fell to Morningside (22-8, 16-4 GPAC), 87-64, to conclude their season on Saturday. Limback's squad finished up at 8-21 overall and 3-17 in the GPAC.
Concordia was able to keep the game close through the first seven minutes of the game, trailing by just eight until a Morningside three-point bucket took the lead to double digits and sparked a 12-2 Mustang run that would be hard for the Bulldogs to recover from.
Despite connecting on 12 of 13 free throws and hot shooting from 6-foot freshman Eli Ziegler, who connected on three of four three-point buckets, the Bulldogs were cold, going just 6-for-22 (27 percent). At the end of the first half, Ziegler led the Bulldogs with 11 points, though they trailed 44-28.
The large halftime deficit was difficult to surmount as the Bulldogs struggled to gain any momentum. Despite a layup by junior Joel Haywood to trim the lead to 12 with 14:39 left to play, a Morningside three-point bucket on the next possession throttled the Bulldogs attempt to make a run. Concordia did manage to heat up in the second half, shooting 44 percent from the field.
Ziegler finished the night with 14 points to lead the Bulldog scoring attack. Junior Joel Haywood contributed with 13 points and three assists while senior Adam Vogt added 12 points. Freshman Chandler Folkerts and sophomore Robby Thomas worked hard on the glass, coming up with six and five rebounds, respectively.