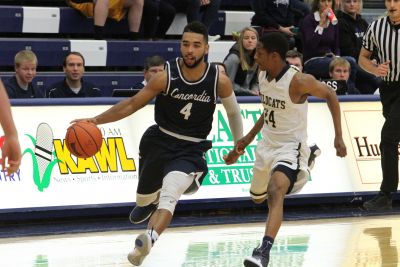 Visiting Tigers outmuscle Bulldogs on the boards
SEWARD, Neb. – Visiting Dakota Wesleyan won its third-straight game by nearly doubling Concordia up on the boards. That advantage helped the Tigers run away with an 88-56 victory inside Walz Arena on Friday night. The loss dropped first-year head coach Ben Limback's crew to 4-9 overall and 2-6 in conference action.
Dakota Wesleyan (8-7, 2-4 GPAC), also guided by a first-year head coach in Matt Wilber, racked up 20 second chance points on the strength of a 49-25 rebounding advantage. Star forward Jalen Voss (game high 21 points) and company managed 15 offensive rebounds while holding Concordia to a mere three offensive boards.
The lopsided totals on the glass allowed the Tigers to build a lead as large as 38 points late in the second half. They trailed only briefly at the beginning of the game, but roared back with guard Anthony Muilenburg's (14 points, seven assists) hot shooting from beyond the arc out of the gates.
Concordia's leading scorer and most consistent threat was held in check for most of the night as foul trouble limited senior guard Adam Vogt to 17 minutes. His six points were 10 below his season average entering play.
On the other hand, Dakota Wesleyan found a rhythm offensively with superior ball movement. Voss was too much inside and the trio of Trae Bergh (19 points), Kris Menning (19 points) and Muilenberg (also a star on the football team) bombed away from the outside with a combined nine treys. For the game, the Tigers outshot Concordia 46.4 percent to 35.3 percent.
Sophomore Robby Thomas topped the Bulldogs with 13 points and seven rebounds. None of Thomas' teammates reached double figures but freshman Justin Damme was solid offensively with nine points on 4-for-6 shooting in 12 minutes. Fellow freshman big man Chandler Folkerts added eight points.
The Bulldogs have the next seven days off before getting back to the hardwood on Dec. 28 when they take on No. 19 St. Gregory's University (Okla.) of NAIA Division I in Shawnee, Okla. The road trip continues from there as Concordia travels to Kansas Wesleyan University, located in Salina, Kan., for a Dec. 30 tilt. Check the men's basketball schedule page leading up to game days for live video links.