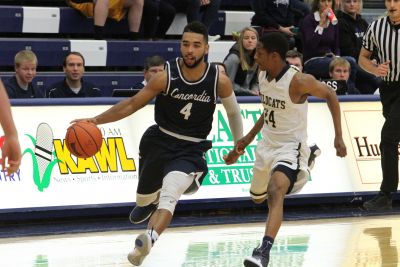 Versatility and athleticism to lead the way for Bulldogs in 2011-12
Concordia University returns three starters and eight total letter winners for the upcoming 2011-12 men's basketball season. The Bulldogs will look to improve upon last season's 16-13 overall record. Concordia was 10-8 in conference play a season ago, but a loss in the opening round of the GPAC Tournament ended the year in disappointing fashion. However, Coach Grant Schmidt, who enters this season with a 432-259 career record, is excited and ready for a new year. With a solid group of returning players and a talented batch of newcomers, Coach Schmidt certainly sees the potential in his 2011-12 squad.

"Our added versatility and athleticism will be a real strength for us this year," noted Schmidt. "We should be much more athletic and difficult to match up with this year. That should create new opportunities for us on the offensive end and also allow us to be more aggressive defensively."

Concordia returns a trio of starters in seniors Tyler Byrd (Bennington, Neb.) and Barrett Braun (Lakeside, Calif.) as well as junior Porter Birtell (Madison, Neb.).

Byrd had another impressive season a year ago for the Bulldogs. He finished as an honorable mention All-American and was also a first team All-GPAC selection. Byrd was also named to the NABC Honors Court after posting averages of 13 points and five rebounds per game. He led the team in minutes per game (36.1), assists (107) and steals (36).

Braun averaged over six points per game and played over 24 minutes per game for the Bulldogs last year. The transfer from Cuyamaca College will look for more offensive consistency this coming year. Birtell earned honorable mention All-GPAC honors following the 2010-11 season. He averaged 11.5 points and was second on the team with 6.4 rebounds per game last year despite playing in just 22 games due to injury.

"Obviously, our returning starters need to have a good year for us," added Schmidt. "Tyler will be changing over to the shooting guard spot this year, so hopefully he will be able to concentrate more on scoring rather than running our offense. Porter has to stay healthy and reduce his fouls so he can stay on the floor for us this year. Last year, Porter missed seven games and played 20+ minutes in just 12 games. That stat must improve if we are to have a solid season."

Guards Charles Dunbar (St. Louis, Mo.), Phil Friedrich (Seward, Neb.), Adam Vogt (Syracuse, Neb.) and Garrett Golke (Gowen, Mich.) will add depth on the perimeter, while Brent Houchin (Bruning, Neb.) will help the Bulldogs inside this coming season.

Coach Schmidt is also excited about a talented group of newcomers. The trio of freshman Joel Haywood (Denver, Colo.) as well as transfers Brian Towner (York College) and Beau Smith (College of the Sequoias) should compete for playing time immediately. Haywood, a 6-3 point guard, was Colorado Player-of-the-Year last season at Denver Lutheran High School. Towner and Smith, who both stand at 6-4, will add versatility to the Bulldog lineup this season.

"Those three newcomers add a lot of talent and athleticism that should provide some difficult match ups and take some pressure off our interior," remarked Schmidt. "Brian Towner and Beau Smith are junior transfers that will impact us immediately. Joel Haywood has all the tools to lead the play on the floor already as a freshman."

Concordia struggled down the stretch last season, losing six of their final 10 games. Coach Schmidt talked about the things his team needs to address this season.

"I expect this team to play better in the latter part of the season, unlike last year," noted Schmidt. "Just like any team, we have some questions that have yet to be answered. How well will our team chemistry develop? Can we be consistent from the perimeter? We also cannot allow our lack of experience and depth inside to become a weakness for us. Our team simply needs to develop a chemistry that will allow them to overcome the adversity that we will eventually face."

Concordia opens the season at the York College Tip-Off Classic on November 4 and 5.