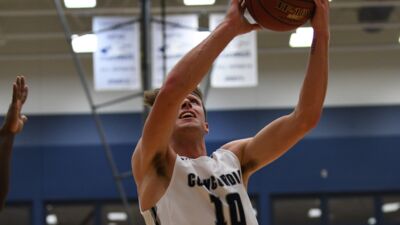 2020-21 All-GPAC Men's Basketball Teams
SEWARD, Neb. – Strong seasons from a trio of Concordia University Men's Basketball standouts have resulted in all-conference honors. As announced by the league on Wednesday (March 3), juniors Justin Wiersema (first team), Carter Kent (second team) and Gage Smith (second team) each landed on the 2020-21 All-GPAC squads. All three Bulldogs averaged 13.9 points or more while starring for Head Coach Ben Limback's program.
Wiersema took a large step forward in 2020-21 while becoming one of the top players in the entire conference. The native of Loveland, Colo., averaged career highs of 16.4 points, 5.0 rebounds, 3.0 assists and 1.58 steals per game this season while shooting 55.6 percent from the floor and 41.0 percent from 3-point range. Among GPAC players, Wiersema ranked fifth in field goal percentage, sixth in scoring, sixth in steals per game, 10th in 3-point field goal percentage and 11th in assists per game. Wiersema moved up to the first team after earning honorable mention All-GPAC accolades in 2019-20. He scored at least 10 points in all 26 games. Wiersema will enter next season having totaled 896 points.
Smith made a quantum leap from his sophomore to junior seasons. The native of Elizabeth, Colo., went from averages of 4.7 points and 4.5 rebounds per game in 2019-20 to 13.9 points and 9.2 rebounds this winter. As part of the breakout campaign, Smith shot 52.6 percent from the floor, 35.7 percent from 3-point range and 82.1 percent from the foul line. In career best single-game outings, Smith posted 32 points in a win over Dakota Wesleyan and 19 rebounds in a victory over Manhattan Christian College (Kan.). He ranked third among GPAC players in both rebounding and double-doubles (10).
Kent has earned some form of all-conference recognition in each of his three seasons having also been named honorable mention in 2018-19 and to the second team in 2019-20. As a junior, the Crete, Neb., averaged 15.2 points, 3.9 rebounds, 2.8 assists and 1.1 steals per game while shooting 40.4 percent from the floor, 34.6 percent from beyond the arc and 75.0 percent from the foul line. Kent racked up a career high 29 points in a win over Mount Marty. Back on Jan. 9, Kent became the 32nd player in program history to reach 1,000 career points (currently at 1,145).
Head Coach Ben Limback's squad finished the 2020-21 campaign with an overall record of 17-9. Concordia's 14 GPAC wins tied a program single-season record for conference victories. The Bulldogs tied for third place in the conference regular season.