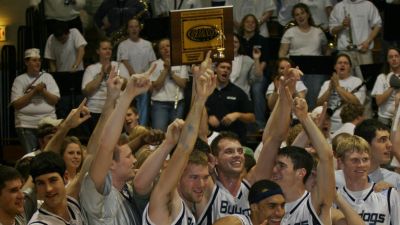 Between 1990 and 2005, the Concordia men's basketball program rose to national prominence under the direction of head coach Grant Schmidt. Many of the most memorable moments in Bulldog hoops history occurred during that timeframe. In our second installment of "top five moments," we recount the greatest team and individual moments produced by Concordia men's basketball. For this list, only specific athletic accomplishments were considered.
1. A run to the final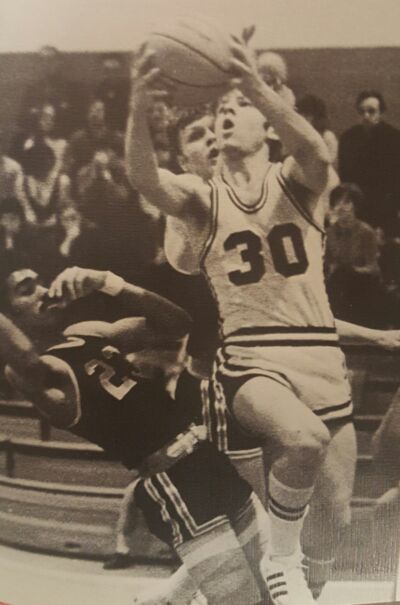 It was a dream season for head coach Grant Schmidt's program, which he had led to eight national tournament appearances in the previous 14 seasons. Each of those teams had fallen at least one win shy of reaching the title game. The 2004-05 squad would break new ground, beginning the campaign with 13-consecutive wins (school record to start a year) before finishing the year with a 32-6 overall mark (program record for wins in a season). After claiming­ the GPAC tournament title, Concordia's magical national tournament run included victories over Trinity Christian (Ill.), 74-69, Flagler (Fla.), 70-63, Cornerstone (Mich.), 71-68, and Cedarville (Ohio), 62-56. It set up a NAIA Division II championship game with Walsh (Ohio). In front of 3,281 fans in Point Lookout, Mo., the Bulldogs came up short of winning the whole thing, slipping by a score of 81-70 despite 25 points from Jon Ziegler. Concordia struggled to deal with 6-foot-10 Robert Whaley, who started his collegiate career at Missouri before ultimately ending up at Walsh.
Schmidt's '04-05 group featured plenty of star power. Both Jason Jisa (third team All-American) and Scott Beck were named to the All-GPAC first team while Ziegler landed on the second team. A major pest for opponents, Jisa also garnered GPAC defensive player of the year accolades. Another imposing defensive presence was Marcus Wernke, who still owns the NAIA Division II record for most blocked shots at a single national tournament (23) and in a single national tournament game (nine). All that talent makes it hard to figure how Concordia was picked by league coaches to finish seventh in the GPAC preseason poll. This Bulldog team had the toughness to win the close games and to come all the way back from an 18-point deficit to defeat Cornerstone in the national quarterfinals.
Said Jisa after the season had concluded, "To understand how far we came and how Coach Schmidt put together this team that was scattered at the beginning of the season is to understand what anybody can do if they work as a team. Everybody played a role, and we can be proud of that." Added Schmidt, "This team just gives such an effort every night. They work so well as a team, and just seem to refuse to lose." Schmidt also called his national runner up squad "a team you'd see at noon at the YMCA."
2. 1991-92 team takes national tournament by storm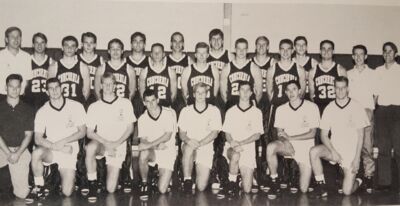 The 1991-92 team elevated the profile of men's basketball at Concordia. Then brimming with confidence after a district title and national tournament berth in 1991, head coach Grant Schmidt's squad possessed the experience and the talent to extend their season deep into March. That's exactly what happened. The Bulldogs easily cruised to another district championship while following the lead of standouts like John Puelz, Eric Priebe, Devin Smith and Mike Works. Seeded 10th at the national tournament in Stephenville, Texas, Concordia 'upset' seventh-seeded Northwest Nazarene (Idaho), 75-63, and then second-seeded MidAmerica Nazarene (Kan.), 102-90, for the first two national tournament wins in school history. Said Schmidt, "We broke away the whole myth: 'We couldn't do it. Concordia doesn't do those things.' We broke that whole feeling. With Oklahoma City (in 1991), it was ecstasy that we made it. But when the game was over we realized we could have beat that team."
MidAmerica Nazarene was a NAIA heavyweight, but the Bulldogs took it to them. Concordia led by as many as 21 points in a game that wasn't as close as the final score. Puelz went off for 28 points as one of the leaders of an impressive senior class. In the second round win over Northwest Nazarene, another senior in Smith collected 19 points, 10 rebounds, five assists and three steals. There was only one problem for Concordia. Puelz badly sprained his right ankle in the quarterfinals. It would severely limit him in the semifinals, where the Bulldogs fell, 95-89, to Grace (Ind.), the eventual national champion. It's easy to think about what could have been had Puelz remained healthy. At the time, it was the greatest season in program history. Concordia finished 26-10 overall and was named one of the state college teams of the century by the Lincoln Journal Star in 1999. "Those guys set a standard here," Schmidt said. "Everything Concordia basketball will do will be measured with what these guys did."
3. Ziegler breaks program single game and career scoring records – in same contest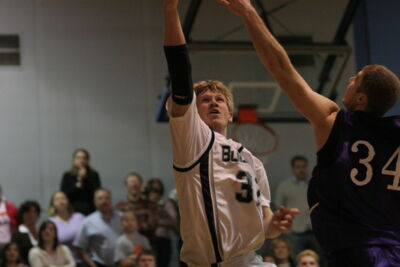 On Sept. 17, 2007, then senior Jon Ziegler put on an unforgettable display. He made 14-of-19 shots from the floor and 16-of-19 attempts from the free throw line while burning visiting University of Sioux Falls for a still intact single-game school record of 47 points. In that very same game, Ziegler eclipsed 2,000 career points and passed up Tom Raabe (2,016) as the school's career scoring king. A native of Lincoln and product of Lincoln Lutheran High School, Ziegler gave Bulldogs fans plenty of thrills throughout a four-year run that ended with a third team All-America selection in 2006-07. With several of the stars from the 2004-05 team having graduated, Ziegler had free rein to fire away. In his final season, Ziegler averaged 21.3 points, ranking 11th nationally.
Despite starring for a struggling team in 2006-07, Ziegler led his squad on one more postseason push that included road upsets of Doane and 16th-ranked Dakota Wesleyan in the GPAC tournament. Ziegler's final season ended with a loss in the conference semifinals. Though well-known for his ability to score (2,099 career points), Ziegler also played tenacious defense. "Throughout his career he has done a great job defensively," said head coach Grant Schmidt in 2007. "He is very versatile, being able to guard a variety of players, from posts to guards. Jon is a true competitor." Schmidt was also quoted in a 2005 Lincoln Journal Star piece, referring to Ziegler as "the best athlete I've ever coached." What some may not realize is that Ziegler began his collegiate career at Concordia-Wisconsin, where he caught three touchdown passes as a member of the Falcons football team. It just felt too far from home for Ziegler, who spent only one semester in Mequon. Schmidt welcomed Ziegler to Seward with open arms.
4. Schmidt's breakthrough crew: Bulldogs bite Hastings for district title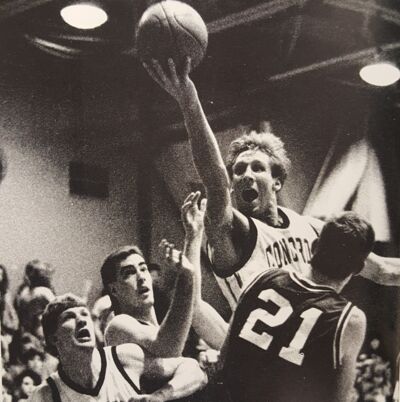 Before the 1991-92 team's big run, the 1990-91 squad broke new ground with a district title that secured the program's first-ever national tournament berth. Still a youthful coach, Schmidt had previously spent four years as head coach at Valley Lutheran High School (Ariz.) and then two seasons as the top assistant for Concordia men's basketball. After taking over for former head coach Tom Baack, Schmidt transformed the program. Just two short years after the Bulldogs suffered through a 7-23 (0-10 conference) season in 1988-89, they were ready to make noise. The '88-89 team possessed a talented group of freshmen such as Kyle Karsten, John Puelz, Devin Smith and Todd Voss in addition to sophomore Matt List. A year later, Mike Works joined the fray.
The ingredients were now in place for a program with little national clout at the time. To ensure a national tournament berth, the Bulldogs would have to go through rival Hastings in the NAIA District 11 championship game. The two sides clashed in some classic battles, with each team winning on the other's home floor during the regular season. Concordia was up to the challenge and handed Hastings an 81-71 defeat on March 5, 1991. The Broncos had focused on shutting down Puelz, List and Smith, allowing Voss to get loose for a team high 18 points. Works added 17. Smith punctuated the victory with a big throw down in the finals seconds. It was a thrilling, momentous win for the program. Said Schmidt afterwards, "We've never been this far before. We're rookies, and you never know how rookies are going to respond in a big pressure situation." List told the Omaha World-Herald, "It feels great. It's an awesome feeling knowing that you get to represent the state of Nebraska down in Kansas City and to say you're the best team in the state."
Concordia showed it wasn't satisfied with merely being at the national tournament for the first time. It nearly knocked off second-ranked Oklahoma City in what would have been a shocking first-round upset. OCU held off the Bulldogs, 80-77, inside Kemper Arena in Kansas City. Schmidt and Concordia would be back.
5. Kness, Engelbart power season sweep of Hastings, NIAC title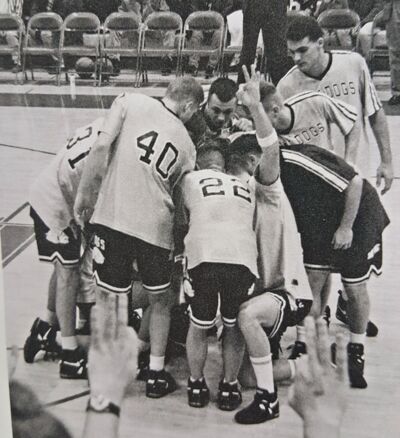 During the 1994-95 season, Concordia and Hastings were clearly established powerhouses both regionally and nationally. On Feb. 28, 1995, the two rivals met in Seward with the NIAC tournament title on the line. Ranked second nationally, the Bulldogs featured Nebraska-Iowa Conference player of the year Darin Engelbart and leading scorer Ryan Kness, another transfer and major find for Grant Schmidt's program. Nearly 1,000 people packed into an air-tight gym to watch Concordia defeat Hastings, 76-71, giving Schmidt's crew both the NIAC regular season and tournament titles. Engelbart totaled 12 points and nine assists while Kness and Scott Ernstmeyer put up 17 points apiece. Incredibly, the Bulldogs won all three of that season's matchups with the Broncos. Concordia would enter the national tournament as a serious title contender. Expectations changed throughout a season that began with low expectations from outsiders. "We set that goal early on (to make the national tournament), and I guess we kind of underestimated what our potential was," Schmidt said. "We just wanted a shot. Now we're going with the idea that we're going to win it."
The Bulldogs looked especially formidable while blowing past Loyola (La.), 90-69, and St. Ambrose (Iowa), 100-84, in their first two games at the national tournament. Kness poured in a combined 53 points over those two victories. Suddenly, Concordia ran out of gas, shot only 34 percent and lost, 91-68, to 10th-seeded William Jewell (Mo.) in the national quarterfinals. Despite the defeat, the '94-95 squad remains one of the greatest in program history. "Darin Engelbart had a phenomenal year," Schmidt said. "But Ryan had nothing less of a year than Darin did. Ryan was just so steady. He was always there to lead us."
Honorable mention No. 1: Dietz leads Bulldogs to GPAC tourney title in classic OT game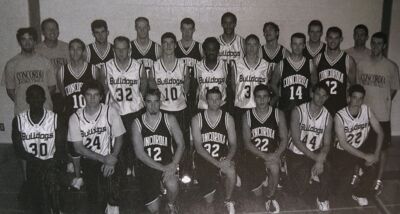 The 2002-03 squad made one of the most impressive late-season runs in school history. Led by players like Rick Dietze, Drew Olson and Jason Jisa, Concordia won 12-straight games before being eliminated in the quarterfinals of the national tournament. The stretch run included a memorable 90-82 GPAC championship overtime victory over Dordt on March 4, 2003, in Seward. With a blizzard swirling in Nebraska, the Bulldogs sewed up the title game win by nailing 12-of-14 free throws in overtime. Dietze put up a game high 27 points, including 23 in the second half. Olson piled up 22. The Bulldogs went 25-9 overall and recorded national tournament wins over Dominican (Calif.) and Cardinal Stritch (Wis.). They came up agonizingly short of advancing to the semifinals. The season ended with a 77-72 overtime loss to Bethany (Kan.) in the quarterfinals.
Honorable mention No. 2: Raabe cracks 2,000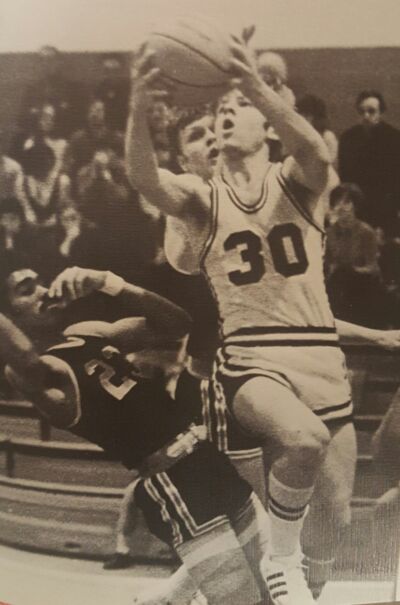 Long before anyone knew of Jon Ziegler, Tom Raabe tore it up as a Bulldog from 1967 to 1971. Despite the lack of a 3-point line in his era, Raabe racked up 2,016 career points, a figure that stood as a school record for 36 years. Raabe averaged 20.0 points per game during his career while starting all 101 games over his four years. His list of honors included three all-conference awards, all-district mention, All-Nebraska accolades and honorable mention All-America recognition.