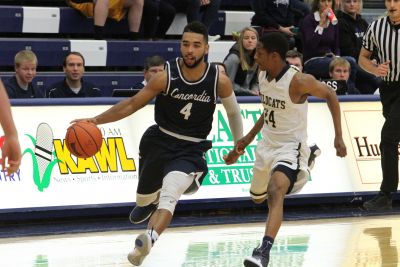 Three-point flurry buries Mount Marty
YANKTON, S.D. – The Concordia University men's basketball team used a flurry of long-range bombs to build a double-digit first-half advantage on the way to an 88-70 GPAC-opening win at Mount Marty on Wednesday night. Coming off an 89-62 win over Avila University on Nov. 8 (the program's largest margin of victory in six years), the Bulldogs began conference play in impressive fashion.
Second-year head coach Ben Limback's squad moved to 3-2 overall with its second-straight lopsided victory.
"We've really made an emphasis on making the extra pass and playing for each other," Limback said. "We did that right away tonight. Rudy (Knight) got us going early on. I think our shot selection from three was really good. Any time you have as much balance as we had it makes it much more difficult to defend."
Five different Bulldogs made at least one trey as part of a collective 10-for-19 shooting effort from beyond the arc. Freshman guard Rudy Knight got the barrage started with a pair of triples in the opening three minutes that got Concordia out to a quick 10-3 lead. The Bulldogs shot 47.6 percent for the night and never trailed in a game that it controlled virtually the entire way.
Just when the Lancers got some momentum in cutting a 19-point second-half deficit to 12, junior Micah Kohlwey stepped up to deliver the dagger. He nailed a trey and then added a layup with 4:33 left to push the advantage back up to 18 and put the game out of reach.
For the second-consecutive time out, Limback liked the way his team rotated the ball offensively. Concordia's well-executed motion offense resulted in five double-figure scorers. Senior Joel Haywood leading the way with 16 points. He was joined by Robby Thomas (14), Chandler Folkerts (11), Knight (11), Folkerts (11 points and 10 rebounds) and Eli Ziegler (10) as Bulldogs with 10 or more points.
Off the bench, freshman Nathan Toenjes again made a big impact. He produced eight points and six rebounds in nine minutes of floor time.
Concordia picked up the road win despite a monster scoring performance from Mount Marty guard Bud Smith, who piled up 21 first-half points and 30 points for the game. He also pulled in seven rebounds and dished out five assists.
"He's a great player," Limback said. "He's tough to guard. He's very good off the dribble. In the second half we did a much better job of making it difficult for him. We have to do a better job to shut down the other team's scorer."
Smith went 10-for-17 from the field, but the rest of the Lancer team managed to make only 15 of 43 shots. That lack of output doomed Mount Marty to an 0-5 start to the season.
The Bulldogs return to Seward to host their GPAC home opener on Saturday. No. 12 Morningside (4-0) will serve as the opponent for a game slated to tip off at 4 p.m. The Mustangs, led by Steve O'Neill's 20.3 points per game, have already defeated two ranked opponents – No. 18 William Penn University and No. 20 Ashford University.
Concordia now has plenty of confidence of its own.
"It's great to get a win on the road like this, but the goal hasn't changed," Limback said. "We still have a lot of things we need to improve on. If we want a chance to beat Morningside on Saturday we have to play better defensively and we have to rebound better, but I do like our mindset."