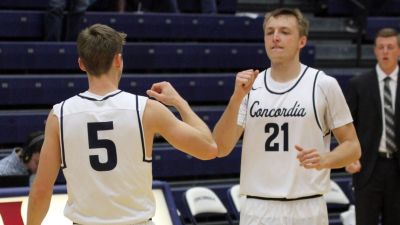 SEWARD, Neb. – Just five games and two weeks remain in the regular season for the Concordia University men's basketball team, now riding a five-game win streak. The Bulldogs hope to move up from their current seventh place positioning in the GPAC standings during the stretch run. Fourth-year head coach Ben Limback's squad stands at 17-9 overall and at 6-7 in conference play.
This week's schedule
Wednesday vs. Doane (12-14, 3-11 GPAC), 8 p.m.
Saturday at No. 25 Briar Cliff (20-6, 10-4 GPAC), 4 p.m.
Sunday at No. 9 Dakota Wesleyan (21-6, 12-3 GPAC), 4 p.m.
All three of this week's games will be carried live by 104.9 Max Country. Wednesday's contest can be watched live on the Concordia Sports Network. For the weekend tilts, Briar Cliff and Dakota Wesleyan will provide webcast coverage.
During Concordia's active win streak, it has averaged 91.0 points per game and has shot 54.7 percent from the field. The Bulldogs also held Mount Marty to 33.9 percent shooting, a season low for opponents, in last week's 82-61 victory in Yankton, S.D. Concordia is 10-2 over its last 12 outings. Freshman Clay Reimers has come on strong, posting back-to-back 15-point games. He's made 12-of-16 shots from the floor and has grabbed 10 rebounds over the past two outings.
Star senior Chandler Folkerts recently became just the second player in program history to reach 800 career rebounds. With his career winding down, the Milford native has a shot to move up another rung on the all-time scoring list. His current all-time school ranks are: second in rebounds (816), fourth in scoring (1,857) and fourth in blocked shots (133). He notched his seventh double-double of the season by totaling 24 points and 10 rebounds in last week's blowout of Grace University.
With one more win, Concordia will equal a high water mark for victories in a season since Limback became head coach prior to the 2013-14 season. The Bulldogs' win totals have trended upward from eight to 16 to 18 over the previous three years. Not since the 2008-09 campaign has the program reached the 20-win plateau.
On Wednesday the Bulldogs will play their eighth home game in their past nine outings. Doane will serve as the opponent. Second from the bottom in the GPAC, the Tigers defeated Concordia, 80-77, in Crete on Nov. 22. Doane's other two conference wins have come over Dordt and Mount Marty. Nate Kuhl tops the team in scoring (16.3), rebounding (7.0) and blocked shots (1.7).
The Bulldogs topped Briar Cliff, 87-79, in Seward on Jan. 4. The defending GPAC champion Chargers remain in the hunt for another conference regular-season title. They sit just one loss out of first place. Briar Cliff has won seven of eight since falling at Concordia. Head coach Nic Nelson's squad has many strong perimeter shooting options, including leading scorer Erich Erdman (18.9).
Dakota Wesleyan also fell victim inside Walz Arena this season. The Tigers have rebounded and sit atop the conference with a 12-3 GPAC mark. Behind Jason Spicer (21.0) and Ty Hoglund (17.9), Dakota Wesleyan sports national ranks of first in field goal percentage (.527) and fifth in scoring offense (91.7). Head coach Matt Wilber's squad is 12-1 at home this season.
Projected lineups
Concordia (17-8, 6-7 GPAC)
G – Seth Curran: 8.1 ppg, 4.1 apg, 3.5 rpg, .433 fg%, .366 3-pt fg%
G – Eli Ziegler: 16.g ppg, 3.9 apg, 3.0 rpg, .485 fg%, .433 3-pt fg%
G – Chris Johnstone: 10.6 ppg, 3.0 rpg, 2.1 apg, .466 fg%, .373 3-pt fg%
F – Tanner Shuck: 10.3 ppg, 3.5 rpg, 2.2 apg, .497 fg%, .469 3-pt fg%
C – Chandler Folkerts: 18.4 ppg, 7.9 rpg, 1.4 bpg, 1.1 spg, .679 fg%

Doane (12-14, 3-11 GPAC)
G – Mykeil Tzul: 12.7 ppg, 3.2 apg, 2.9 rpg, .419 fg%, .400 3-pt fg%
G – Reid Williams: 7.1 ppg, 3.2 rpg, 1.4 apg, .454 fg%, .373 3-pt fg%
G – Rylee Zimmerman: 12.7 ppg, 5.2 rpg, 1.2 spg, .500 fg%, .391 3-pt fg%
F – Quin Conner: 4.4 ppg, 3.7 rpg, .450 fg%, .462 3-pt fg%
F – Nate Kuhl: 16.3 ppg, 7.0 rpg, 2.2 apg, 1.7 bpg, .601 fg%

Briar Cliff (20-6, 10-4 GPAC)
G – Shane Graves: 9.3 ppg, 4.4 apg, 2.4 rpg, 1.0 spg, .471 fg%
G – Erich Erdman: 18.9 ppg, 2.9 apg, 2.5 rpg, .485 fg%, .413 3-pt fg%
G – Jay Wolfe: 10.5 ppg, 5.2 rpg, 1.1 spg, .514 fg%, .462 fg%
G – Bryan Forbes: 17.2 ppg, 7.8 rpg, 1.8 spg, .430 fg%, .365 3-pt fg%
F – Jordan Eisma: 7.5 ppg, 2.6 rpg, .649 fg%

Dakota Wesleyan (21-6, 12-3 GPAC)
G – Tate Martin: 13.9 ppg, 9.0 apg, 2.6 rpg, .490 fg%, .406 3-pt fg%
G – Trae Vandeberg: 16.4 ppg, 7.3 rpg, .481 fg%, .415 3-pt fg%
G – Ty Hoglund: 17.9 ppg, 3.7 rpg, 1.2 spg, .545 fg%, .382 3-pt fg%
G – Nate Davis: 8.2 ppg, 3.1 rpg, 1.7 apg, .472 fg%, .387 3-pt fg%
F – Jason Spicer: 21.0 ppg, 7.1 rpg, 4.5 apg, 1.0 bpg, .651 fg%