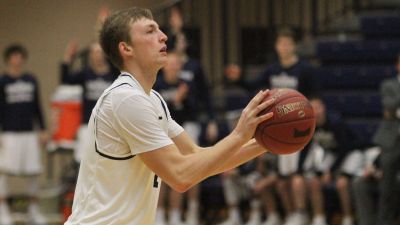 SEWARD, Neb. – A trio of Bulldogs represented the Concordia University men's basketball program on the Omaha World-Herald's NAIA/NCAA Division III all-Nebraska state college basketball teams, announced on Sunday (April 8). Clay Reimers landed on the second team while Jake Hornick and Tanner Shuck were recognized as honorable mention selections (see full teams at bottom).
Also a second team All-GPAC choice, Reimers took a leap forward in his sophomore campaign. Over 29 games, Reimers averaged 15.6 points, 8.6 rebounds and 1.31 blocks per game while shooting 60.9 percent from the floor and 66.4 percent from the free throw line. Among conference players, Reimers ranked first in double-doubles (10) and rebounding and second in blocks per game and field goal percentage. Reimers produced a career high 26 points on back-to-back days (Dec. 29-30) and earned NAIA national player of the week honors. He also collected a CIT all-tournament award.
Hornick took over the role of point guard this past winter and thrived, earing second team All-GPAC accolades. The native of Loveland, Colo., averaged 14.7 points, 5.1 rebounds and 4.0 assists while shooting 47.7 percent from the field, 36.6 percent from 3-point range and 78.8 percent from the free throw line. A starter in all 30 games, Hornick racked up a career high 30 points in a win at Robert Morris University on Dec. 29. Over the 18 conference outings, Hornick averaged 12.6 points, 4.9 rebounds and 4.1 assists.
The team's top outside shooting threat, Shuck drilled a Bulldog best 74 treys in 2017-18. He averaged 13.0 points, 2.9 rebounds and 2.0 assists while posting shooting percentages of 44.6 from the field, 37.3 from 3-point range and 72.0 from the free throw line. Shuck's 29 points at Dakota Wesleyan were a career best. He reached the 20-point mark five times this past season.
NAIA/NCAA DIVISION III All-Nebraska Teams
First team
G: Quantice Hunter, Peru State, sr., 22.2 ppg, 2.2 spg
G: Nate Schimonitz, Nebraska Wesleyan, so., 17.0 ppg, 4.1 rpg, 5.2 apg
G: BJ Shelton, Bellevue, sr., 13.0 ppg, 4.6 rpg
F: Ryan Garver, Nebraska Wesleyan, jr., 14.2 ppg, 5.5 rpg, 4.6 apg
F: Ryan Williams, Midland, so., 17.2 ppg, 6.8 rpg, 81 3-pointers
Second team
G: Nick Kornieck, Doane, fr., 17.6 ppg, 5.0 rpg
G: Kevin Miller, Hastings, jr., 13.1 ppg, 3.7 rpg
G: LJ Westbrook, Peru State, sr., 18.1 ppg, 5.8 apg
F: Cooper Cook, Nebraska Wesleyan, jr., 16.8 ppg, 5.8 rpg
F: Clay Reimers, Concordia, so., 15.6 ppg, 8.6 rpg
Captain: Nate Schimonitz, Nebraska Wesleyan
Honorable mention: Bellevue, Jalen Hall, Richard Reed; Concordia, Jake Hornick, Tanner Shuck; Doane, Anthony Laravie, Rylee Zimmerman; Hastings, Bart Hiscock, Jake Hansen; Midland, Nick Wood; Nebraska Wesleyan, Jack Hiller, Deion Wells-Ross; Peru State, Marley Biyendolo, Nolan Cass, Terry Moore; York, Michael Johnson.