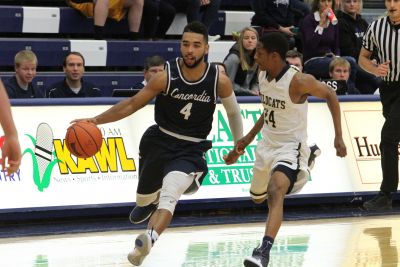 Thomas near triple-double not enough in home-opening loss
SEWARD, Neb. – Up against an improved Grace University squad, the Concordia University men's basketball team relinquished a second-half advantage in dropping its second-straight game. The visiting Royals spoiled the opening day of the 15th annual Cattle Classic by going on a late 14-0 run to pull away for a 73-60 win over the Bulldogs on Friday night.
Second-year head coach Ben Limback's squad went on a scoring drought of almost five minutes down the stretch, delivering a fatal blow to the Bulldogs' chances.
"We lost composure," Limback said. "Even in the first half, we didn't share the ball. We didn't move it well enough. Offensively – this for three games now – we just don't have a flow. I don't feel like we're making an extra pass. We're just not very sharp right now, especially on offense."
Even the shot-blocking machine Robby Thomas could not make up for a lack of offensive output in crunch time. Instead it was sophomore guard Jarrod Sheffield who rose to the occasion. Sheffield put up seven of his game high 19 points during the 14-0 spurt that turned a one-point Grace deficit into a 13-point lead with 4:20 to play.
Thomas, who ended up with 15 points, nine rebounds and a career high eight blocked shots, finally ended the Grace run with a pair of free throws at the 4:02 mark. However, the Bulldogs mustered only two made field goals over the final nine minutes and never got closer than 11 following the Royal second half run.
Limback used 12 different players in an effort to slow down Grace and find a successful combination. However, Concordia could not overcome its 36.4 percent shooting and 22 turnovers on the night.
"We're trying to find a mix," Limback said. "It's still early. We want to try to see some guys and see what they can do. You have to hand it to Grace. They really played hard and were active, but we didn't take advantage of our size and we didn't finish well inside."
There was at least one instance in which Concordia finished with authority. After Thomas missed a driving layup in the opening minute, 6-foot-8 Chandler Folkerts followed it up with a thunderous tip slam that ignited the Walz crowd. Four of Folkerts' six points came on put backs. He also added 10 rebounds.
The Bulldogs lead by as many as eight points in the first half. Trailing 15-12 in the early going, Concordia reeled off 11-straight points. The spurt was punctuated by consecutive treys from lefty shooters Micah Kohlwey and Thomas.
The shot-blocking native of Shawnee, Kan., finished as Concordia's only double-figure scorer. Kohlwey and freshman Rudy Knight chipped in nine points apiece.
The Royals (3-1), who have also beaten Mount Marty this season, got 18 points and 10 rebounds from Ayotunde Akinbote and 17 points and five steals from Hakeem Stewart. Grace shot 45.8 percent from the field on the night.
Both teams struggled from the foul line. The Royals went 12-for-20 (.600) from the charity stripe while Concordia went 13-for-22 (.591) on free throws.
The Bulldogs resume play at the Cattle Classic on Saturday when they host Avila University (Mo.) at 3 p.m. Earlier on Friday, the Eagles surrendered a late lead and fell, 82-77, in overtime to York College in the first men's game of the event hosted by Concordia.