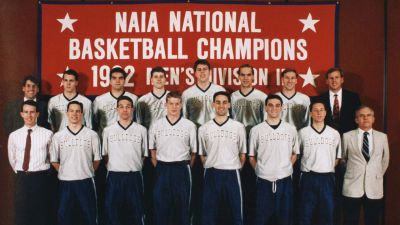 Twenty-five years ago, the men's basketball program changed the game. Concordia had just begun pulling itself out of a troubling downward trending enrollment conundrum. Athletics had the potential to be part of the solution, but it was difficult to see it that way at a time when both Bulldog basketball programs had yet to establish a national reputation.
The 1991-92 men's basketball team blew away the notion that Concordia athletic teams were incapable of competing on a national scale. In a 1992 interview with the Omaha World-Herald, head men's basketball coach Grant Schmidt told the news outlet, "We broke away the whole myth: 'We couldn't do it. Concordia doesn't do those things.' We broke that whole feeling.'"
In mid-March 1992, the Bulldogs were on fire. Sharpshooting John Puelz went off in the national tournament quarterfinals where Concordia wiped out second-ranked Mid-America Nazarene. A confident bunch with a dynamic mix of personalities posed a legitimate threat to win the national championship. This was unheard of. Not until that year had the program ever won even a single national tournament game.
During the 1991-92 team's late-season run, the PE Center gym burst at the seams with fans that grew increasingly aware of the winning basketball that unfolded inside the cramped venue. Now they knew. Concordia can be a national player. "You couldn't find a seat in the old gym at our home games," Schmidt said. "You had to wait outside. It created an environment at Concordia that we had never seen before."
The build up
Brian Mueller paced the sidelines for his fourth and final year as head men's basketball coach during the 1986-87 campaign. In his place stepped Tom Baack, a former University of Nebraska assistant coach and player. Baack stuck around for just two seasons, posting a combined record of 18-42. Baack announced his resignation in February of the 1988-89 season. What Baack did well was recruit and help open up a pipeline to Lincoln that would funnel in Lincoln Southeast standouts Matt List, John Puelz and Mike Works. Said Puelz, "Tom was a great recruiter."
Baack simply didn't hang around long enough to see his recruiting victories translate into victories on the court. In a season wrap up written by Schmidt after the 7-23 record in 1988-89, he stated that "most team members were very hesitant and lacked the confidence to succeed at this level of competition." But 25 years later, Schmidt and the players insist they could feel a shift on the horizon.
List began the Lincoln migration to Seward. His presence at Concordia eventually swayed close friends Puelz and Works to join him as Bulldogs after first attending the University of Nebraska as students only. Another key transfer was Devin Smith (Merna, Neb.), who started his college career at Northern State University in Aberdeen, S.D. Other members of the recruiting class that arrived along with Smith were Kyle Karsten (Eureka, Mo.) and Todd Voss (Schleswig, Iowa).
The group may have stumbled through the 1988-89 season, but it stayed together. "It was extremely difficult," Puelz said of the rough beginnings. "It was a difficult season. I just remember Tom Baack was really frustrated because we were going to these tournaments in Colorado and other places and we weren't doing so well. Matt List was really the glue that held everybody together." Added Voss, "It was a learning year. We went through so much."
They would never have to experience a losing season again. Schmidt rose from assistant to head coach when Baack left. The promotion of Schmidt, a 1983 Concordia graduate, was a popular decision inside the locker room. The players responded to his coaching. The Bulldogs improved immensely in Schmidt's first season, recording a 16-13 overall mark in 1989-90. A year later, Concordia made another big leap, breaking the school single-season wins record by going 23-11 while reaching the national tournament for the first time in program history. The Bulldogs were on the edge of greatness.
Says Voss, "When you look at those four years, it was just a total transformation. We go from basically being the doormat of the league to being really competitive our sophomore year. That was a huge leap."
The personalities
The stars of this show are the likes of Grant Schmidt, Concordia's all-time winningest basketball coach, and players such as Kyle Karsten, John Puelz, Eric Priebe, Devin Smith, Joel Wallschlaeger and Mike Works. And every team can use a quality role player like Todd Voss, who enjoyed the game of his life in the 1991 district championship victory over Hastings. In terms of personalities, one would be hard pressed to ever find a group quite like it. The friendships and the banter between players of that 1991-92 team carry on today.
On the court, these Bulldogs played like they had fire ants in their short shorts – even in practice. Half joking, Schmidt remarked, "The daily challenge with these guys was really making sure we finished practice with everyone still in the practice, meaning that somebody didn't get kicked out by me. Devin was always the leader in that category, but it wasn't him alone. These guys would fight in pick-up games."
At 16.1 points per game, Smith led the 1991-92 squad in scoring. Admittedly "edgy," Smith relished the underdog tag as a walk-on from small town Merna. Said Smith, "The personalities were so different. The high-wire acts were me and John Puelz. We were edgy and impatient. Matt List had a sense of peace and composure. He was very confident in everything he did. That helped Puelz and I throughout the years. Mike Works had a very contagious personality. Everybody loved him. Then there was Todd Voss who was very low key and humble, but you could push his buttons and get him fired up, too. Those first two years, we were highly combustible."
Schmidt masterfully managed the combustibility out of his team. As a young head coach, Schmidt related exceptionally well with his players. At times he seemed like he was just one of the guys. But he also knew when to lay down the law. Another hallmark of Schmidt's teams were their competitiveness and their junkyard dog mentality. "When Grant stepped in, it just seemed to be a great fit at the time," Puelz said. "He knew how to deal with our team. We were a bunch of hotheads. Grant just knew how to put up with us and make us play together and play hard."
As college students, these personalities were still trying to make sense of this thing we call life. There may have been some immaturity, but this group brought swagger back to Concordia men's basketball. The players bonded and formed a cohesive unit that had a blast on and off the court. Because they were venturing onto grounds not previously charted by Bulldog teams before them, they carried chips on their shoulders. They played with a perception that nobody expected them to win. It fueled them.
Says Schmidt, "The hardest thing for me as a coach with this group was to motivate them in situations where they didn't feel like they were challenged. When there was a challenge or they were viewed as the underdog, they played their best ball. All these years we continued to be underrated. You'd hear people say, 'They're just Concordia. That was a fluke the year before.' We always had to prove ourselves. All that did was motivate these guys to prove everybody wrong."
It was a big mistake to underestimate Concordia, a real life version of the little engine that could. Somehow, despite a diversity of personalities, the Bulldogs meshed. "We had some good balance," Voss said. "We just had all the pieces. Our team was talented, but we beat teams that were more talented than us just because the parts fit together so well. We believed in each other. We trusted each other and we wanted to win for each other. We felt like we could beat anybody."
One testament to this team's confidence was exemplified in one singular moment early in the 1991-92 season. A tight and testy battle at Tarleton State ended in a defeat that didn't sit well with the Bulldogs. After the final horn sounded, pushing and shoving ensued between the two sides. Senior Eric Priebe "galvanized" the team, according to Schmidt. While engaged in the postgame conflict at the site (Stephenville, Texas) that would host that year's national tournament, Priebe warned the Tarleton State team by saying, "We'll be back."
1991-92 sets the standard
Mike Works proved to be the missing ingredient for Schmidt's crew, which needed a point guard to run the show. Works arrived prior to the 1989-90 season and made an immediate impact. It certainly didn't hurt the program's profile to add another local kid who could fit right in with his buddies, Matt List and John Puelz.
Works made the engine run as "one of the best point guards in the city of Lincoln" as Schmidt put it. Backcourt mate Puelz was the shooter who felt like he was in range for a jump shot the second he stepped into a gym. The scrappy Smith did a little of everything. He could score, but he also didn't mind doing some of the dirty work. Sometimes that meant being assigned to defend the opposition's top offensive weapon. With List out of the picture after graduating in 1991, Schmidt landed a big fish in Eric Priebe, who would have only one year of eligibility left after playing for three seasons at Wayne State. Priebe's presence helped lessen the sting of losing the well-respected List.
Even if outsiders didn't see it, the Bulldogs knew they were primed for a big season. They kept believing, though they started out 3-5 after eight games and 8-7 after 15 games. A number of factors led to the early struggles. Most notably, the schedule was loaded with quality opponents and it was also loaded with road trips. Additionally, Concordia was figuring out how to play without List and how to integrate Priebe. Said Schmidt, "It required some adjustment time."
Said Smith, "We took on a few losses in that first semester. It was one of those things where we just weren't in sync. I think we had a lot of things going on in our minds. We all thought we were better than what we were. We didn't find the right mix of scoring inside. Then we got into the second semester and the games were more spaced out and there was time to relax and refresh. Coach Schmidt had such an ability to make everyone compete in practice and prepare us for an opponent. I think that helped us win some games we shouldn't have."
Winning is essentially all the Bulldogs did down the stretch. They went undefeated (8-0) in the month of February and earned the right to host the NAIA District 11 playoffs. Playing in front of raucous crowds in that jam-packed gym, Concordia ripped right through Bellevue, 77-59, and then Chadron State, 100-67, in impressive fashion. Said Schmidt after the district championship game, "You just don't want to play against us right now. This team, defensively, is just outstanding."
It was on to the national tournament as part of a new format with the NAIA splitting men's basketball into two divisions. Only 20 teams received bids to compete for the NAIA Division II national title, which would be awarded that year in Stephenville, Texas. The Bulldogs garnered the No. 10 seed, a fact the team took as a slight. For Schmidt, it offered him another opportunity to play up the disrespect card with his guys. Says Schmidt, "That was the best motivator that these guys could ever have."
They certainly played like a motivated bunch. After a bye in the first round, Concordia and seventh-seeded Northwest Nazarene locked horns in the second round. When teams like Northwest Nazarene peered across court at the Bulldogs during warmups, they may not have been impressed with the undersized foe. But again, Concordia ate up such disrespect and then threw it in your face. At this point in the season, the Bulldogs were focused and were playing at their peak. Northwest Nazarene had no chance. Smith went for 19 points, 10 rebounds, five assists and three steals and the Bulldogs built a 59-40 lead midway through the second half. Concordia held off a late rally and won, 75-63.
On to the quarterfinals. This is when the defensive-minded Bulldogs decided they could also win a shootout. Puelz caught fire, draining 7-of-11 attempts from long range against No. 2 MidAmerica Nazarene, thought by some observers to be the best team in the tournament. Even a 34-point effort from 7-foot Peter Martin couldn't save MidAmerica Nazarene. "We just handled them, I felt like, from start to finish. We shocked them," Schmidt said. Spurred by 28 points from Puelz, the underdogs from Nebraska came away with a 102-90 win, locking up a spot in the national semifinals. Remembered Puelz, "I think everyone saw us as underdogs in almost every game that we played. We thrived on that sort of thing."
There was just one big problem. Puelz badly sprained his ankle with 12 minutes remaining in the victory. "Even just saying, 'rolled my ankle,' brings back the sharp pain that I felt," says Puelz. "That made me nauseous." The injury occurred on a Saturday and the Bulldogs were scheduled to play two days later against Grace College of Indiana. If this were the regular season, Puelz almost certainly would have sat, but there was no way he was missing what could potentially be the final game of his career.
Puelz just wasn't the same guy in the matchup with Grace. His lateral movements were limited. Still, the Bulldogs competed to the wire, but saw their run end with a 95-89 semifinal loss. To a man, members of the team believe the national championship would have been theirs if Puelz had remained healthy. Says Schmidt, "There was a little bit of regret because I think we all knew this was a group that could have and should have won the national championship. It just wasn't meant to be." Added Smith, "In that game it showed up that we didn't have his defense." Says Voss, "All of us honestly believe that we would have won the national championship. We had such great chemistry and such great belief. I just think it would have happened."
Over time, the pain of the semifinal loss has given way to an appreciation of the memories shared by members of the 1991-92 team. The Bulldogs ended up with a 26-10 record and were champions of NAIA District 11 and the NIAC. Said Schmidt, "What they achieved over their time together and in that season set the standard for excellence at Concordia."
The big picture
Grant Schmidt doesn't put it lightly when he offers perspective on the accomplishments of the 1991-92 team – for good reason. In December of 1999, the Lincoln Journal Star named this squad one of the state college "Teams of the Century." That squad is also included in the Concordia Athletic Hall of Fame. Individually, Matt List, John Puelz and Devin Smith each received Hall of Fame induction. On the school's all-time scoring list, Puelz (1,955) ranks fourth, Smith (1,659) fifth, List (1,608) seventh and Mike Works (1,039) 29th.
What this team did for Concordia athletics and the university as a whole goes beyond the numbers and the national tournament glory. Who better to add meaning and purpose to the narrative than the people who lived it?
Voss: "It was pretty special. I was blessed to be around those guys and Coach Schmidt and to have that experience. It's really neat to still be connected to that group. I'm just thankful to be part of it."
Puelz: "All the teachers came up to you and talked to you about basketball or whatever was going on. It was such a cool thing. Even to this day memories are sparked just by seeing people that I knew back then. It makes my heart feel good. It's just such a cool thing … I love all those guys like brothers. I think that's the true meaning of team chemistry. Twenty-five years down the road you see Devin, Todd or Mike and you think about Concordia basketball and how fun it was with them."
Smith: "I think what we did helped in the state of Nebraska and made people think of Concordia University as a place where you could win in collegiate athletics. Up to that point, there were some great individuals who competed for Concordia, but few teams were established to really make a national run. I think that helped turn the corner. We were really the first group that did it with mostly Nebraska talent. It opened the eyes of future Bulldogs. Now people could see, hey, they've got something going."
Coach Schmidt: "I believe our administration looked at this run and said, 'This can do a lot of good for our university.' I think this group had a lasting impression on the philosophy of Concordia University in general. I think they looked at this and said, 'We need to find a way to keep this going because this is very healthy for our school.' I think that set a precedent for the way the administration and the university supports athletics.
"The most impressive thing that we did is we established a standard. I think that's the hardest thing in sports to do. They showed you can win at Concordia. They were the ones that were the pioneers. They proved that Concordia athletics can be an option for people to be involved in a great athletic program and get a great Christian education. It's all sitting in Seward, Nebraska, for you here."
Twenty-five years later, memories are alive and well for the team that changed the game.