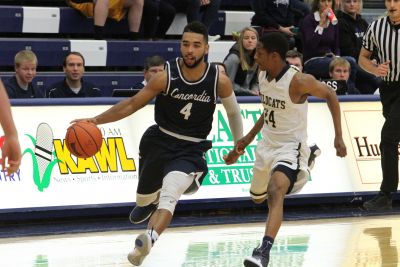 Starters combine for 75 points in 90-80 win over Kansas Wesleyan
Concordia University opened the season with a 90-80 men's basketball win over Kansas Wesleyan in the York College Tournament on Friday evening in York. The Bulldog starting five scored 75 of the 90 points in the win, as Concordia moved to 1-0 on the year.
Beau Smith (McKinney, Texas) scored a game-high 26 points to lead the Bulldogs in the win. Smith was 10-of-17 from the field overall and 6-of-10 from deep on the night. Smith was also second on the team with seven rebounds. Joel Haywood (Lakewood, Colo.) and Porter Birtell (Madison, Neb.) each added double-doubles on the night. Haywood scored 17 points and dished out a game-high 10 assists, while Birtell added 16 points (6-of-9 shooting from the field) and 10 rebounds. Adam Vogt (Syracuse, Neb.) was just 4-of-17 from the field but added 15 points and five assists for Concordia.
Concordia led by as many as 17 in the first half and took a 48-33 lead into halftime. The Bulldogs built the lead to 23 in the second half, before Kansas Wesleyan rallied late. KWU cut the Bulldog lead to seven with just a half minute to play, but the Bulldogs secured the 10-point win.
The Bulldogs were 28-of-64 from the field overall for 43.8 percent. Concordia was 23-of-32 (71.9 percent) from the foul line and held a 48-42 rebounding advantage in the contest. Each team had 16 turnovers, but Concordia had 20 assists on the night compared to just nine for Kansas Wesleyan.
Ty Dean scored 18 points off the bench for Kansas Wesleyan. Keon Jones added 16 for KWU.
Concordia takes on York College on Saturday. Tip is scheduled for 5 p.m. in York.